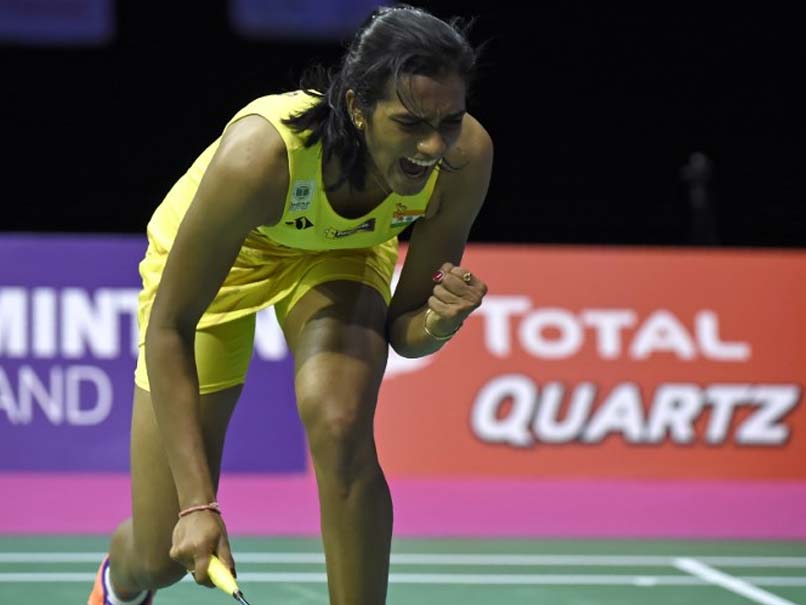 PV Sindhu took to Twitter to slam an IndiGo ground staff for his bad behaviour.
© AFP
Indian badminton star PV Sindhu took to Twitter on Saturday to speak about a "bad experience" when she was flying by IndiGo 6E 608 flight to Mumbai. The 22-year-old, in a series of tweets, named and shamed the airline ground staff, saying that the IndiGo employee had behaved "badly and rudely" with her. When he was approached by an air hostess and told to behave properly, he was rude with her as well, Sindhu wrote in a direct message to IndiGo. Twitterati came in their numbers and while some slammed the airline staff, others pleaded with Sindhu to not name the employee. However, IndiGo, according to news agency IANS, refuted the Olympic silver medallist's claim in a statement.
"Ms P.V. Sindhu boarded flight 6E608 Hyderabad-Mumbai carrying oversized baggage which was not fitting into the overhead bin. Ms Sindhu was informed that it will be moved to cargo hold of the aircraft. This is the same policy we follow for all customers. Oversized baggage inside the cabin inconveniences other customers and can also be a safety hazard if it cannot be secured properly in the cabin."
"During the entire conversation, the member of the IndiGo ground operations remained calm. After several requests to her manager, they finally consented to the removal of the bag from the cabin. We then placed the over-sized baggage in the cargo hold and was handed over to Ms Sindhu on arrival. We are extremely proud of Ms Sindhu's sporting achievements and are grateful for the laurels she has won for our country. However, safety of our operations is paramount to IndiGo," the statement added.
Sindhu first posted, saying she had a bad experience and named the employee.
Sorry to say ..i had a very bad experience when i was flying by 6E 608 flight to bombay on 4th nov the ground staff by name Mr ajeetesh(1/3)

— Pvsindhu (@Pvsindhu1) November 4, 2017
Before part two and three of her tweets could come, Twitter was flooded with pleas of users asking Sindhu not to name the airplane staff and to forgive him.
Don't do this sindhu ur gonna destroy one man career probably a family,choose to forgive..

— (@R_mano07) November 4, 2017
Best way 2 sort issue- report to aviation, send an e-mail however social platform shall be avoided 2 complain certainly it wil ruin career

— Altaf Sayed (@altaf7864) November 4, 2017
It's an start of his career end, we respect you mam but don't spoil his career in a public platform, xpln him/team personally not lyk this

— Sandeep (@Sandeepsv1806) November 4, 2017
At this level u should let it go.. could destroy someone's career.. should sort it out internally n nt resort to name shaming lyk dis on SM.

— Rishikesh Kher (@iamrk07) November 4, 2017
Just message Indigo, don't post it openly. Your one tweet can make or break a career. Many people may depend on that man for sustenance.

— Amarjeet Paul (@v_2amap) November 4, 2017
forgive him

— uday setti (@UdaySetti) November 4, 2017
She then took her grievances directly to IndiGo with a tweet to the airline.
@IndiGo6E pic.twitter.com/NxjRUlv2jI

— Pvsindhu (@Pvsindhu1) November 4, 2017
Soon after, IndiGo replied to her tweet asking if they could contact her.
Hi! We'd like to speak with you. Kindly confirm if we may contact you on your registered number with us and share a 1/2

— IndiGo (@IndiGo6E) November 4, 2017
convenient time to speak via DM so we may contact you. 2/2

— IndiGo (@IndiGo6E) November 4, 2017
This is not the first instance that a sportsperson has taken to Twitter to speak about their bad experience on a flight. Sachin Tendulkar, who was travelling with his family, blasted British Airways on Twitter after the cricket legend faced flight and baggage issues.
In a series of angry tweets posted in April this year, cricketer Harbhajan Singh brought attention to an alleged incident of racism and assault by a pilot from Jet Airways.