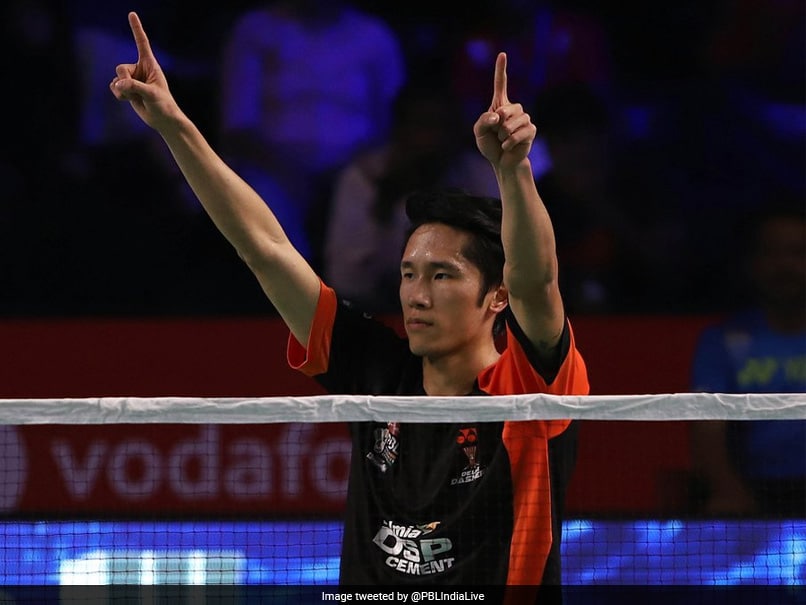 Tian Houwei led the Delhi charge by staging a brilliant recovery in his men's singles match
© Twitter
The battle for a semifinal spot heated on Wednesday after Delhi Dashers took an early 2-1 lead against North Eastern Warriors in the Hyderabad-leg of the third Premier Badminton League. Tian Houwei led the Delhi charge by staging a brilliant recovery in his men's singles duel against Tzu Wei Wang before winning 10-15, 15-8, 11-15. The Chinese, ranked 22 in the world, was down 2-8 in the final game but bounced back to clinch it 15-11 and upset the World No11.
Wang's defeat was a big blow for the Warriors as it was their Trump match which meant they ended up with a negative point. Interestingly, it was their first Trump loss of the season, having won all four earlier. Michelle Li and Shin Baek Cheol had provided a bright start to the Warriors winning their mixed doubles duel against the Delhi pair of Ashwini Ponnappa and Vladimir Ivanov in straight games 15-13, 15-11.
But Wing Ki Wong Vincent helped Delhi level the scores as he won the day's first men's singles against Ajay Jayaram 15-13, 10-15, 15-12. The World No15 started off well by clinching a tight first game 15-13 only to find the Indian stage a fightback in the second with a combination of deft placements and effective smashes. Ajay, ranked 38 in the World, went on to pocket the second game 15-12.
The third game was evenly poised at 8-7 in favour of the 27-year-old from Hong Kong and he went on to consolidate it by surging ahead to a 12-8 lead. Ajay was not finished yet as he collected four points in a row to reduce the margin to 13-12. But Wing Ki Wong capitalised on an unforced error from Ajay and won the third game and the match.
Wing Ki Wong was so delighted with his win that he pranced around the court and broke into a Usain Bolt-like celebration. After the first three matches, Delhi had gained a 2-0 points advantage over Warriors. Both teams were on 11 points each before this match.
(With PTI Inputs)