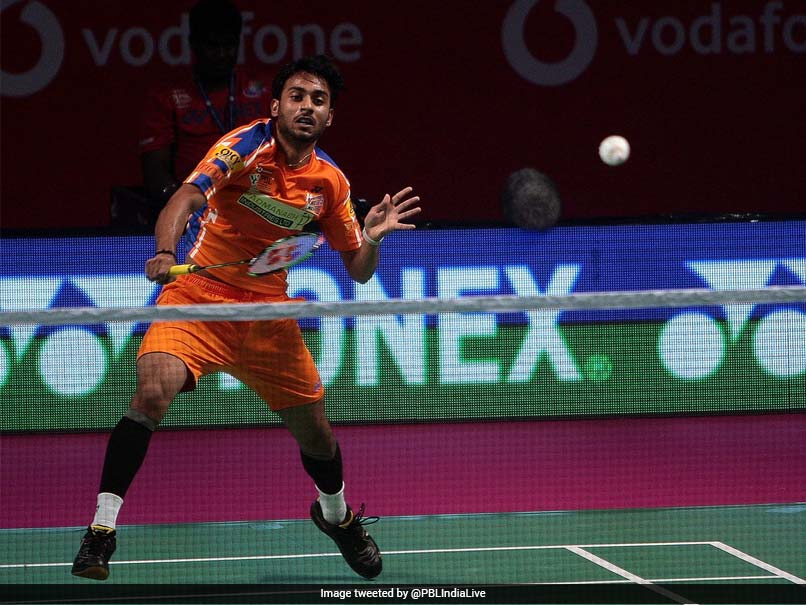 Sourabh Verma outclassed his brother Sameer 15-14, 15-11 in the trump match.
© Premier Badminton League
Ahmedabad Smash Masters secured a berth in the semifinals of Premier Badminton League (PBL) with a crushing 5-0 win over Mumbai Rockets on the final day of the Chennai leg on Tueday. The Ahmedabad team became the first to qualify for the semifinal, at the Nehru Indoor Stadium. Sourabh Verma outclassed his brother Sameer 15-14, 15-11 in the trump match to ensure Smash Masters' progress. Sourabh took a closely fought first game and looked like running with the second as he opened up a 10-4 lead. Sameer fought back briefly but that wasn't enough as his brother looked in control.
It was a thoroughly dominant performance from the Ahmedabad team, making its debut in the league with World No.1 Tai Tzu Ying underlining her class and H S Prannoy registering an upset 15-12, 15-12 win over World No.5 Son Wan Ho.
Tzu Ying was in her elements as she dismantled Beiwen Zhang 15-9, 15-12 in quick time to put Smash Masters 3-0 ahead after three matches.
Tzu Ying wrapped up the first game pretty quickly but in the second, Zhang stretched her to level the scores at 6-6.
The 23-year-old Tzu did not allow her opponent any leeway by collecting six points in a row only to find the doughty Zhang reduce the margin at 12-14. Tzu ensured the scoreline did not change much by grabbing the match point and win 15-12.
Prannoy erased an early deficit against Wan Ho in the first game and won a close battle. It was a similar story in the second as both went neck-to-neck before the Indian pulled away in the final stages. The match was closer than the scores suggested.
Lee Yong Dae and Tan Boon Heong salvaged the sole win for the Rockets with a 15-10, 15-12 defeat of K Nandagopal and Lee Reginald in the final match. Earlier, Ahmedabad's mixed doubles pair of Law Cheuk Him
and Kamilla Rytter Juhl began the proceedings in earnest by defeating the Mumbai duo of Lee Yong Dae /Gabriela Stoeva 15-11, 15-7.
Mumbai Rockets ended the league with 10 points while Chennai Smashers finished with 12 points and are out of contention for the knockouts.