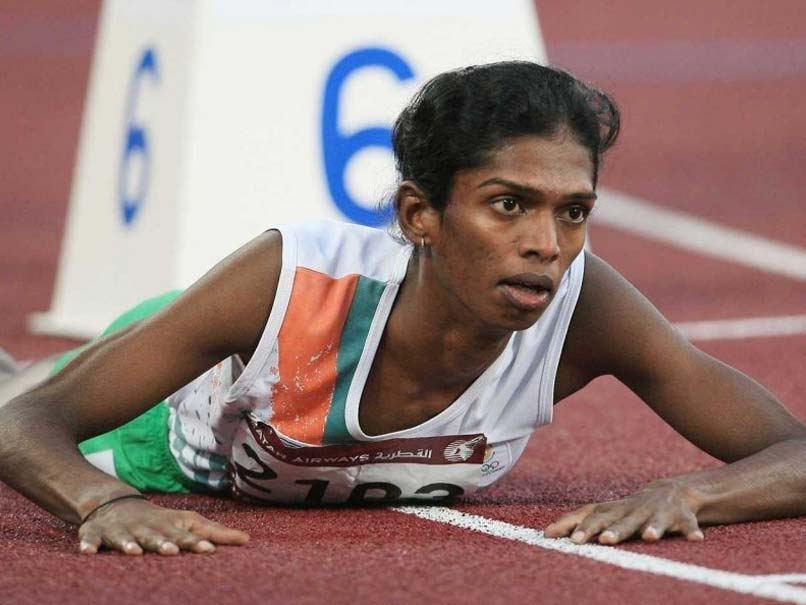 Santhi Soundarajan was stripped of her 2006 Asian Games medal after she failed a 'gender test'.
© AFP
New Delhi:
Ten years after she was stripped off a medal for failing a 'gender test' during the Doha Asian Games, former athlete Santhi Soundarajan is set to file a human rights violation case against the authorities, including Athletics Federation of India and Indian Olympic Association.
Soundarajan, whose silver medal she won in 800m at the 2006 Asiad was taken off by the Olympic Council of Asia, has filed complaints at the National Commission for Schedule Castes and Schedule Tribes, National Commission for Human Rights and National Commission for Women.
Gopi Shankar, head of NGO Srishti Madurai, said that Soundarajan is now planning to file a petition at either Madras High Court or the Supreme Court.
AFI President Adille Sumariwalla, however, said that the federation cannot do much because Soundarajan was banned and medal stripped off by the OCA during the Asian Games.
Shankar said due to lack of documents, including the report of the test conducted in Doha in 2006 on the basis of which Soundarajan was banned and stripped off her medal, she has not been able to file human rights violation complaints.
"Can you imagine that Soundarajan was not given the report of the test done in 2006 in Doha and it is ten years now? I filed an RTI to get the report, she also filed another RTI but she has not got the report on the basis of which she was banned and medal taken off," Shankar told PTI from Madurai.
"Now she has filed a complaint at the National Commission for Schedule Caste and Schedule Tribes (in September last) in which Sports Ministry was the party. She has also filed a complaint at the National Human Rights Commission last month that action be taken against AFI, IOA, SAI and Sports Ministry for subjecting to human rights violation during the test in Doha," he added.
"She was left to stand half naked for half a day in Doha and she did not know which test she was undergoing. She was not informed of anything, nor she knew the language of the doctors conducting the test. This is gross violation of human rights of a poor and helpless woman. She was left to be fended by herself with nobody from the Indian authorities coming to her aid," he said.
"Besides praying for action for human rights violation against the Indian sports authorities, we have made the prayer that the medical report be handed to her and the medal restored to her."
"She is lying," says AFI chief
Sumariwalla, however, said that the report of the test has already be given to her in 2011 when she made a RTI application.
"She is lying if she says she has not got the medical report. On February 24, 2011, on a reply to her RTI application, the AFI have given her the photostat copy of the test report given by the OCA. It was signed by all the doctors and the chief of Medical Commission of the Doha Asian Games," Sumariwalla said.
"I don't know why she is trying to bring this issue again and blaming the AFI. We have done what we could have done. Had it been during a Asian Championships or IAAF event, we could have intervened and sorted out the issues. But it was an action taken by the OCA and AFI can't do much. If something has to be done, it has to be done by the IOA," he added.
Elaborating on the details of the test in Doha in 2006, Sumariwalla said, "She first underwent a dope test after winning a silver in women's 800m race. There was some anomalies found in that test and on the basis of that she was again ask to undergo another test which I will not call a 'gender test'.
"That (later) test was conducted by OCA with a team of doctors attending, including the chief of medical commission of Doha Asiad. The team of doctors included a gynaecologist, endocrinologist and psychologist. It is not that nobody from India was not there. The chef-de-mission of Indian contingent was also there to assist her.
"She failed that later test and he medal was stripped off. We at AFI have to abide by OCA. Despite that we requested the then Tamil Nadu Chief Minster for financial help and government job. We did what we could," Sumariwalla said.
Shankar said the National Commission for Schedule Caste and Schedule Tribes has issued notice to the Sports Ministry in her prayer that the government should intervene into the matter.
After running pillar to post, Soundarajan was finally appointed as athletics coach by Sports Authority of Tamil Nadu last month.