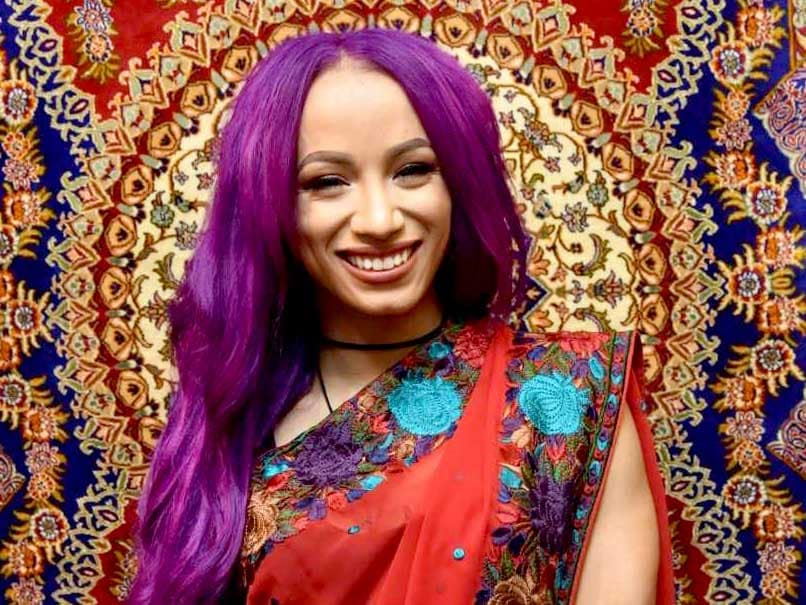 WWE will host their first-ever Women's Royal Rumble
© WWE
World Wrestling Entertainment (WWE) will be creating history on January 28 when they host their first-ever Women's Royal Rumble. Many female superstars have been talking about a women's revolution in the company and how hard they have been working for it. Slowly but steadily they are getting their due as they come a long way from being just a diva to be an idolised star. WWE superstar Sasha Banks, who was in the heat of things from very beginning, said on Monday that it was an achievement and the women's locker room can't actually wait for it to happen.
While Sasha will be gunning to win the first-ever women's royal rumble, in a conversation with NDTV.com she spoke about her experience in India and how she loved performing in India and she can't wait to come back.
Sasha, accompanied by the Singh Brothers and Kavita Devi, on the eve of her fight explored the Indian market and bought sarees. Even though she lost her match against RAW champion Alexa Bliss in the WWE live event in India, she received a rousing welcome and lots of cheer from the Indian audience.
Talking about her experience, she said, "India has a beautiful culture. I loved exploring it with my friends and I had a great time in India. Can't wait to come back."
While Sasha is still excited about her Indian stint, now she and all the other women wrestlers in WWE are waiting for the Women's Royal Rumble.
"When we found out that we will be having a first time royal rumble everyone in the locker room was excited and ecstatic. It was a really nice feeling," Sasha said.
"We can't wait for it to actually happen and it will be amazing," she further added.
The women's Royal Rumble marks another milestone in WWE's women's evolution, which has placed a spotlight on its female performers, involving them in more prominent storylines, with deeper character development and longer matches.
"The first-ever women's Royal Rumble match will mark a significant moment in the evolution of WWE," said Stephanie McMahon, WWE Chief Brand Officer.
"WWE's female performers are role models, inspiring and empowering women and girls to be confident and strong. They deserve their own match at Royal Rumble," McMahon remarked.
WWE also created history when they held the first-ever women's match in Abu Dhabi in 2017. What made the event more special was the fact that they weren't allowed to hold it the earlier year.
After the fight, Sasha spoke about women empowerment and how the dreams of all girls are endless and that they can achieve anything.
An emotional @SashaBanksWWE talks about making history tonight at #WWEAbuDhabi. pic.twitter.com/xFxmD2jbrf

— WWE (@WWE) 7 December 2017
When asked about her take of women empowerment, Sasha said, "I want to be a role model for women out there. Want to inspire young girls. People all across the world need to believe in their dreams and if they want to accomplish something they can, you know. No one thought that I would reach this stage but here I am making history and living my dream. I am doing exactly that. Working on my dreams, doing what I wanted to and making history on the way.
"And it was incredible to have an opportunity to go over to Abu Dhabi; to be a role model and tell them that they can accomplish things and that keeps happening daily and I want to keep doing it every single day," she further added.