Story Progress
Back to home
West Indies vs India: West Indies vs India, 2023 Live Cricket Score, Live Score Of Today's Match on NDTV Sports
Live Updates of Today Match between West Indies vs India from Brian Lara Stadium, Tarouba, Trinidad. Check commentary and full scoreboard of the match.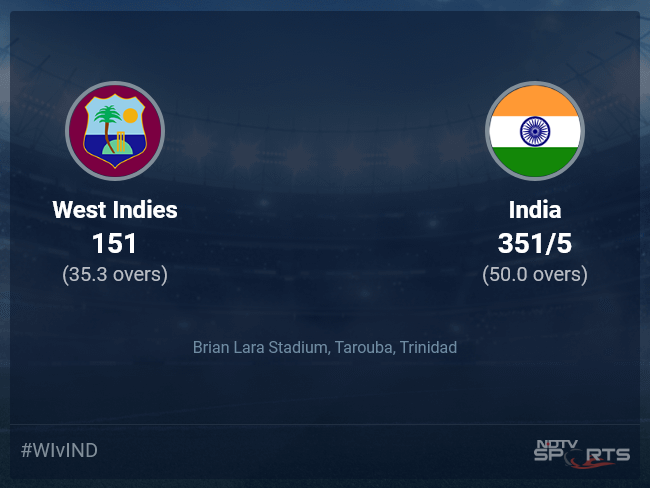 WI vs IND Latest Score
A dedicated team of experts bring you live score, live cricket score, live match update on Sports.NDTV.com. After 35.3 overs, West Indies, chasing a target of 352, are 151. The live updates of West Indies vs India scorecard is also available. It is the perfect platform to follow your favourite teams in West Indies vs India, 2023. Keep a track on your favourite batsmen and bowlers through West Indies vs India, 2023 today match, ball by ball commentary, West Indies vs India, West Indies vs India live score, West Indies vs India scorecard. Follow the excitement of the West Indies vs India, 2023 on Sports.NDTV.com as you can follow live match updates and live cricket score through our platform.
Well then, Hardik Pandya picks up the trophy and begins the celebrations with the whole team, as they line-up for a team photo, capurting the winning moment away from home. We are now down to the last leg of India's tour of the West Indies which consists of a five-match T20I series. The first T20I will take place on Thursday, the 3rd of August at this very venue. The first ball will be bowled at 8.00 pm IST (2.30 pm GMT). As always, you can join us early for the build-up. Until then, take care and goodbye!
Hardik Pandya, the stand-in skipper of India, says that it was a very special game. Mentions that he looks forward to such games when something is on the line. Shares that they knew what was at stake in this game. States that the way the boys showed and enjoyed the game was heartening to see. Also says that Virat Kohli and Rohit Sharma are an integral part of the game but feels that is important to give exposure to the youngsters. Shares that he had a chat with Virat Kohli a couple of days where he advised him to spend time out in the middle which helped him. Shares that the ball was doing just a bit and the game was sealed in the first Powerplay itself. Ends by saying that this is one of the nicest grounds he has played cricket in.
Shai Hope, the captain of West Indies is in for a chat. He starts by saying that hindsight is the best sight but he does not think he would change anything. States that they could not do much damage with the new ball. He thought 350 was an acheivable target on this wicket, but it was not meant to be. The key was to set up a solid platform and it is evident that they lacked. Mentions that he feels the boys haven't been consistent with their attitudes.
Ishan Kishan wins the Player of the Series award for his consistent batting up top and brilliant golvework behind the sticks. He starts by saying that he is unhappy as he was unable to finish the games. Mentions that whenever he comes down here the next time he will try to finish the game and score plenty of runs. Informs that he was not thinking about what he did in the previous game, but remained focus and kept take a new ball with a clear head. States that it is always important to win at this level. Informs that even after scoring 350 runs they were on their toes for picking quick wickets and everything is looking positive at the moment. He says that the team is focused on the upcoming series, rather than focusing on the T20 World Cup happening next year here in West Indies.
Shubman Gill wins the Player of the Match for his brilliant knock of 85 runs from 92 balls. He starts by saying that it was a very special knock since it was his first fifty of the tour. Shares that it was a pretty good wicket to bat on. Adds that the wicket got tougher to bat as the ball got old. Reckons that as an opener, it is about assessing the conditions as early as possible. Feels that it is important to keep putting pressure on the opposition in the ODI format. Ends by saying that he tries to play his own game and does not think of external factors.
Stay tuned for the presentation...
Earlier in the match, after being put to bat. Indian batters came out and meant only business from the get go. Despite Virat Kohli and Rohit Sharma being rested for this match, it was the opening pair of Ishan Kishan and Shubman Gill that set the tone for the visitors. In total, 4 batters got to their half-centuries, a few stuck for long after that, while a few slipped out soon after getting 50 runs. Nevertheless, one of them was the stand-in skipper, Hardik Pandya, who took the matter into his own hands at the very end, and made sure to take his side to a gigantic total. During the chase, Indian bowlers did not give the batters any sniff and took the game away from them quite comfortably.
This is what an Indian side is capable of. It was a dominating performance by the Indian bowlers from the get go. At first, it is Mukesh Kumar who set the tone with his incredible new ball bowling. The bolwer who made his debut in this series, certainly kept things tight and broke the back bone of this batting line up. He picked up three wickets inside the first Powerplay. Then, Shardul Thakur and Kuldeep Yadav did what they did best, and kept picking wickets at will. At one point, they had the opposition teetering at 88-8, but that 9th wicket-stand delayed the win for the visitors. That's when 'Lord Thakur' put his hand up and broke this stand and soon got the final wicket to complete his four-wicket haul.
To be honest, it was a sorry outing for the hosts especially with the bat in hand. No one could really put their hand up in the top order, it was mostly a one man show by Alick Athanaze who racked up some crucial runs from the top-order department. No other batter could really do anything with the bat which made it more difficult for the hosts to get near this huge target. It was the 9th wicket stand of 55 runs that stood out for the hosts, but they eventually bundled out only for 151 runs, which is not even the half of what India scored.
An emphatic win for India. They have won the final match of this ODI series and with this win, they even seal the series. The match was certainly over a long time back, but a gritty stand between Alzarri Joseph and Gudakesh Motie meant that West Indies do not lose by an embarrassing margin here, nevertheless, they will be gutted with their performance in the final outing.
35.3 overs (0 Run) OUT! TIMBER! There it is, Shardul Thakur finishes with career-best figures and wraps up the game for India! Comes from 'round the wicket and angles it in, at the stumps, on a good length, Jayden Seales clears his front leg and has a wild heave across the line. He connects with thin air and sees his woodwork disturbed. India win by 200 runs and win the series 2-1!
35.2 overs (1 Run) A length ball, down leg. Motie flicks it to square leg for one.
35.1 overs (0 Run) Short one, on off. Motie tries to go for the hook shot but misses.
Match Reports
Topics mentioned in this article