Story Progress
Back to home
West Indies vs India: West Indies vs India, 2023 Live Cricket Score, Live Score Of Today's Match on NDTV Sports
Live Updates of Today Match between West Indies vs India from Providence Stadium, Guyana. Check commentary and full scoreboard of the match.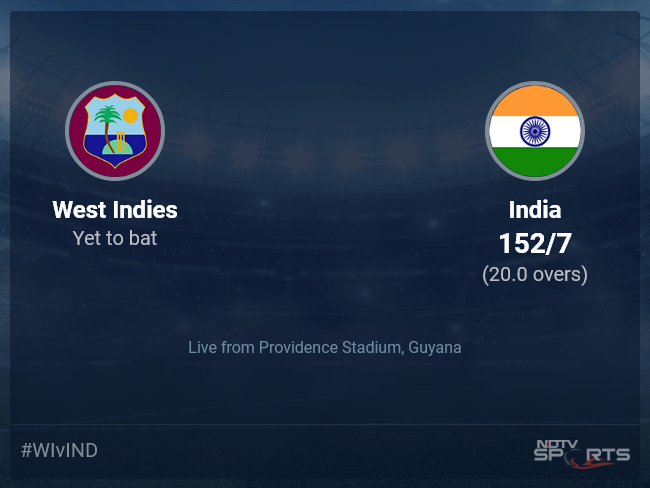 WI vs IND Latest Score
A dedicated team of experts bring you live score, live cricket score, live match update on Sports.NDTV.com. After 20.0 overs, India are 152/7. The live updates of West Indies vs India scorecard is also available. It is the perfect platform to follow your favourite teams in West Indies vs India, 2023. Keep a track on your favourite batsmen and bowlers through West Indies vs India, 2023 today match, ball by ball commentary, West Indies vs India, West Indies vs India live score, West Indies vs India scorecard. Follow the excitement of the West Indies vs India, 2023 on Sports.NDTV.com as you can follow live match updates and live cricket score through our platform.
We are back for the chase. Indian players can be seen in a huddle.
West Indies started well with the new ball. They did not let the batters score freely. To top it up, their fielders were backing up their bowlers brilliantly, especially Kyle Mayers who even inspired a run-out to get rid of a big fish in Suryakumar Yadav. Obed McCoy was economial with the new ball, but could not control the run flow once the ball got old. Although, they certainly performed well as a unit. Akeal Hosein, Alzarri Joseph and Romario Shepherd ended with two wickets each. The onus now is on the West Indies' batters, to get their side over the line and extend their lead. Will they be able to do that? Join us shortly for the second essay...
India could not bring their A-game with the blade. Ishan Kishan did what he did best and got the visitors off to a solid start, but Shubman Gill could not replicate the same and departed early. Then a brilliant piece of fielding got the better of Suryakumar Yadav, even before he could get going here. This put India in a teeterting position, as their gameplan certainly was not to get just 34 runs inside the Powerplay, that too, with two wickets down. Tilak Varma then proved everyone that his debut innings was not a fluke, and backed it up with a sensational half-century, his maiden as well. Tilak Varma has grow leaps and bounds in a short period of time and has certainly shown everyone what he is capable of. If not for him, India could've been in an even worst position. Hardik Pandya tried his best to add some impetus on the scoreboard but slipped out at the end of the 18th over. Ravi Bishnoi then struck a maximum which helped them to get to the 150-run mark.
A decent effort with the bat from India. One thing is for sure that Hardik Pandya's decision of batting first hasn't really worked out well for the visitors here. Nonetheless, they have somehow managed to surpass what West Indies got on the board in the first match. India could've easily gotten to 170-175 if some of their other batters had stepped up.
19.6 overs (1 Run) Ends well but India do get 13 runs off the final over. Romario Shepherd nails the yorker on middle and leg, and Arshdeep Singh backs away and manages to get an inside edge onto the pads. the ball goes nowhere and the batters manage to scamper through for the single. India finish with 152/7!
19.5 overs (1 Run) Fuller and at the stumps, swung away through square leg for a run.
19.4 overs (6 Runs) SIX! Clubbed all the way and the 150 is now up for India! Pitched up around middle, Ravi Bishnoi clears the front leg and smokes it over the wide long on fence for a maximum.
19.3 overs (1 Run) Gets it into the blockhole around the legs, Arshdeep Singh jams it toward mid-wicket for one.
19.2 overs (4 Runs) FOUR! That'll do for Arshdeep Singh and India. A pacy short ball, angled at the body, Arshdeep Singh tries to get out of the way but has a swing at it. The ball flies off the top edge and goes over short fine leg for a boundary.
Who comes in now? It is Arshdeep Singh.
19.1 overs (0 Run) OUT! CAUGHT! Romario Shepherd picks up his second wicket and India just keep losing wickets at crucial times. Shepherd comes from around the wicket and then with that slingy action delivers a hard-length ball at the body. Axar Patel is caught on the crease and cramped for room as he tries to pull. The ball takes the top edge and pops up around leg gully. The keeper Nicholas Pooran calls for it and pouches it safely.
18.6 overs (0 Run) They don't take the single! Banged in a bit and Ravi Bishnoi pulls it to deep mid-wicket. Bishnoi walks halfway down the track but Axar Patel denies the single and will keep strike for the start of the next over.
18.5 overs (1 Run) Slower and shorter on the body, pulled away just behind square leg for one.
18.4 overs (4 Runs) FOUR! Nicely played! Slower one, pitched up on middle and leg, Axar Patel manages to get under the ball and chip it straight down the ground for a boundary.
18.3 overs (2 Runs) Around the top of off, Axar Patel stands tall and hits it down to wide long on. The batters push hard for two and get it with ease.
18.2 overs (1 Run) Fuller in length and around off, Ravi Bishnoi walks toward the ball and pushes it down to long on for a single.
18.1 overs (1 Run) Back of a length around off, played away late off the back foot toward backward point for one.
18.1 overs (1 Run) Wide! Attempted slower one, spilled well down the leg side. Left alone for a wide.
Ravi Bishnoi comes in at number 8.
17.6 overs (0 Run) OUT! BOWLED'EM! Alzarri Joseph has the last laugh here as he sends the Indian skipper back to the hut with a ripper of a delivery. A 142-KPH inswinging yorker and Joseph gets it spot on. This one is at the base of the off stump and Hardik Pandya tries to jam it out but the ball sneaks through, hitting the toe end and crashing into the stumps. Joseph finishes his spell with his second wicket and India are now 6 down.
17.5 overs (1 Run) Length ball on middle, Axar Patel pushes it gently toward mid off and scampers across for the single.
17.4 overs (1 Run) A bumper now, over off stump and climbing high, Pandya manages to get on top of it and pull it down to deep mid-wicket for a run.
17.3 overs (0 Run) Here comes the change-up as the pace is taken off and the ball is pushed wider of the off stump. Hardik Pandya tries to reach out but gets a faint under edge back to the keeper.
17.2 overs (6 Runs) SIX! Hardik Pandya flexing his muscle here. Right in the slot outside off at 143 clicks, Pandya keeps his shape and absolutely massacres it over the long off fence for a biggie.
17.1 overs (1 Run) Hard length on leg stump, Axar Patel hops and tucks it neatly off his hips behind square leg for a single.
16.6 overs (1 Run) Straight up...but lands safely! Jason Holder bangs this one in a bit and around off, Axar Patel goes after it but gets a top edge. The ball goes high and falls safely around the vacant mid-wicket region and the batters do get the single as well.
16.5 overs (1 Run) gentle pace, on back of a length and around off, Hardik Pandya punches it out toward covers for a run.
16.4 overs (1 Run) Back of a length, angling across the off stump, Axar Patel plays it off the back foot down to deep backward point for one more.
16.3 overs (1 Run) Pitched-up delivery around middle, Hardik Pandya drives it on the up to long on and rotates the strike.
16.2 overs (1 Run) Full and on off stump, this is knocked down to long off for a single.
16.1 overs (0 Run) Starts off with a slower one, on a nagging length around middle, Axar Patel stays back and keeps it out.
15.6 overs (1 Run) Short and pushed outside off, Axar Patel stands tall and punches it to deep cover-point for one.
Axar Patel is the new batter in.
15.5 overs (0 Run) OUT! CAUGHT! FIFTY AND OUT FOR TILAK VARMA! Akeal Hosein drags this one down and bowls it around leg stump, turning it in. Varma goes deep in his crease but gets cramped for room and yet goes through with the aerial pull shot. Varma is hitting into the wind and the ball goes to the left of deep square leg where Obed McCoy takes a well-judged catch. End of a very fine anchor inning by Varma.
15.4 overs (1 Run) On the shorter side and around off, this is eased wide of the extra cover fielder for a single.
15.3 overs (0 Run) Pulls the length ball and bowls it flatter into the legs, Hardik Pandya looks to tuck it away but misses and gets hit on the pads.
15.2 overs (6 Runs) SIX! BANG! Fuller one, drifted into the legs, Hardik Pandya gets down low and slog-sweeps it a long, long way over the mid-wicket fence for a biggie.
15.1 overs (1 Run) Slides this one just across the off stump, Tilak Varma cuts it late behind point and picks up a single.
Match Reports
Topics mentioned in this article