Story Progress
Back to home
West Indies vs India: West Indies vs India, 2023 Live Cricket Score, Live Score Of Today's Match on NDTV Sports
Live Updates of Today Match between West Indies vs India from Providence Stadium, Guyana. Check commentary and full scoreboard of the match.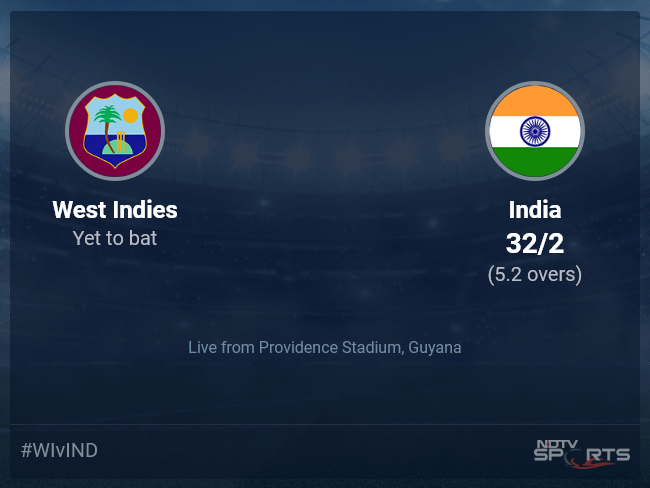 WI vs IND Latest Score
A dedicated team of experts bring you live score, live cricket score, live match update on Sports.NDTV.com. After 5.2 overs, India are 32/2. The live updates of West Indies vs India scorecard is also available. It is the perfect platform to follow your favourite teams in West Indies vs India, 2023. Keep a track on your favourite batsmen and bowlers through West Indies vs India, 2023 today match, ball by ball commentary, West Indies vs India, West Indies vs India live score, West Indies vs India scorecard. Follow the excitement of the West Indies vs India, 2023 on Sports.NDTV.com as you can follow live match updates and live cricket score through our platform.
4.6 overs (1 Run) Back of a length, on middle. Kishan pulls it along the ground through square leg for another single. He retains the strike here.
4.5 overs (1 Run) Short, on off. Varma pulls it to deep square leg for a single.
4.4 overs (4 Runs) FOUR! Up and over! What a shot. It is a full-length ball, on off. Tilak Varma gets under it and lofts it over mid on. A couple of bounces over the ropes.
4.3 overs (0 Run) Kyle Mayers has been excellent in the field so more. This time he moves swiftly to his left and saves a boundary. Tilak Varma got it off the middle off his blade, but could not beat the man at covers with his booming drive.
4.3 overs (1 Run) WIDE! Very full and wide, this is past the tramline as well. Tilak Varma lets it be and the umpire signals a wide.
4.2 overs (2 Runs) Tilak Varma now heaves this length ball across the line through mid-wicket. They take two runs.
4.1 overs (0 Run) Back of the hand delivery, full length, on leg. Varma tries to flick it away but takes a blow on his pads.
Jason Holder to have a bowl now.
3.6 overs (0 Run) A sharp bumper, outside off. Ishan Kishan tries to go after it but misses.
3.5 overs (1 Run) Shorter, wide of off. Varma upper cuts it to deep point. They take one.
3.4 overs (0 Run) Length and on off, blocked.
Tilak Varma is the new man in.
3.3 overs (0 Run) OUT! RUN OUT! Suryakumar Yadav comes, Suryakumar Yadav goes. A short journey for SKY. It is a good-length ball, on middle. Kishan clips it into mid-wicket and takes off for a single. Kyle Mayers though is quick to get to the ball and he scores a direct-hit and have already started celebrating here. In fact, Suryakumar Yadav has started walking off even before the third umpire came to any conclusion. Brilliant piece of fielding by Kyle Mayers. West Indies right on top here.
Is that a run-out? Kyle Mayers with a brilliant piece of fielding and he scores a direct hit at the keeper's end. Suryakumar Yadav doesn't look confident and the decision is sent upstairs. The replays show that SKY is well short and OUT comes up on the big screen.
3.2 overs (1 Run) Much fuller this time, on off, angled across. Yadav tries to play it on the on side, but it takes the leading edge and lobs towards mid on. It lands safely. One taken.
3.1 overs (0 Run) Length ball, on off. Yadav defends it out solidly.
Obed McCoy (1-0-1-0) comes from the other end now.
2.6 overs (1 Run) LEG BYE! Brilliant delivery. A testing one for SKY. It is a full-length ball, nipping in a touch. Suryakumar Yadav gets pinged on his pads, although the ball rolls out into the off side. The batters are quick to cross for a leg bye.
Suryakumar Yadav walks in at number 3 in his 50th T20I match.
2.5 overs (0 Run) OUT! CAUGHT! Shubman Gill just got a bit too excited here. One too many shots, one might say. India lose an early wicket, and it is Alzarri Joseph who draws first blood. It is a full-length ball, outside off. Shubman Gill throws the kitchen sink at it, and all he manages to get is a thick outside edge. The ball flies high towards deep point. Shimron Hetmyer is situated there, he judges the carefully, dives forward and takes a sharp catch.
2.4 overs (6 Runs) SIX! Here he goes! He does not take long to get going here. It is a short ball, on off, jags in as well. Shubman Gill stands tall and pulls it powerfully to deep mid-wicket for a biggie.
2.3 overs (0 Run) Shubman Gill now trying to counter-attack but failing to do so, just the way Ishan Kishan was struggling against Obed McCoy. Shorter on off. It flies off the deck. Gill tries to hook it away but misses it completely.
2.2 overs (0 Run) Another dot now! Brilliant from Joseph. He does not take much time to get into his rhythm here. It is a length ball, that nips back in. Shubman Gill goes for the flick but misses to take it on the pads, although a bit too high for convincing the umpire.
2.1 overs (0 Run) Length, around off. Gill knocks it into covers, for none.
2.1 overs (1 Run) WIDE! Alzarri Joseph goes full, but down the leg side. He starts with a loosener here.
Alzarri Joseph comes into the attack now.
1.6 overs (1 Run) Shubman Gill now opens his account. Darted on the pads, Gill clips it into mid-wicket for a single.
1.5 overs (0 Run) Quicker this time, just outside off. Gill tries to cut it away but misses. The ball is very close to the off stump, but Akeal Hosein did not make it turn this time.
1.4 overs (0 Run) It is full, coming in with the arm, on leg. Gill defends it into the leg side.
1.3 overs (1 Run) Back of a length, outside off. Ishan Kishan pulls it to long on off the bottom half of the blade. They cross for a single.
1.2 overs (0 Run) Flatter one, on off. Ishan Kishan defends it back to the bowler.
1.1 overs (6 Runs) SIX! BANG! Just the start Ishan Kishan was after, when he swung wildly in the previous over. Short one, into the batter. Ishan Kishan clears his front leg and swats it over the square leg fence for a biggie. He hits it against the wind, but the power that Ishan Kishan possesses is lethal.
Akeal Hosein to bowl his left-arm finger-spin from the other end.
0.6 over (0 Run) Obed McCoy dishes a length ball, around off, nipping back into the batter. Shubman Gill defends it solidly from inside the crease. So, just a single off the first one.
0.5 over (1 Run) India and Ishan Kishan are off the mark. Finally! It is a length ball, outside off. Ishan Kishan opens tha face late and helps it down to third man. They take a single.
0.4 over (0 Run) Four dots on the trot now! Obed McCoy serves a short one, with plenty width on offer. Ishan Kishan's eye's lit-up and he slashes hard, but gets beaten on the outside edge. This has been a brilliant start by Obed McCoy.
0.3 over (0 Run) Another full-length, delivery. Ishan Kishan leans in and drives it uppishly into covers, but it once again does not carry.
0.2 over (0 Run) Swing and a miss! Ishan Kishan doing Ishan Kishan things, he has come out with the right intent here, but is unable to execute his shot. It is very full, outside off. Ishan Kishan looks to go downtown but gets beaten on the outside edge.
0.1 over (0 Run) Obed McCoy starts with a full toss, but it could've been a wicket-taking delivery as well. Some lady luck for Kishan from the get-go. It is outside off, Ishan Kishan stands tall and slaps it towards mid off, fortunately, it meets the fielder on the bounce.
We are all set for the play to begin! The umpires are out in the middle and so are the players of West Indies. It will be the pair of Shubman Gill and Ishan Kishan to open the innings for India. Obed McCoy has the new ball in hand and is raring to go. Let's play...
Rovman Powell, the captain of West Indies is in for a chat. Mentions that they did not lose wickets in cluster and bowled as a unit as well. Hopes that the boys come out with the same mindset. Thinks that they have certainly grown as players. It is just about improving as a batting unit. Mentions that they are sticking to the same side.
Hardik Pandya, the captain of India says that they will bat first as the wicket looks nice and they want to put runs on the board. Adds that he is content with the performance and it is about curtailing the couple of errors they made in the last game. Mentions that when you are chasing not very high totals, you need to keep wickets in hand and it is a learning curve for them. Informs that they have a forced change with Kuldeep Yadav injuring himself in the nets and Ravi Bishnoi comes in to replace him.
West Indies (Unchanged playing XI) - Kyle Mayers, Brandon King, Johnson Charles (WK), Nicholas Pooran, Shimron Hetmyer, Rovman Powell (C), Romario Shepherd, Jason Holder, Akeal Hosein, Obed McCoy, Alzarri Joseph.
India (Playing XI) - Shubman Gill, Ishan Kishan (WK), Suryakumar Yadav, Tilak Varma, Hardik Pandya (C), Sanju Samson, Axar Patel, Ravi Bishnoi (In for Kuldeep Yadav), Yuzvendra Chahal, Arshdeep Singh, Mukesh Kumar.
TOSS - Rovman Powell flips the coin, Hardik Pandya calls for 'Heads' and it comes down as Heads. India win the toss and they will BAT first.
Nevertheless, West Indies proved that the game isn't over until it is over, they gave their all till the very end and got over the line. This character was certainly missing from the Men in Maroon and they will be hoping to carry on with this momentum. Nicholas Pooran seems to be in stunning form, since coming back from USA T20 League. On the other hand, India have ample of talent in their squad, and it won't be surprising even they are able to win four on the bounce from hereon. Expect nothing less than a thriller, as both would be eager for the win here. West Indies would want to extend their gap, and have some breathing space, while India would be desperate to make inroads in this series.
Hello and a warm welcome everyone for the second T20I between West Indies and India. The hosts certainly have the momentum on their side coming into this game, as they have managed to take an early lead in this series against all the odds - considering the position India were in while chasing, one would said it was India's game to lose, and somehow they ended up bottling it.
Topics mentioned in this article