Story Progress
Back to home
West Indies vs India: West Indies vs India, 2023 Live Cricket Score, Live Score Of Today's Match on NDTV Sports
Live Updates of Today Match between West Indies vs India from Brian Lara Stadium, Tarouba, Trinidad. Check commentary and full scoreboard of the match.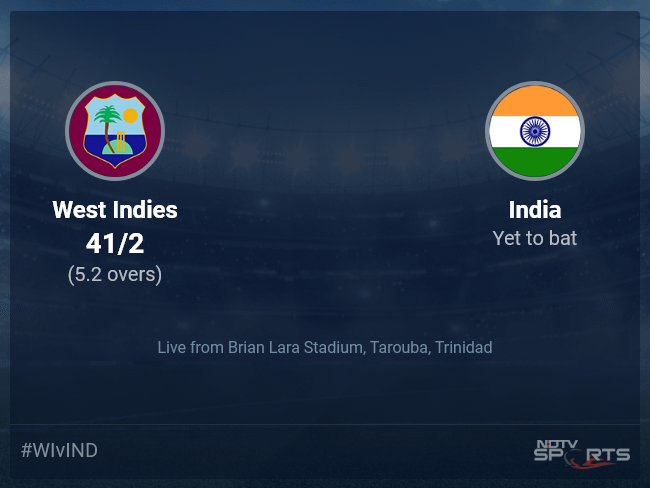 WI vs IND Latest Score
A dedicated team of experts bring you live score, live cricket score, live match update on Sports.NDTV.com. After 5.2 overs, West Indies are 41/2. The live updates of West Indies vs India scorecard is also available. It is the perfect platform to follow your favourite teams in West Indies vs India, 2023. Keep a track on your favourite batsmen and bowlers through West Indies vs India, 2023 today match, ball by ball commentary, West Indies vs India, West Indies vs India live score, West Indies vs India scorecard. Follow the excitement of the West Indies vs India, 2023 on Sports.NDTV.com as you can follow live match updates and live cricket score through our platform.
4.6 overs (6 Runs) SIX! BOOM! Nicholas Pooran goes big now!
4.5 overs (0 Run) No run. Flat good length delivery on off. Nicholas Pooran defends it well towards cover.
4.4 overs (4 Runs) FOUR! Nicholas Pooran gets off the mark in style! This is flighted, full and around off, Nicholas Pooran stays in his crease and blasts it over the bowler's head towards the long off fence for a boundary.
Nicholas Pooran strides out to the middle.
4.3 overs (0 Run) OUT! LBW! Yuzvendra Chahal with the double whammy! India have turned this game on its head as both the openers are back in the hut now. Chahal tossed this one up, full and around middle, lands and keeps straight, Brandon King prods forward to defend and plays for the turn but the ball goes past the inside edge to hit him on the front pad. Another appeal, and given. King goes for the review, UltraEdge shows no bat involved and Ball Tracking indicates three reds. West Indies two down now!
4.2 overs (1 Run) Floated, full and on middle, Johnson Charles clips it through mid-wicket for a single and gets off the mark.
Johnson Charles makes his way out to the middle at number 3.
4.1 overs (0 Run) OUT! LBW! Yuzvendra Chahal draws first blood! He gets the breakthrough on his very first delivery. Kyle Mayers' struggle at the middle comes to an end. Chahal begins with a flatter delivery, full and around off, Kyle Mayers goes down and tries for the slog-sweep but plays all over it to gets hit on the pads. There is an appeal for LBW, and up goes the finger. However, looking at the replay it seems it may have missed the off pole, but Mayers walked back anyway. West Indies lose their first wicket!
3.6 overs (0 Run) Fires this one short and on leg, Brandon King looks to flick but misses and gets hit on the pads as the ball rolls to the off side.
3.5 overs (0 Run) Slower through the air, on middle, turns away a bit, Brandon King gets squared up and taps it towards point.
3.4 overs (6 Runs) SIX! BANG! What a shot! This is flighted, full and around off, Brandon King moves to the leg side to make soom room and smacks it over covers for the first maximum of the match.
3.3 overs (0 Run) Quicker, full and on middle, angling in, Brandon King blocks it down the pitch.
3.2 overs (1 Run) Kyle Mayers finally gets off the mark! This is flatter, short and on middle, Kyle Mayers stays back and tucks it towards long on for a single.
3.1 overs (1 Run) Axar Patel starts with a floated delivery, full and on middle, angling in, Brandon King looks to push it away but gets an inside edge to the leg side. They cross.
2.6 overs (0 Run) Kyle Mayers yet to get off the mark here! This is short of a length and on the sixth stump line, Kyle Mayers only manages to chop it down as the ball rolls towards the keeper.
2.5 overs (0 Run) Arshdeep Singh bangs in a sharp bouncer this time, on middle, Kyle Mayers ducks under it. The umpire signals one for the over.
2.4 overs (1 Run) Back of a length and on middle, Brandon King pats it down towards mid on for a single.
2.3 overs (0 Run) On a length and around off, Brandon King steers it towards point.
2.2 overs (4 Runs) FOUR! Brandon King finds the fence again! Arshdeep Singh bangs this short but down the leg side, Brandon King swivels and hooks it over short fine leg for another boundary.
2.1 overs (0 Run) Fuller and outside off, slower too, Brandon King taps it towards covers.
1.6 overs (0 Run) Fullish delivery, on middle, slower too, Kyle Mayers knocks it back to the bowler.
1.5 overs (1 Run) Pitched up, on off, Brandon King pushes it towards covers for a single.
1.4 overs (0 Run) Good comeback from Mukesh Kumar! He lands this on a hard length, on off, angling in, Brandon King tries to late-cut it close from his body but gets beaten on the outside edge.
1.3 overs (4 Runs) FOUR! Two in two! Mukesh Kumar continues with his fuller length, on off, Brandon King stays there and goes through his drive fully to lift it over covers for four more runs. King looks in fine touch here.
1.2 overs (4 Runs) FOUR! Nice shot! Mukesh Kumar serves this full again, on middle, angling in, Brandon King skips down the track and lofts it over and wide of mid on for a boundary.
1.1 overs (0 Run) Mukesh Kumar begins with a full delivery, on off, Brandon King drills it hard but straight to mid off.
Mukesh Kumar will share the attack and bowl from the other end.
0.6 over (0 Run) Short of a length and outside off again, shaping further away, Kyle Mayers gets beaten on his cut once again as the ball goes past the outside edge to the keeper. 7 runs from the first over then!
0.5 over (0 Run) BEATEN! Arshdeep Singh lands this back of a length and outside off, shaping away, Kyle Mayers looks to cut it away but misses it.
0.4 over (1 Run) Length again and outside off, Brandon King reaches for it and gets a bottom edge towards third man for a single.
0.3 over (4 Runs) EDGED AND FOUR! This is on a hard length and on off, shaping away, Brandon King looks to push it away but gets an outside edge past first slip and wide of third man for a boundary.
0.2 over (2 Runs) Brandon King and West Indies are underway! This is touch fuller and on off, Brandon King drives it towards covers where Tilak Varma gets a hand but lets it through as the batters get two runs.
0.1 over (0 Run) A beauty to start with! Arshdeep Singh starts with a good-length delivery just around off, nips back in sharply, Brandon King is a bit late but manages to keep it out to the off side.
We are done with the prematch formalities as the umpires walk towards the pitch. The Indian players are in a huddle on the ground for a few last-minute instructions from Hardik Pandya before taking their respective positions on the field. Brandon King and Kyle Mayers will open the inning for West Indies and will want to get a good partnership going here. Arshdeep Singh has the new ball in his hand and will begin proceedings. Let's play...
We are close to the start of the game but first, the two sets of players and the match officials line up for the national anthems. It will be the national anthem of Trinidad and Tobago first, followed by India's national anthem and finally the national anthem of West Indies.
Hardik Pandya, the skipper of India says that the whole plan for the tour is to try out their bench strength and they may need to come back here soon for the World Cup. Adds that it is all about the preparations and giving players an opportunity to prove themselves before the 50-over World Cup later this year. Claims that he tries to keep things simple as it is about improving and showing progress. Mentions that he does not worry much about the mistakes but concentrates on the process. Informs that Umran Malik and Ravi Bishnoi miss out as they have gone with three spin bowlers.
Rovman Powell says that they will bat first. Adds that India have a lot of spinners so they will look to put up a big total on the board. Shares that the visitors are a very good side. Mentions that running between the wickets is very important and it is not all about scoring boundaries. Informs they are playing six batters and two all-rounders in Jason Holder and Romario Shepherd.
India (Playing XI) - Shubman Gill, Ishan Kishan (WK), Suryakumar Yadav, Tilak Varma (on debut), Hardik Pandya (C), Sanju Samson, Axar Patel, Kuldeep Yadav, Yuzvendra Chahal, Arshdeep Singh, Mukesh Kumar (on T20I debut).
West Indies (Playing XI) - Kyle Mayers, Brandon King, Johnson Charles (WK), Nicholas Pooran, Shimron Hetmyer, Rovman Powell (C), Romario Shepherd, Jason Holder, Akeal Hosein, Obed McCoy, Alzarri Joseph.
TOSS - The captains are out in the middle. The coin is flipped into the air and lands in favour of the West Indies. They have elected to BAT first.
Live pictures show Tilak Varma receiving his India cap as he makes his international bow. Meanwhile, Mukesh Kumar will also make his T20I debut to represent India in all three formats.
India, on the other hand, will be riding high on confidence as they gear up for their 200th T20I. Only Pakistan have achieved this feat so far. They have rested the likes of Kohli, Rohit and Jadeja but their youngsters took the opportunity and registered a big win in the final ODI without them and will look to do something similar here. Shubman Gill and Ishan Kishan makes up a powerful opening duo but that could change as in-form Yashasvi Jaiswal could make his debut. They have the current World No. 1 batter in Sky who has the ability to score all around the park. Hardik Pandya will be leading the side again and he will have Arshdeep Singh as his lead pacer in this format while Avesh Khan is also back in the squad. Mukesh Kumar has impressed on this tour and could play a part while Umran Malik can be given more game time as well. They have variety of spin options as well and it will be interesting to see the combination and also if Yuzvendra Chahal gets a chance after sitting out in the ODIs. Will they continue the winning momentum and get the victory? Or will the Windies take a 1-0 in the series? We will find out soon. Toss and team news in a bit.
West Indies have named a strong squad and have recalled the likes of Oshane Thomas and Shimron Hetmyer to boost their team even more. Unlike the longer formats, their players can express themselves better here. Johnson Charles made his return to the national team last year after a long gap and has performed well in thia format while Brandon King has also scored runs at the top but needs to improve his strike rate. Nicholas Pooran is in his prime form while Kyle Mayers, Hettie and Rovman Powell are going to be crucial too. Alzarri Joseph and Akeal Hosein will be the key bowlers for them. Most of their players have played in the Indian T20 League and can use that experience against the visitors to get the better of them but they know it is going to be a difficult task. The hosts could take inspiration from their last T20I series where they defeated a strong South African side. They need their senior players to step up and start the series on a positive note.
Hello and a warm welcome folks! We are all set for the first T20I of this five-match series between West Indies and India. These two teams battled it out in the longer formats before this where the visitors reigned supreme, but the hosts are better suited to this format and will provide a tougher challenge. Windies have a good chance of winning this T20I series and end their draught since 2017 against India while the Men in Blue will look to win all the formats on this tour.
Topics mentioned in this article