Story Progress
Back to home
Shooter Omkar Singh Buries 2010 Ghosts In Style, Wins Silver At Commonwealth Championship
The 10m Air Pistol shooter had missed a medal by just 0.3 points in 2010.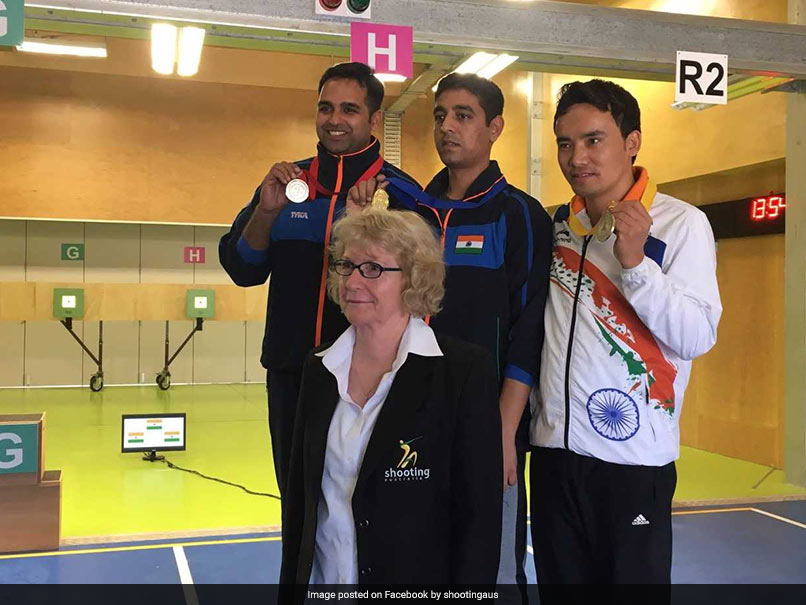 Omkar Singh won silver in 10m Air Pistol at Commonwealth Shooting Championship.
© Facebook
Highlights
The 10m Air Pistol shooter had missed a medal by just 0.3 points in 2010

It really feels great to be back on the podium, said Omkar Singh

Every individual medal is special for me, said Omkar Singh
Omkar Singh's dream of winning a Commonwealth Championship medal in 2010 met a setback when the shooter fell short by just 0.3 points from a podium finish. Seven years down the line, he buried the ghost in style and shot for silver in the 10m Air Pistol at the Commonwealth Shooting Championship in Brisbane. Excited after the achievement, Omkar told NDTV.com in an exclusive interview from Australia that he was happy to be where he belonged.
"It really feels great to be back on the podium," Omkar said. "Every individual medal is special for me. This has come after a long time so it has doubled the happiness."
He had finished fourth in the 2010 Commonwealth Championship held at Dr. Karni Singh Shooting Range in Delhi.
Youngster Shahzar Rizvi won the gold in Australia. Omkar and Jitu Rai took silver and bronze respectively.
Omkar led till the 18th shot before Rizvi took control from the 20th shot. By the end of the allotted 24 shots, Rizvi ended with a score of 240.7, while Omkar came second with 236. Jitu won bronze with a score of 214.1.
"During the last Commonwealth Championship in 2010, I came fourth. Finishing fourth is always painful because you miss the medal by few points. Had it been fifth, it wouldn't have hurt. I missed the medal by 0.3 points," the shooter said.
"I wanted to overcome that bad feeling with a medal-winning show and I am happy I did it," he said.
"I still remember I shot 586 on the first day in 2010. I was the clear favourite to win a medal. I had never crossed 580 in any event, so it was a big score for me. I entered the finals but missed the medal by a whisker," the Indian shooter recalled.
India's veteran shooter Samresh Jung had won the gold, Zakir Khan silver and England's Michael Gould finished third.
That disappointment didn't stop Omkar. Though he failed to win a medal at the Commonwealth Championship, his scores earned him a place in India's ISSF World Cup 2010 team for Australia. Omkar became the first male shooter to win a World Cup medal in the 10m air pistol event.
"It was the first-ever individual medal in 10m air pistol men's event in a World Cup. More than the medal, I was excited about the 'first-ever' tag," Omkar said.
He didn't stop here. He went on to win two individual gold medals at the 2010 Commonwealth Games. He finished top of the podium in 10m air pistol and 50m pistol events.
"The starting was not good. But, I learned from my mistakes and kept working hard. I believed in myself. That's what kept me going. The year 2010 was amazing for me," the shooter said.
Now, Omkar's main target is to qualify for Commonwealth Games and Asian Games, both to be held in 2018.
"Commonwealth Games and Asian Games are my main targets now and then 2020 Olympics. The trials for CWG will start from November 15 and there will be two more trials in January 2018. I am all set for the challenge," Omkar said.
"I need to work hard for these mega events. My sport is demanding more out of me," he said.
Promoted
Omkar has also explained what changes he has made to his routines to keep himself more focused towards the sport.
"I changed a lot of things. Fasting is helping me to keep calm. It has helped me increase my patience. I'm working hard in the gym and keeping eye on my diet," the shooter signed off.
Topics mentioned in this article