Story Progress
Back to home
Elavenil's Success Foretells Of Greater Things For Her And Mentor Gagan Narang
Elavenil Valarivan's recent success has the promise of shooting her and mentor Gagan Narang into bigger things.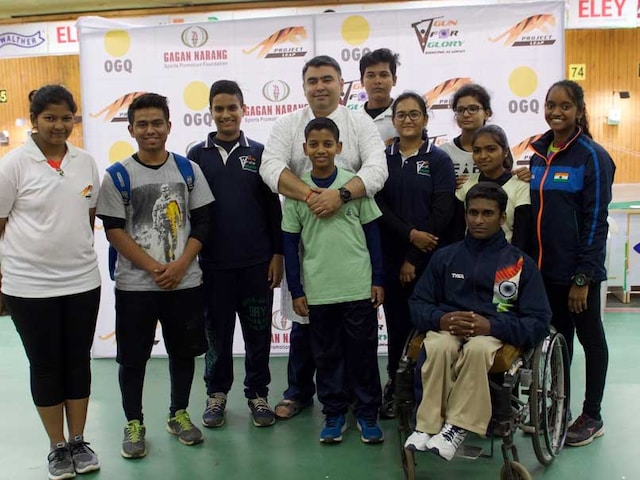 Elavenil Valarivan's recent success has the promise of shooting her into bigger things.
© NDTV
Highlights
Was very happy to get my personal best score of 631.4, said Elavenil

More than the medals, the score is satisfying, said Elavenil

Elavenil shot 249.8 in women's final to claim the top individual honours
Elavenil Valarivan's name is quite a tongue-twister which we may need to get used to if she lives up to the early promise she has shown in the sport of shooting. As a 14-year-old, the Sanskardham School student joined a programme conducted by the Gujarat state government and Gagan Narang's Gun for Glory shooting academy. In under four years, she has produced fine results, notching up a world record qualification score of 631.4 at the Junior World Cup in Sydney on Thursday morning, eventually winning the gold in 10m air rifle for women.
"I was very happy to get my personal best score of 631.4. I broke my own old record and did pretty well in the finals. More than the medals, the score is satisfying," Elavenil said in an interview to NDTV.
At 18, Elavenil knows that shooting is a lonely sport, just like chess and many others where you train hours and hours to better your own score. Who better to tell her than mentor Gagan Narang, who has experienced fantastic highs and crushing lows in his career. A few years back the former Olympic bronze medallist decided to take Gun for Glory to the West and that was when Elavenil was unearthed. She joined as a rookie shooter but slowly came up the ranks.
"I thank Gagan for joining hands with the Sports Authority of Gujarat and creating a district level sports school and starting a shooting school, inviting players. If today I am in this place, it is totally because of him and for my coaches (Neha Chavan and Anton Belak)," the young shooter said.
Elavenil's inclusion in Project Leap - a specialised programme run by Gun for Glory in association with the Olympic Gold Quest (OGQ) started in 2017, has given positive results. She finished 28th in her first ISSF event last year but grabbed an individual bronze and team silver with a perfect qualification score of 400 a few days ago in World University Games and now gold in the 10m Air rifle in the Jr. World Cup.
"Ela came into the Project Leap with the OGQ, which we have done recently," Narang says. "Coaching under Neha Chavan and Anton Belak, things have come to fruition for her. We are happy with her results. She is a great talent, missed the CWG selection but then won the gold at the Junior World Cup."
The teenager will now focus on making the cut for the Asian Games and the World Championships.
The story of Gagan and Elavenil in some ways mirrors Gopichand and Saina Nehwal's. The Hyderabad connection is unmistakable but what's missing is government support. Narang has worked tirelessly to give back to the system while pursuing his own sport. The funds have always been hard to come by.
Without government grant that has come to the likes of Gopichand and MC Mary Kom, Narang could only rely on charity. It has often been his own prize money invested into the Gun for Glory project in the last seven years.
Gopichand's perseverance and dedication have produced a line of champions like Saina, PV Sindhu and HS Prannoy. That has been powered by solid financial support from the state and central governments.
The sport of shooting lacks funding, not because its lacks champions but a TV-friendly format. However it also brings for India the maximum number of medals from multi-disciplinary games and the 27 member team at CWG, of which Narang is a part, is expected to do so.
India's top guns have already made a noise at the Mexico World Cup with the numero-uno finish for the first time. That has been followed by Elavenil's double strike at the World University Championships and at the Junior World Cup.
Promoted
"I would like to tell him that I am really really thankful for mentoring me, will make him more proud," Elavenil says of Narang
The mentor's proudest moment will be standing on the podium with one of his wards. Tokyo 2020 could be a realistic target, a fairy-tale finish for the pair.
Topics mentioned in this article