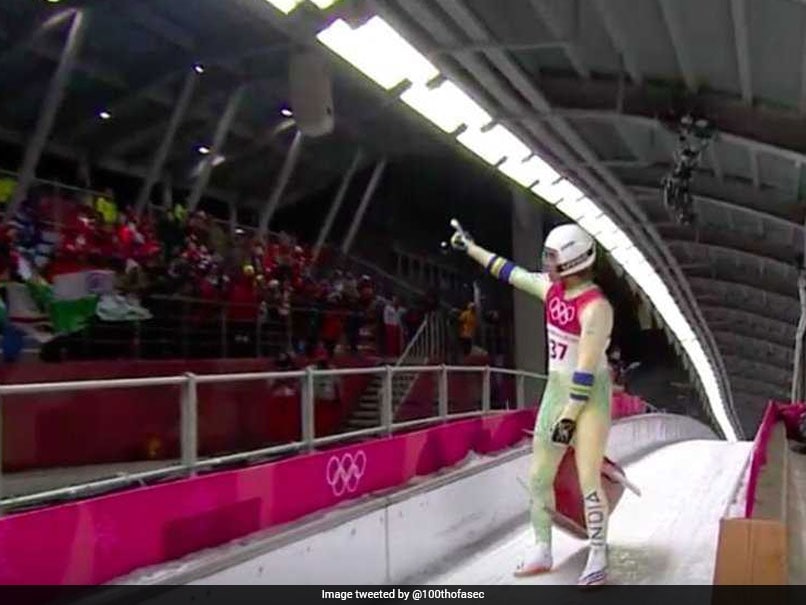 Keshavan's best performance in his ealier 5 Olympics has been a 25th place finish in 2006 in Turin.
© Twitter
India's Shiva Keshavan finished 34th after two rounds of heats in the men's singles luge competitions in the Pyeongchang Winter Olympics on Saturday. Keshvan, who is taking part in his sixth and final Winter Olympics, was 36th at the end of first heat but recovered a bit in the second, where he finished 31st, to be placed 34th overall at the halfway mark of competitions at the Olympic Sliding Center. Two rounds of heats will be held on Sunday to decide the winners. The 36-year-old Indian was placed 36th at the end of first round of heats, clocking a modest 50.578 seconds to cover the 1,344 metre track and then clocked 48.690 seconds in the second heat to end 31st out of 40 competitors.
A handful of supporters, including his family members, cheered Keshavan at the stands with Indian flags in their hands but he had a very bad start to his event.
His sled glanced the side edges of the track -- left and right -- just after the start and though he had a comparatively smoother ride after that, his timing shot over the 50-second mark.
He had a better outing in the second heat that saw him climb two places in the overall rankings after the two rounds.
"What a fantastic second heat. Timing of 48.710. The entire Indian camp is delighted. The picture itself speaks a thousand words," Keshavan tweeted under the name Team Shiva along with pictures of his race.
"Some more moments from the race. Happiness all around.
Let's keep cheering. 2 more heats to go tomorrow," he said in another tweet.
Keshavan's best performance in his ealier five Winter Olympics has been a 25th place finish in 2006 in Turin, Italy.
Meanwhile, Germany's Felix Loch was well on his way to his third consecutive Winter Olympics gold medal. After the first two runs, Loch (1:35.299) held a 0.188-second lead over David Gleirscher of Austria.
He was second in the first heat with a time of 47.674 seconds while he clocked 47.625 to top the second heat.
Roman Repilov, an independent Olympic athlete from Russia, finished the day in third position.
(This story has not been edited by NDTV staff and is auto-generated from a syndicated feed.)