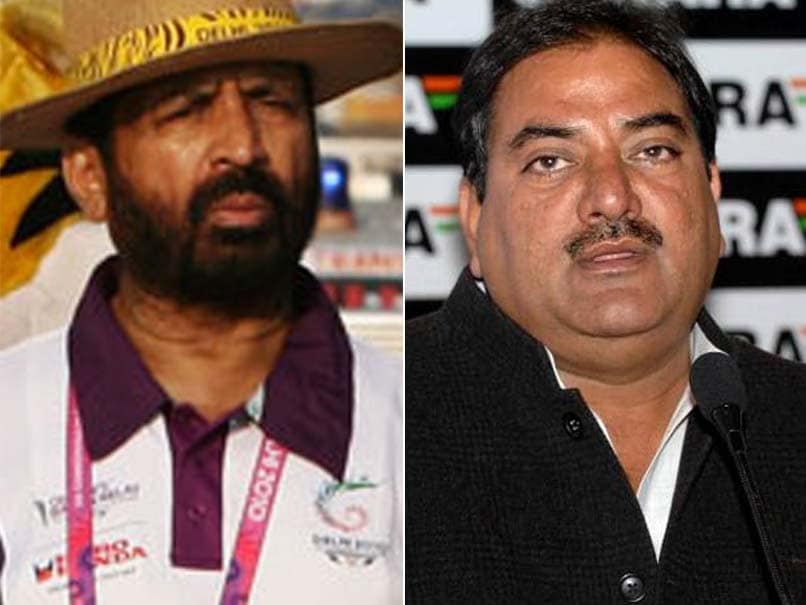 A day after Suresh Kalmadi refused to accept the post, Abhay Chautala too offered to do the same.
© NDTV
The Sports Ministry on Tuesday welcomed the Indian Olympic Association's (IOA) decision to annul the appointments of tainted politicians Suresh Kalmadi and Abhay Singh Chautala as life presidents.
Sports Minister Vijay Goel, through a Press Information Bureau (PIB) release, stated that he was happy that the IOA had cancelled the appointments and that the decision augured well for the governance of sports in the country.
"I have seen media reports that Indian Olympic Association (IOA) has cancelled the appointment of Suresh Kalmadi and Abhay Singh Chautala as lifetime presidents of IOA. I am happy that IOA has reversed its decision which augurs well for governance of sports in the country," said Goel.
"By reversing their earlier decision, which appears to have been taken in a hurried manner, IOA has complied with its own constitutional obligation and also with conditionality approved by International Olympic Committee (IOC). In the renewed circumstances, we look forward to partnering with IOA in making India a sporting nation."
"Both Kamaldi and Chautala's appointments have been declared null and void as after going through all the documents of the AGM we found out that there were technical fault in the decision," a top IOA official told PTI.
"Kamaldi and Chautala are no longer part of IOA and have nothing to do with IOA."
The appointments had led to major controversy with the Sports Ministry warning that it will sever ties with the association unless they are removed.
The Vijay Goel-headed Sports Ministry had issued a show-cause notice to the IOA after a General Body Meeting of the body passed a resolution to appoint Kalmadi and Chautala, both of whom have been charge-sheeted in corruption and other cases, as its life presidents.
The IOA had defended the appointment saying it is "constitutionally a legitimate decision" and also emphasising that these are "honorary posts" and no executive authority would be given to Kalmadi and Chautala.
However, after much furore, Kalmadi turned down the offer, putting much more pressure on Chautala to resign as well.
Chautala, in a long press release, began by thanking the IOA for honouring him and concluded by saying that he would be pleased to relinquish the post if the International Olympic Committee (IOC) was not happy with IOA's decision.
(With inputs from agencies)