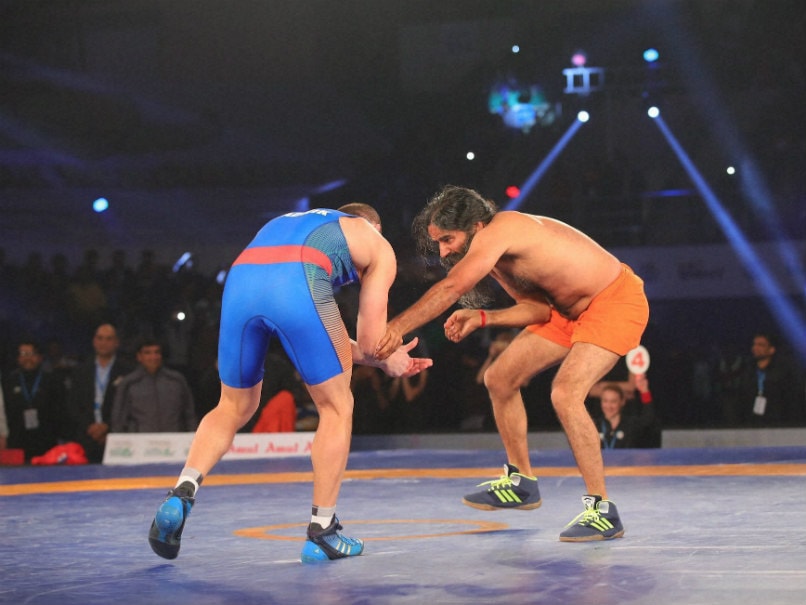 Baba Ramdev took on Olympic medallist Andriy Stadnik in a PWL promotional bout on Wednesday.
© PTI
Baba Ramdev has already shown his prowess on the football field, this time the yoga guru showed off his wrestling skills as he went head-to-head against 2008 Olympic silver medallist Andriy Stadnik in a Patanjali Powervita Pro Wrestling League (PWL) promotional bout on Wednesday. Wrestling fans will remember Stadnik was the man who defeated Indian star Sushil Kumar in the Beijing Olympics. The Ukraninian reached the final thereby giving Sushil the chance to fight in the repechage round, where he went on to win the bronze medal.
Ramdev, wearing a saffron langot, exhibited his yoga moves before proceeding to hand Stadnik a 12-0 loss.
Ramdev showed wrestling acumen as he pulled out the best of technical moves such as take-down, one-leg hold and pinning down.
Since it was a promotional bout, Stadnik responded by allowing Ramdev to have his way, as did the referees. After nearly two minutes, Standnik surrendered.
The bout took place during the second semi-final between Punjab Royals and Mumbai Maharathi. PWL is sponsored by Patanjali Ayurved Limited, owned by Ramdev.
Ramdev said that people should wrestle as it can help in stamina building.
He also felt that wrestling has the credentials to become world's most popular sport.
This was not the first time that Baba Ramdev has shown interest in friendly wrestling bouts. Last year, on the occasion of the 20th anniversary of their Ashram in Haridwar, Baba had challenged India's only individual two-time Olympic wrestling medallist and former world champion Sushil.
In July last year, the yoga guru had grabbed a lot attention after participating in a charity football match with several Bollywood stars and Parliamentarians.
Baba Ramdev was his usual energetic self - kicking the ball with his matching orange showes and ready for a tackle as players tried to dribble past him.
(With IANS Inputs)