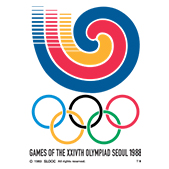 About SEOUL 1988 Summer Olympics
Ben Johnson smashed his way to a crushing win in the 100 metres and was then exposed as sport's biggest cheat.
The Jamaican-born Canadian, who had broken the world record 12 months earlier at the world championships in Rome, later admitted he panicked after struggling to find form after returning from injury.
So he took one pill too many and helped make Stanolozol the most famous drug in the world.
Carl Lewis, who had been chastised for sour grapes when he queried the credentials of Johnson's power in 1987, was proved right and awarded a second successive sprint gold medal.
Florence Griffith-Joyner, better known for her claw-like painted finger nails and revealing running gear, suddenly blossomed by winning the 100m, 200m and 4x100m golds and taking a silver in the 4x400 relay.
Her smile as she raced away to win the 100m was only just shorter than the winning distance and she smashed the 200m world record.
But there were always doubts about drugs and in 1998, aged 38, she died after suffering an epileptic seizure that led to her suffocation.
The Soviet Union (56 gold medals) and East Germany (37) demonstrated their superiority over the Western nations although later drugs trials in Germany revealed the systematic doping that shored up that success.
East German swimmer Kristin Otto just missed Mark Spitz's 1972 seven-gold record with six gold medals while US swimmer Matt Biondi won five gold, one silver and one bronze medals.
Greg Louganis repeated his diving double achieved in Los Angeles, despite cracking his head on the board in the preliminaries.
In 1995 he revealed he had tested HIV-positive six months before Seoul and was taking an AIDS drug by the time he got to South Korea.
Tennis returned after a 64-year absence and Steffi Graf completed a golden Grand Slam.
Chinese and Korean players dominated the newly-introduced sport of table tennis.
Lennox Lewis won the super-heavyweight gold medal for Canada and later became world heavyweight boxing champion for Britain.