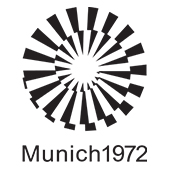 About MUNICH 1972 Summer Olympics
Everything was right for a great Games but the murder of 11 Israeli competitors and officials by Palestinian terrorists who infiltrated the athletes' village ensured that Munich will be forever remembered as the Black September Games.
Mark Spitz won an unequalled seven swimming gold medals -- four in individual events and three relays.
Valery Borzov achieved a sprint double, helped by an 18-month-old timetable that misled US coach Stan Wright and led to only Robert Taylor arriving in time for the 100m quarter-finals. Eddie Hart and Rey Robinson missed their races.
Finland's Lasse Viren did the long-distance double, after falling in the 10,000m but getting up to win.
Lyudmila Turischeva, the 19-year-old world champion, won the All-round title but it was little Olga Korbut who captured world attention and made gymnastics into one of the biggest television sports.
After falling off the uneven bars in the All-round competition she recovered her poise the next day to win a silver on the same apparatus and the beam and floor exercises gold medals.