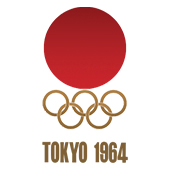 About TOKYO 1964 Summer Olympics
The first Games to be staged in Asia were a masterpiece of organisation.
Don Schollander, 18, became the first swimmer to win four gold medals at one Olympics while Dawn Fraser won her third successive 100m freestyle.
Peter Snell of New Zealand retained his 800m title and added the 1,500m while Bob Hayes won the 100m in a world record of 10.0sec. This performance was verified on the photo-finish device used for the first time.
Judo was introduced but the Japanese lost the fourth title and most important, the open category, to Holland's Anton Geesink.
Joe Frazier, another future world professional champion, won the heavyweight boxing title and India won their seventh hockey title, turning the tables on Pakistan who has broken the sequence in 1960.
Larysa Latynina of the Soviet Union lost the All-round gymnastics title to Vera Caslavska of Czechoslovakia but collected six more medals to bring her total to 18: nine gold, five silver and four bronze.