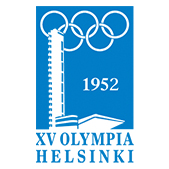 About HELSINKI 1952 Summer Olympics
The Cold War games. The Soviet Union participated for the first time after a 40 year absence, in a country they had invaded twice during World War II, and Germany and Japan were allowed back. Nine of their 22 gold medals came in gymnastics. The Soviets and their eastern block allies stayed in a seperate village.
Emil Zatopek won three gold medals, the 5,000m, 10,000m (which he had won in London) and the marathon. He had never run the marathon before. His wife Dana also won the women's javelin.
There was a revolution in equestrian sports when civilians and women were allowed to compete in dressage. Previously only officers had been allowed to take part.
Lis Hartel of Denmark, struck down by polio eight years earlier when she was 24, won the silver medal. She forced herself to walk again although she remained paralysed below the knees and had to be helped on and off the horse.
Two future professional world heavyweight champions took part in the boxing. Floyd Patterson of the United States won the middleweight gold medal while Sweden's Ingemar Johansson was disqualified in the heavyweight final for "not trying."
Barbara Jones, a 15-year-old from Chicago, one of four black women in America's 4x100m relay team, became the youngest ever Olympic athletics champion -- man or woman.
Ferenc Puskas helped Hungary win the football gold medal. The Hungarians were third in the medals table.