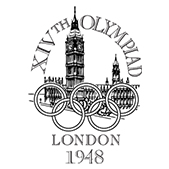 About LONDON 1948 Summer Olympics
The Games had been scheduled for Tokyo in 1940.
Germany and Japan were not invited, the Soviet Union decided to stay away, but other Communist countries took part.
Fanny Blankers-Koen of the Netherlands became the first woman athlete ever to win four medals at a single Games, winning the 100m and 200m, 80m hurdles and anchoring the 4x100m relay. It could have been six -- the mother of two did not compete in the high or long jumps, two of the five events for which she held the world record.
Alice Coachman won the women's high jump to become the first black Olympic women's champion. When she returned home to Albany, Georgia, she was not allowed to speak at a town hall reception where the audience was segregated.
Bob Mathias won his first Olympic decathlon title at the age of 17.