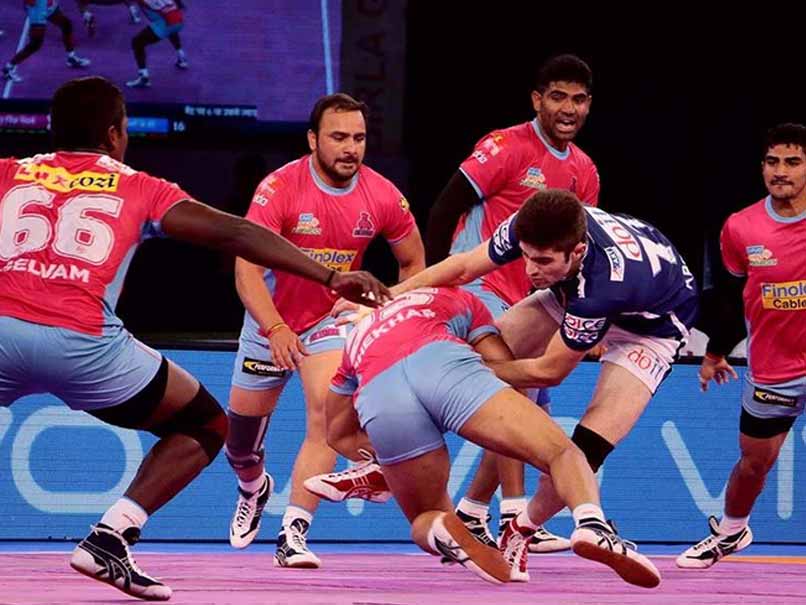 A terrific all-round performance by Jaipur Pink Panthers saw them thrash Dabang Delhi 36-25 in a Pro Kabaddi League match on Sunday. Nitin Rawal and Pawan Kumar combined to score 12 raid points whereas Manjeet Chhillar and Sidharth scored nine tackle points. It was a disappointing performance by Dabang Delhi as they were second best for majority of the match. Abolfazl scored six raid points for Dabang Delhi. Jaipur Pink Panthers remain fifth in the Zone A table with 36 points from 11 matches. Dabang Delhi remain rooted bottom of the table with 28 points from 11 matches.
Pawan Kumar scored with a two-point raid in the second minute to give Jaipur Pink Panthers 3-0 lead. Abolfazl opened Dabang Delhi's account in the third minute. Jaipur Pink Panthers led 5-3 after five minutes and looked like the better side.
Dabang Delhi scored a tackle point in the 10th minute to level the game at 6-6. The next few minutes saw both teams exchange raid and tackle points as it was 7-7 in the 13th minute. Jaipur Pink Panthers inflicted an all out in the 15th minute to lead 14-8. Dabang Delhi were looking a bit hapless as Jaipur Pink Panthers went into the break leading 18-9.
Topics mentioned in this article
Kabaddi