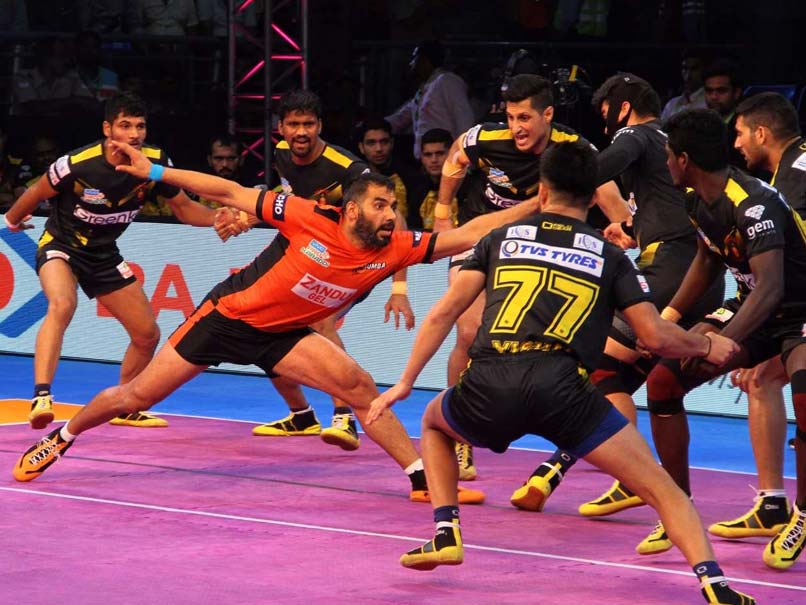 Rahul Chaudhari and Sombir Shekhar were the architects of Telugu Titans victory.
© VIVO Pro Kabaddi League
Telugu Titans beat U Mumba 37-32 in the Inter-Zone Challenge of Pro Kabaddi League, on Saturday at Babu Banarasi Indoor Stadium. While in the second match of the day Haryana Steelers defeated UP Yoddha 36-29. Rahul Chaudhari and Sombir Shekhar were the architects of Telugu Titans victory. Chaudhari scored 13 raid points whereas Sombir scored 8 tackle points. Vikas Kandola was the top raider for Haryana Steelers with nine points while Surender Nada was the top defender with seven tackle points.
U Mumba tried to come back in the second half but faltered at critical moments of the match. Telugu Titans registered just their second win whereas U Mumba suffered their fourth defeat of the season.
Chaudhari got Titans going in the first minute. U Mumba were the better team in the early few minutes of the match as they led 4-2. Chaudhari then scored with a three-point raid in the fourth minute as Telugu Titans led 5-4.
Titans inflicted an all-out in the 9th minute to lead 12-7. It was all Telugu Titans in the first half as Rahul Chaudhari continued to pile on the raid points.
For U Mumba, Anup Kumar tried to get them back in the game but they trailed 15-19 at the end of the first half.
For a while, it looked like Telugu Titans would run away with the match as the continued to assert their dominance.
They opened a nine-point gap in the 27th minute to lead 27-18. U Mumba got back in the game as their raiders and defence got their act together. They went on a eight-point run as they tied the game at 27-27 in the 32nd minute.
In the 30th minute, they also inflicted an all out on Telugu Titans. It seemed like Telugu Titans had ran out of steam. But Rahul Chaudhari scored with a two-point raid in the 31st minute as Telugu Titans led 31-28.
Sombir Shekhar was colossal at the back for Titans and scored seven points in the first 30 minutes. With less than five minutes to go, Rahul Chaudhari scored two quick raid points to give Telugu Titans 34-30 lead.
In the 37th minute, Telugu Titans inflicted an all out as they led 37-31. Telugu Titans held on to their lead and won 37-32 in the end.