Story Progress
Back to home
Kabaddi World Cup 2016: India Beat Iran to Clinch Title
Inspired by a superlative performance from raider Ajay Thakur, India registered a hard-fought win over Iran to be crowned the Kabaddi World Cup 2016 champions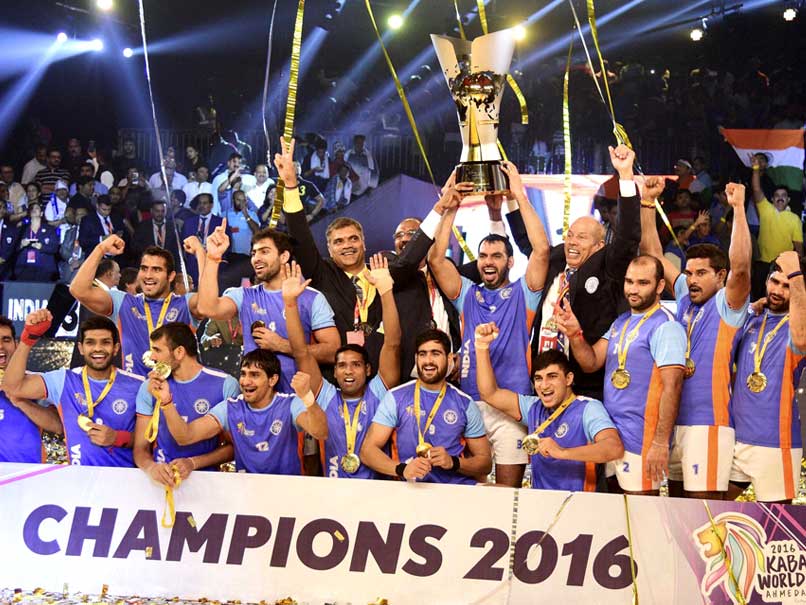 India made a sterling comeback in 2nd half to beat Iran in the final and win the Kabaddi World Cup 2016.
© PTI
Highlights
India beat Iran 38-29 to win the Kabaddi World Cup 2016

India beat Iran for the 3rd time in the Kabaddi World Cup final

Ajay Thakur was the star raider for India in the final
A brilliant performance from raider Ajay Thakur helped India beat Iran 38-29 in the final of the Kabaddi World Cup 2016 to claim the country's third title under the new format on Saturday.
India, who had defeated Iran in the previous two finals, were trailing 13-18 till half-time but put in a sterling show in the second half to romp home to victory.
Thakur, who ended the tournament with the most raid points in this year's tournament, was on fire and led India's fightback single-handedly.
Thakur scored 12 raid points to leave the Iran defence in tatters in the second half, swinging the momentum in India's favour.
However, India didn't have it easy by any stretch of imagination.
Some super defence, in the first half, from Iran had the Indian raiders in massive trouble.
Meraj Sheykh put in a superlative performance for the Iranians and was the top raider for them. He had the game of his life and created all sort of problems for the Indian defence but failed to get credible support from the other Iran raiders.
Surendra Nada gave India hope with a super tackle with under five minutes to go in the first half. However, Iran got three points for an 'All Out' with just two minutes remaining for the end of first half.
India came out all guns blazing in the second half and were much better in defence, making it doubly hard for Iran to score any raid points.
India brought down the arrears to 17-19 with a brilliant raid that earned the hosts not only two points but managed to get Meraj out of the game.
That proved to be the turning point as Ajay Thakur took centrestage, scoring one raid point after another.
With 12 minutes remaining India levelled the score at 20-20 with Thakur again the catalyst.
India took a 21-20 lead with 11 minutes to go and then extended it to 24-21 with an 'All Out'.
Iran tried hard to get back into the game but the Indian defence juxtaposed with Thakur leading the raids, kept them at bay.
Thakur effected another 'All Out' with yet another powerhouse raid that put the result any doubt with three minutes remaining.
Tributes pour in
Following India's thrilling win over Iran, twitter was abuzz with congratulatory messages.
Indian cricketer Yusuf Pathan was one of the first to share his delight on India winning the title.
Good win India that was a complete team effort and super Energy from fans#Championindia #2016KabaddiWorldCup pic.twitter.com/ymfOXw2oVr

— Yusuf Pathan (@iamyusufpathan) October 22, 2016
While star India shuttler Jwala Gutta also celebrated India's win fervently.
#TeamIndia #2016KabaddiWorldCup
Wooohoooo champions 2016

— Gutta Jwala (@Guttajwala) October 22, 2016
Cricket commentator Harsha Bhogle also tweeted praising Ajay Thakur while Virender Sehwag in his own style also congratulated India's star raider.
This is a great evening for Ajay Thakur and for India. Wonderful evening. This is coming home. #2016KabaddiWorldCup

— Harsha Bhogle (@bhogleharsha) October 22, 2016
Yeh Jazba ,yeh Spirit ,Hamka De De Thakur. Ajay Thakur, you are a rockstar. Haar ke Jeetne waale ko Team India kehta hain.Champions#INDvIRN pic.twitter.com/8S8PZ8IA6M

— Virender Sehwag (@virendersehwag) October 22, 2016
Topics mentioned in this article