Story Progress
Back to home
Amitabh Bachchan Hails India's Kabaddi World Cup Win
India defeated Iran 38-29 to win the 2016 Kabaddi World Cup. Ajay Thakur was India's top raider with 12 points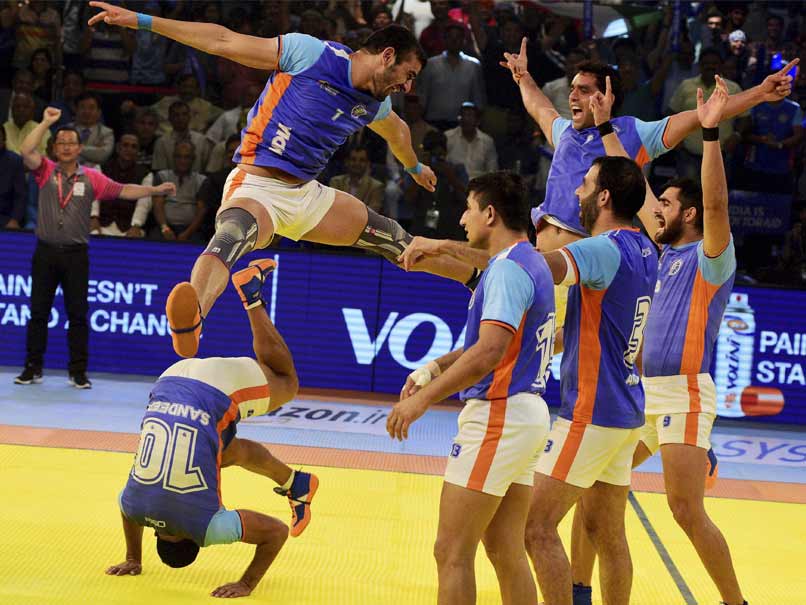 India won their eighth Kabaddi World Cup as they beat Iran on Saturday.
© PTI
Highlights
India beat Iran 38-29 to win Kabaddi World Cup

This was India's eighth world title

Ajay Thakur won 12 points alone for India
Mumbai:
Praising India for winning the Kabaddi World Cup at the TransStadia Arena in Ahmedabad, megastar Amitabh Bachchan said it's "time for celebration and cheer" .
India fought off a tough challenge from Iran on Saturday night to win the Kabaddi World Cup. India had earlier clinched the 2004 and 2007 editions of the Kabaddi World Cup.
"The excitement of the hour, India wins world cup kabaddi 2016. Seen on television with the family by the side and surreptitiously moving in and out of the room to rid the ambiance of superstition," he posted on his official blog.
"We rule and it is not often that we do that, but when we do, it is time for celebration and cheer and Twitter and Facebook in praise of the efforts made, by team India, and cheering them on to win," he added.
Promoted
The 74-year-old star remarked that there are some people on the micro-blogging website Twitter who thrive on criticising others.
"There are certain Twitter conscious twitterati that survive this platform simply by criticising or speaking controversially on the win, saying they invented darts and curling. They have been world champions for long but have never beaten their chests just like we do often, in the confines of various hotels," he posted.
Topics mentioned in this article