Story Progress
Back to home
Ireland vs India Live Score Ball by Ball, Ireland vs India 2022 Live Cricket Score Of Today's Match on NDTV Sports
Live Updates of Today Match between Ireland vs India from Malahide Cricket Club Ground, Dublin. Check commentary and full scoreboard of the match.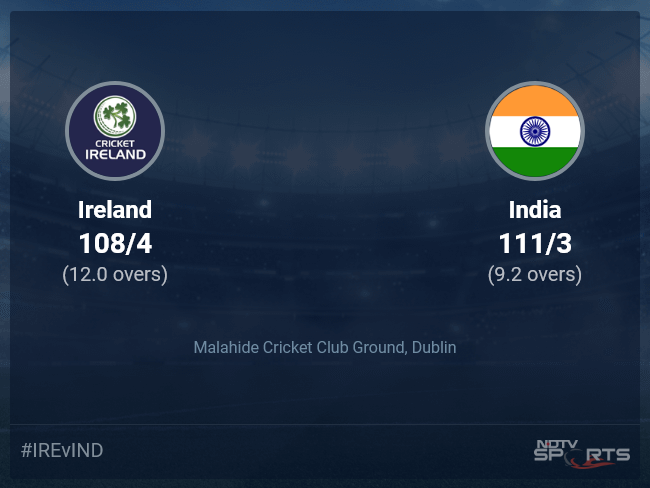 IND vs IRE Latest Score
Follow the Ireland vs India 2022 live cricket score on Sports.NDTV.com. After 9.2 overs, India, chasing a target of 109, are 111/3. Get live score, ball by ball commentary and much more. Keep track of Ireland vs India 2022 today match between Ireland and India. Everything related to Ireland and India match will be available on Sports.NDTV.com. Stay updated with Ireland vs India live score. Do check for Ireland vs India scorecard. You can get scorecard updates, match related facts. Get quick live updates with ads, Sports.NDTV.com, which is the perfect destination for live cricket score.
Right then, that is all we have from this game! India have taken a 1-0 lead and would be looking to finish the series with another convincing performance in the next game. The second and final game will be played on Tuesday, 28th June 2022. It will start at 9 pm IST (3.30 pm GMT) but our build-up will begin a lot earlier. So do join us for that. Till then, goodbye and cheers!
Hardik Pandya, the Indian captain, smiles and says that he is feeling fantastic and it's great to start a series with a win. Adds that as a group it's important to start with a win. Regarding Umran Malik getting to bowl late, Hardik Pandya replies that he has been fantastic for his franchise and he is more comfortable with the old ball and Pandya wanted to give him time to settle his nerves. Further says that maybe, in the next game, Umran Malik will get the full opportunity. On Harry Tector's batting, Pandya says that he played fantastically and some of his shots had him awe-struck and it's good to see a talent like him. Further says that Ireland need to make sure that Tector is looked after well.
Andy Balbirnie, the Irish skipper, says that it's never easy when you come to the ground, do your full warm-up and then it's a delayed start. Admits that it was tough against some high-class Indian pacers in favourable conditions. Feels that they were good and bad but against a team like India, you need to be more good than bad. Praises Harry Tector for his knock and tells that there is a belief in the batting department.
Yuzvendra Chahal (3-0-11-1) is the Player of the Match! The leggie says that it was difficult to bowl in these conditions but you have to adapt. Adds that Hardik Pandya gave him the liberty to bowl whatever he wanted to bowl. Shares that the atmosphere in the team is pretty chilled out. Smiles and says that he is wearing three sweaters.
Stay tuned for the presentation...
Bhuvneshwar Kumar (3-1-16-1) comes for a quick chat. The pacer says that he enjoyed the surface, especially with the new ball as there was handy movement. Adds that it doesn't matter which format you are playing, if the pitch is offering movement, you need to bowl the Test-match lines and lengths. Mentions that there is an excellent pool of talent in the dressing room and not just India but other countries have also benefitted a lot from the Indian T20 League. He is happy with all the support here in Ireland.
The chase began in style for India as Ishan Kishan smashed Josh Little all over the park in the first over. He looked in ominous touch before Young delivered a two-wicket over, getting rid of Ishan Kishan and Suryakumar Yadav off consecutive deliveries. The key was that Craig Young bowled fuller lengths than his other teammates. Deepak Hooda, who was sent to open, in place of Ruturaj Gaikwad, struggled initially but got into his groove eventually. Both Hardik Pandya and Hooda lashed on the one over bowled by the spinner, Andy McBrine and India never looked like in any sort of trouble in this chase. Hardik Pandya departed when the victory was a mere formality and Hooda along with Dinesh Karthik finished things off with ease.
After rain played spoilsport early on, the game was reduced to a 12-overs-a-side affair. The Indian bowlers started off brilliantly with the ball but Harry Tector, with his brilliant knock, took Ireland to a challenging total. Yuzvendra Chahal was superb with the ball along with Bhuvneshwar Kumar who displayed some crafty swing bowling. India though were still the favourites to win this one at the halfway mark.
This one promised to be an entertaining affair, and it certainly was! India though stayed true to their billing and notched up a comfortable win in this first T20I. Ireland had their moments both with the bat and ball, but they need to come out with better execution to get over the line against this second-string yet talented Indian team.
9.2 overs (4 Runs) FOUR! That's the way to do it! Josh Little goes wide of the crease as he hurls a full ball around off, Deepak Hooda steps back to make room and forces his drive through cover-point for a boundary. INDIA WIN BY 7 WICKETS!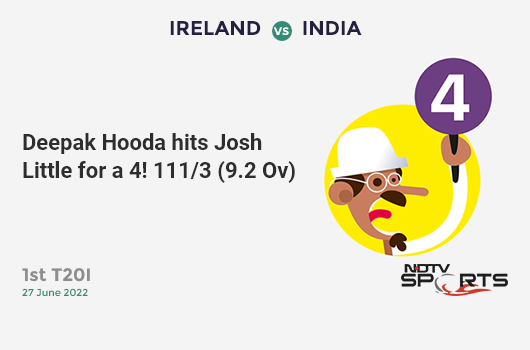 9.1 overs (4 Runs) FOUR! Pure timing and crisp placement. Josh Little dishes out a shortish delivery, around off, Deepak Hooda hangs on the back foot and crunches it through the gap at extra cover for a glorious boundary.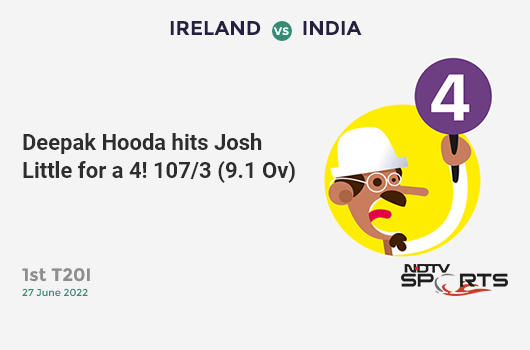 8.6 overs (4 Runs) FOUR! Smashed away! Back of a length, outside off, Karthik camps back and whacks it through point for a boundary. India are one big shot away now!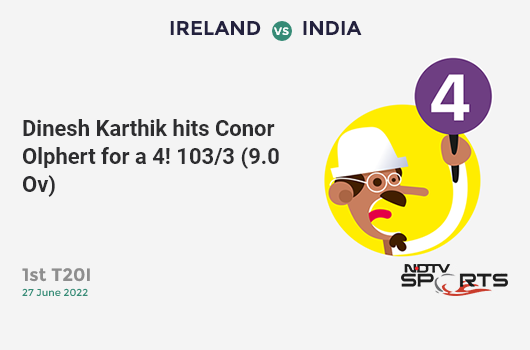 Josh Little will continue.
8.6 overs (1 Run) Wide! Drifting down the leg side, Karthik tries to work it across the line but misses. 10 needed more.
8.5 overs (0 Run) In the channel outside off, on a good length and nipping away, Dinesh Karthik shoulders arms.
8.4 overs (1 Run) Hits the deck hard, around off and gets it to jump onto the batter, Hooda goes on his toes and taps it down on the surface. Karthik calls him through for a quick run.
8.3 overs (1 Run) DK is off the mark! On a length and around leg, Karthik clips it to deep square leg for a single.
8.3 overs (1 Run) Wide! Short and quite wide outside off, DK initially shapes to play at it but then withdraws his bat.
8.2 overs (0 Run) Fuller in length and on middle, Karthik defends it back to the bowler.
8.1 overs (1 Run) Fraction short and outside off, Hooda steers it past the point fielder for a single.
Dinesh Karthik walks out to the middle.
7.6 overs (0 Run) OUT! LBW! Little steams in and spears a full ball in the line of the stumps, getting it to curve in a bit off the seam, Pandya is deep inside the crease, aiming to heave it over the leg side but misses. He is rapped on the back leg, the bowler appeals and the umpire agrees. Hardik takes the DRS but the Ball Tracking shows that it's clipping the leg stump. Umpire's call. The Indian skipper departs. 15 needed off 24 balls.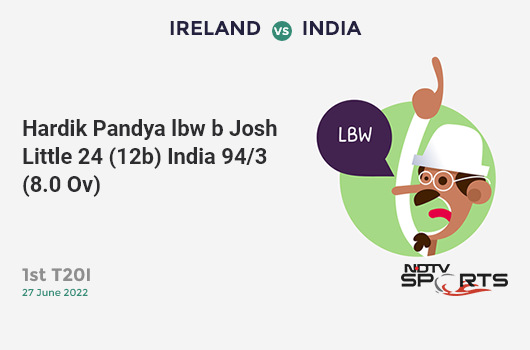 7.6 overs (1 Run) Wide! Short and down the leg side, Pandya tries to glance but misses.
7.5 overs (6 Runs) SIX! That's colossal! Back of a length, around off and angling away, Pandya rocks on the back foot and rockets it straight down the ground for a biggie. Sheer power from the skipper.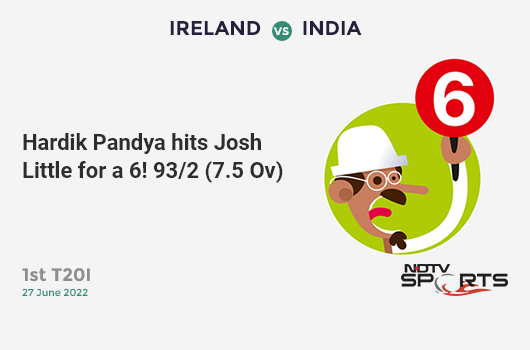 7.4 overs (1 Run) Josh Little switches to over the wicket and delivers it a touch short on off, Hooda punches it to the right of point and rotates the strike. 22 needed more.
7.3 overs (4 Runs) FOUR! Hooda is showing his full range here. Back of a length, around off, Deepak Hooda leans back, waits for it and then ramps it behind the keeper for a boundary.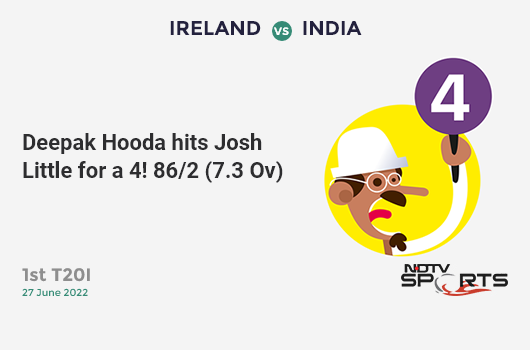 7.2 overs (4 Runs) FOUR! Finds the gap and raises the 50-run stand. India are motoring towards the target. Width there outside off, short in length, Hooda goes back and slaps it through the gap between short third man and backward point.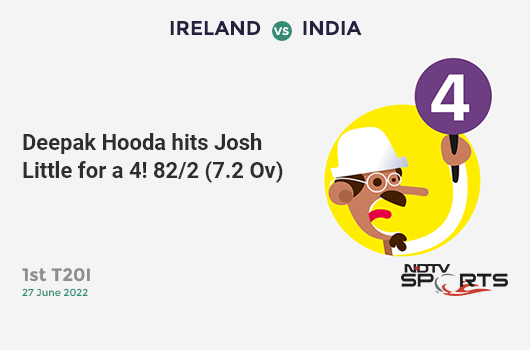 7.1 overs (0 Run) Little speeds in from 'round the wicket and delivers it full around off, Hooda mistimes his drive to mid off.
Josh Little is back on. He went for 15 runs in his first over!
6.6 overs (0 Run) Aerial but safe! A touch short in length and outside off, Pandya moves back and throws his bat at it. It flies off the toe end but doesn't carry to mid off.
6.5 overs (0 Run) Beaten! Around off, on a length and straightening a touch, Pandya tries to stroke it off the back foot but misses.
6.4 overs (1 Run) Short and around off, shooting off the surface, Deepak Hooda goes back to punch but it hits the splice of his bat and goes wide of the keeper. Lorcan Tucker dives across to make a half-stop and they cross.
6.3 overs (2 Runs) Short in length and outside off, Hooda leaps on the back foot and smacks it to deep cover. The fielder makes a tumbling stop and they take two runs.
6.2 overs (0 Run) Better this time! Conor Olphert serves it on a length around middle, getting it to shape away a shade, Deepak steps back to hit it through the line but misses.
6.1 overs (6 Runs) SIX! Boom! Conor Olphert starts with a length ball, around leg and drifting down, Deepak Hooda picks it off his pads and dumps it over fine leg. 34 needed off 35 balls.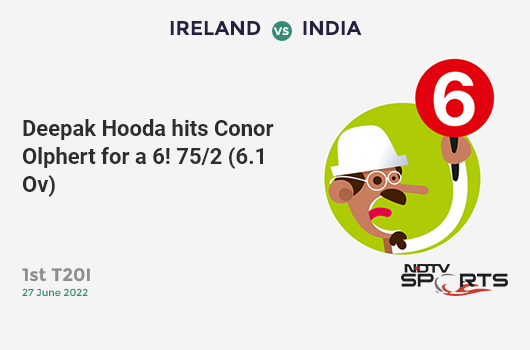 Debutant Conor Olphert is introduced into the attack.
5.6 overs (6 Runs) SIX! Hardik Pandya goes big again, 21 from the over! This is full, right in the slot on middle. Pandya gets under it and tonks it over long on for a biggie. India need 40 from 36 balls now!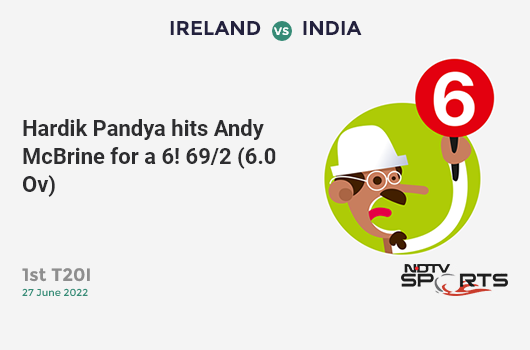 5.5 overs (1 Run) This is fuller on middle. Hooda eases it down to long on for a single.
5.4 overs (0 Run) A flatter one again, on off. Hooda pushes it towards covers.
5.4 overs (1 Run) WIDE! Pushes it quicker but down the leg side. Hooda looks to clip it but misses.
5.3 overs (6 Runs) SIX! Hooda follows his captain, and sends it into the stands! This is full on middle, Hooda dances down the track and launches it way over long on for a maximum.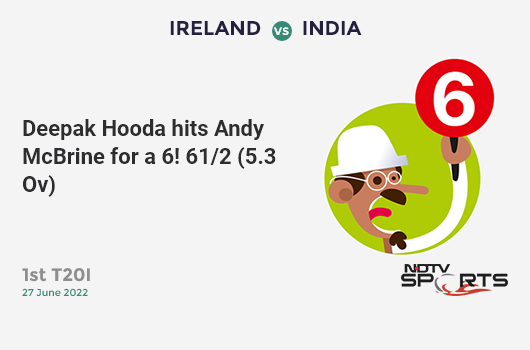 5.2 overs (1 Run) Shortish length on middle, Pandya works it to deep mid-wicket for a single this time.
5.1 overs (6 Runs) SIX! Hardik Pandya loves to bat against spinners and he has made his intention clear on the first ball itself! Tossed up around middle, right in the slot and Pandya hammers it over deep mid-wicket for a biggie.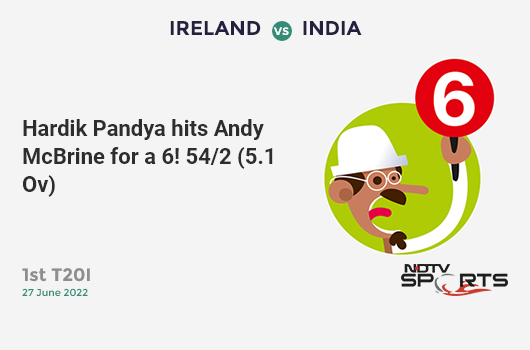 Match Reports
Topics mentioned in this article