Story Progress
Back to home
Ireland vs India Live Score Ball by Ball, Ireland vs India 2022 Live Cricket Score Of Today's Match on NDTV Sports
Live Updates of Today Match between Ireland vs India from Malahide Cricket Club Ground, Dublin. Check commentary and full scoreboard of the match.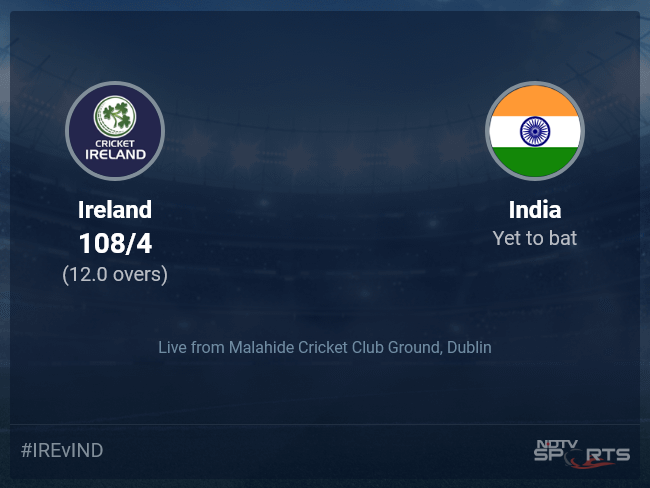 IND vs IRE Latest Score
Follow the Ireland vs India 2022 live cricket score on Sports.NDTV.com. After 12.0 overs, Ireland are 108/4. Get live score, ball by ball commentary and much more. Keep track of Ireland vs India 2022 today match between Ireland and India. Everything related to Ireland and India match will be available on Sports.NDTV.com. Stay updated with Ireland vs India live score. Do check for Ireland vs India scorecard. You can get scorecard updates, match related facts. Get quick live updates with ads, Sports.NDTV.com, which is the perfect destination for live cricket score.
The Indian bowling was brilliant in the first four overs but then they lost the plot once Harry Tector started to score freely. There was a hype around Umran Malik's debut but he went for 18 runs in his first over and never returned. Yuzvendra Chahal was the best bowler on show and apart from him, Bhuvneshwar Kumar was also excellent. This is certainly a challenging total and India will have to apply themselves in the chase. Do join us in a short while to find out how it goes...
A smart recovery from Ireland after losing three quick wickets inside the Powerplay. Harry Tector started a counter-attack and his partnership with Lorcan Tucker brought the Irish innings back on track. Tector went on to make a 33-ball 64 and his knock single-handedly took Ireland over the 100-run mark.
11.6 overs (2 Runs) Fuller in length and around leg, Harry Tector whips it to deep square leg and the fielder slips there while stopping the ball. The batters get two runs. Ireland finish on 108 for 4.
11.5 overs (6 Runs) SIX! Smashed away! Khan misses his yorker and ends up bowling a full toss, around off. Tector makes room and slams it over deep extra cover for a maximum.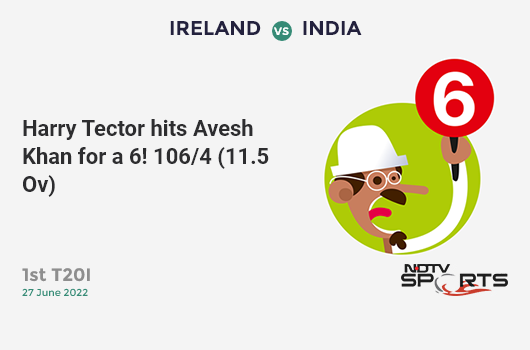 11.4 overs (2 Runs) Dropped! A fullish slower delivery, outside off. Tector makes room and slices it towards deep extra-cover. It goes high in the air and Patel running to his left reaches the ball but fails to pouch it. Two taken.
11.4 overs (1 Run) WIDE! Full and way wide outside off, Tector goes chasing for it but misses.
11.3 overs (4 Runs) FOUR! This has been a gem of an innings from Harry Tector! A full toss on middle and leg. Tector reverse-scoops it towards the third man fence for a boundary. This has been a good recovery from Ireland!
11.2 overs (1 Run) Fuller delivery again, on off. George Dockrell mistimes his drive towards the cover fielder in the ring, and he goes for a single.
11.1 overs (1 Run) FIFTY for Harry Tector! A brilliant knock from the young man, he has taken his team to a respectable total here! A very full ball on middle, Tector digs it out to long on for a single.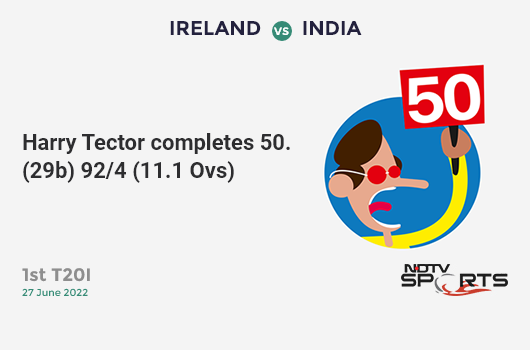 Avesh Khan to bowl the final over.
10.6 overs (0 Run) This is a googly again, that pitches around leg, George Dockrell looks to heave it across the line but misses. Luckily for him, the ball turns in and just misses the leg stump. 3-0-11-1, exceptional from Chahal.
10.5 overs (1 Run) Chahal with a quicker one on off, Tector pushes it to covers for just a single.
10.4 overs (1 Run) This is fuller on off. George Dockrell swings his bat across the line but hits it straight to long on, along the ground, for a single.
10.3 overs (1 Run) Goes flatter and quicker on off, Tector makes a bit of room and pushes it to covers for a single.
10.2 overs (1 Run) A fuller delivery on middle. George Dockrell drills it straight down the ground and the fielder at long on moves to his left and cuts it off. A single taken.
10.1 overs (0 Run) This is a googly, around leg. George Dockrell backs away and looks to heave it away but misses.
Match Reports
Topics mentioned in this article