Story Progress
Back to home
Ireland vs India Live Score Ball by Ball, Ireland vs India 2022 Live Cricket Score Of Today's Match on NDTV Sports
Live Updates of Today Match between Ireland vs India from Malahide Cricket Club Ground, Dublin. Check commentary and full scoreboard of the match.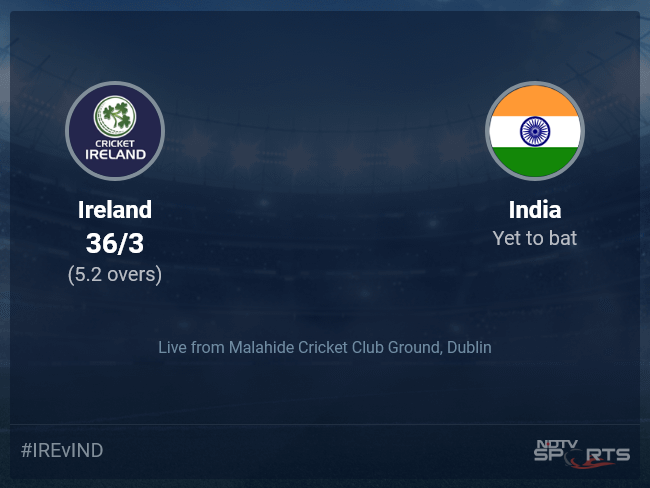 IND vs IRE Latest Score
Follow the Ireland vs India 2022 live cricket score on Sports.NDTV.com. After 5.2 overs, Ireland are 36/3. Get live score, ball by ball commentary and much more. Keep track of Ireland vs India 2022 today match between Ireland and India. Everything related to Ireland and India match will be available on Sports.NDTV.com. Stay updated with Ireland vs India live score. Do check for Ireland vs India scorecard. You can get scorecard updates, match related facts. Get quick live updates with ads, Sports.NDTV.com, which is the perfect destination for live cricket score.
4.6 overs (1 Run) Loopy and full, around off, it's swept along the ground to deep square leg for a run. 12 from the over!
4.5 overs (1 Run) NOT OUT! Fuller and around off, skidding in, Tector keeps it out off the inner half to mid-wicket and Tucker comes out of the crease, looking for a run. His partner responds as Axar attacks the ball. The bowler scores a direct hit at his end and they appeal. The third umpire is referred. Harry Tector is found to be safe in the replays.
Is that a run out? Axar Patel has fired a direct hit at the bowler's end. However, the replays show that Harry Tector is well inside his crease. He will continue.
4.4 overs (4 Runs) FOUR! Gorgeous! This time Tector goes aerial, plays an inside-out shot over covers and sends it almost over the fence. A boundary is signalled.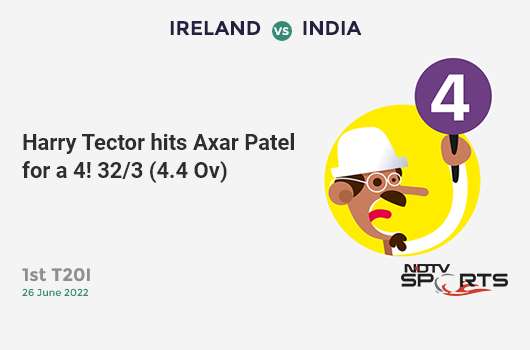 4.3 overs (4 Runs) FOUR! That's a good drive! Very full and wide outside off, Harry Tector latches onto the width and drills it through extra cover.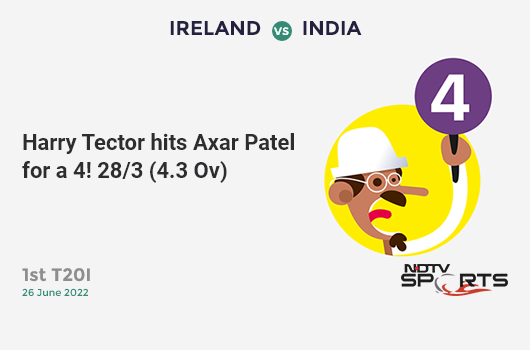 4.2 overs (1 Run) Loopy and full, around off, Tucker tucks it through mid-wicket for a single.
4.1 overs (1 Run) Tossed up around off, driven through covers for a single.
Time for some spin now. Axar Patel is into the attack.
3.6 overs (0 Run) Unplayable! Excellent length from Avesh, around off, on a fuller length and shaping away, Lorcan Tucker tries to flick but is beaten all ends up by the away movement. The Powerplay is over, Ireland are in tatters at 22 for 3.
Lorcan Tucker walks out to the middle.
3.5 overs (0 Run) OUT! CAUGHT BEHIND! Back of a length, around off and holding its line, Gareth Delany rocks back and tries to slap it through the line but gets a faint inside edge to the keeper. Dinesh Karthik collects, the Indians appeal and Gareth Delany is seen walking. Ireland have started on the wrong note here. It's a 12-over game but still, you need to build partnerships.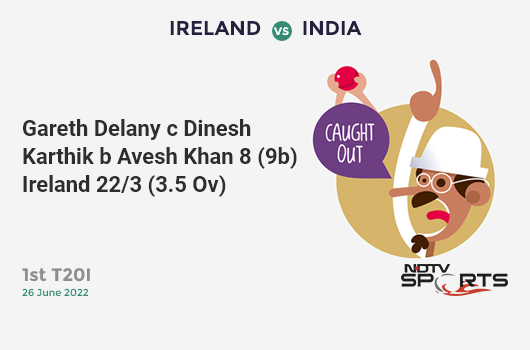 3.4 overs (0 Run) Beauty! A touch short and around off, moving away a shade off the seam, Gareth Delany steps back and tries to punch but misses.
3.3 overs (1 Run) Fuller and on middle, Harry runs down the track to flick but gets it away off the inner edge. It deflects off his pads to mid on and they steal a run.
3.2 overs (4 Runs) EDGY FOUR! Avesh bowls it full but wide outside off, shaping away again, Harry Tector flashes his bat at it and edges it over the slip cordon for a boundary.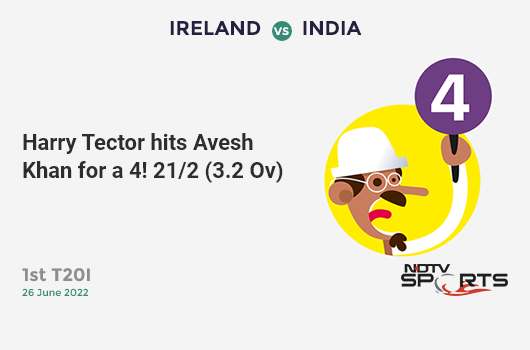 3.1 overs (0 Run) Play and a miss! Avesh lands it on a length and outside off, getting it to shape away, Tector throws his bat at it but fails to connect.
Avesh Khan is into the attack now.
2.6 overs (1 Run) Another overthrow conceded. Fullish and on off, Harry Tector drives it a bit uppishly towards mid on. The fielder has an unnecessary shy at the bowling end this time. He finds the stumps and it deflects towards square leg. The batters cross.
2.5 overs (0 Run) Some late inswing this time. Full and outside off, Tector tries to drive but gets an inside edge onto the pads.
2.4 overs (0 Run) Skillful bowling. Kumar serves another inswinger, this time on a length and outside off, Harry walks forward and tries to flick but misses. It goes off his thigh pad to backward point.
2.3 overs (1 Run) Inswinger this time, going down the leg side, Delany attempts to flick but misses. It goes off his pads to square leg and they collect a leg bye.
2.2 overs (0 Run) Again an outswinger landing on a length around off, Delany pushes it a bit aerially off the leading edge but it doesn't carry to mid off.
2.1 overs (1 Run) Edgy! Again a little bit of movement for Kumar. He serves it on a length around middle, it moves away a bit after landing, Tector tries to flick but it takes the leading edge and scoots down to third man. They cross for a run.
1.6 overs (4 Runs) FOUR! Fine shot! Hardik Pandya angles it in, around off on a good length, Gareth Delany stays on the back foot and cracks it through the gap at covers for a boundary.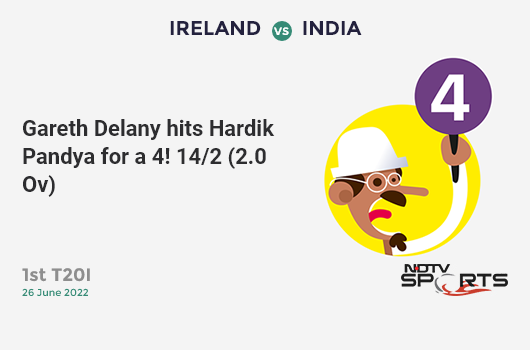 1.5 overs (2 Runs) Well stopped by Hooda! On a good length and outside off, Delany blazes his shot at wide mid off where Hooda dives across to his left and makes a superb stop. He gets up and scores a direct hit at the bowler's end. The ball ricochets to deep mid-wicket and the batters collect two runs.
1.4 overs (0 Run) Short and wide outside off, Gareth Delany flashes his bat at it and misses.
1.3 overs (2 Runs) Width there outside off, Delany stays back and runs it down to third man for a couple of runs.
Harry Tector is the next man in.
1.2 overs (0 Run) OUT! CAUGHT! Both the Irish openers have been sent packing in the first 8 balls. Hardik Pandya hurls across a length ball close to off, Paul Stirling sticks on the back foot and once again tries to chip it over the infield on the off side. This time though it flies off the toe end of his bat and Deepak Hooda backtracks a bit to secure the skier at wide mid off.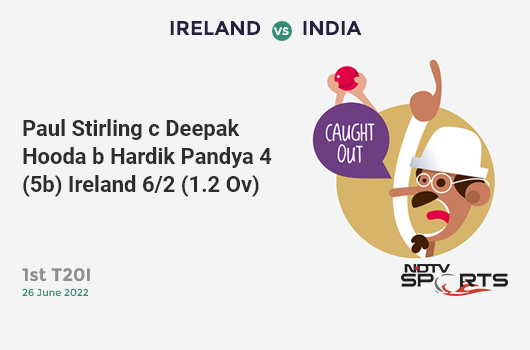 1.1 overs (4 Runs) FOUR! This is how Paul Stirling bats. A little bit of width outside off, on a good length, Paul stays back and lofts it over covers for a boundary.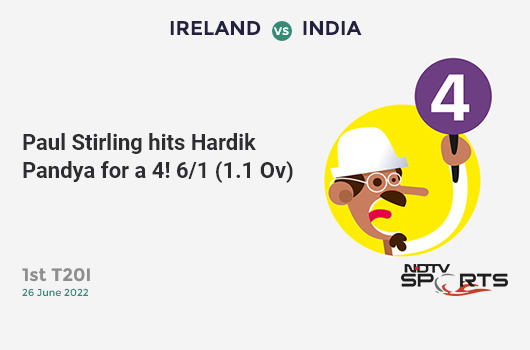 1.1 overs (1 Run) Play and a miss! It's on a length and outside off, Paul Stirling throws his bat at it but it seams away to beat the outside edge.
The skipper, Hardik Pandya starts from the other end.
0.6 over (0 Run) Shout for an lbw, the finger has stayed down and India have decided to review the decision. Bhuvneshwar Kumar hurls across a length ball, around off and gets it to jag back in sharply off the seam. Gareth Delany tries to flick from the back foot but misses. He is pinged on the pads, but the umpire turns down the appeal. Ball Tracking shows that it's missing the stumps. India lose a review.
Gareth Delany walks out at number 3.
0.5 over (0 Run) OUT! BOWLED! The last delivery moved away from the batter and this one shapes back in a long way from outside off. It's on a length, Andy Balbirnie stays back to play it straight down but the ball nips in and goes through the gap to dislodge the bails. Early setback for the Irish team.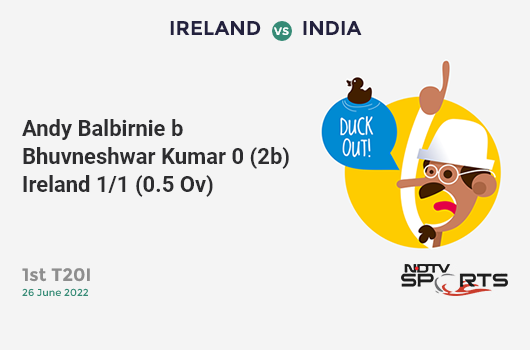 0.4 over (0 Run) Delivers it on a good length and outside off, shaping away, Andy Balbirnie plays it down from the back foot to point.
0.3 over (1 Run) Drifting down the leg side, Paul Stirling tries to flick but misses. It goes off his pads to fine leg and they cross for a leg bye. Ireland are away!
0.2 over (0 Run) Slightly short again, around off, Paul Stirling punches but finds the cover fielder.
0.1 over (0 Run) Misunderstanding straight away. Back of a length, around middle, Stirling defends it down towards square leg and Balbirnie comes out of the crease, in search of a run. The fielder has a shy but it hits the non-striker instead as he is sent back. The ball deflects down the ground but they decide not to take a run. Good sportsmanship!
We are done with all the talking and it's time for the action to begin now! Indian players have made their way out to the middle. Paul Stirling and Andy Balbirnie are the openers for Ireland. It will be Bhuvneshwar Kumar to start with the ball. He should enjoy these conditions. Here we go...
As we move closer to the start time, Suryakumar Yadav is seen on the field chatting with his teammates. This is a big positive for India that SKY is fit and raring to go again. He has been brilliant for India whenever he has played and let's hope he stays fit now.
We are minutes away from getting underway. The Indian bowlers are going through their warm-up drills. Here are the revised conditions. Powerplay will be of 4 overs and two bowlers can bowl a maximum of three overs apiece.
Update 10.50 IST (5.20 pm GMT) - We have some good news, folks! The rain has stopped and the covers are coming off. We have decided to not get overexcited this time. But the next update is very promising. We have a START TIME! It's going to be a 12-overs-per-side game and the match is set to begin at 11.20 pm IST (5.50 pm GMT).
And here is my colleague with a witty reply on Sanju Samson playing the waiting game. He quips - 'Maybe the problem for the team management is that Sanju does not believe in the waiting game when he is batting.' Glad that he is not on social media, would have been trolled for this one-liner.
Apart from the fans cursing the rain and desperately waiting for Umran Malik to steam in and bowl, social media is also flooded with messages from a section of people feeling bad for Sanju Samson. The Rajasthan skipper, who led his team to the final in the recently concluded season of the Indian T20 League, failed to find a place in the starting XI of the second-string Indian team. To be honest, we all thought Samson will get the preference but the team management decided to go with Deepak Hooda. The waiting game for Sanju also continues...
Update 10.25 pm IST (4.55 pm GMT) - Our joy lasted for just 9 minutes. Unfortunately, the rain has returned and so are the covers.
Update 10.16 pm IST (4.46 pm GMT) - The update we all were waiting for has arrived. Cricket Ireland tweets - 'The rain has stopped and the covers are coming off! There's still no word on a start time but some positive news.' Fingers crossed.
As the rain dance continues in Dublin, let's just move away a bit eastwards and sneak into what is happening at Headingley. England are chasing a target of 296 there, they had lost 2 wickets with 51 on the board but the stand between Root and Pope has helped them recover and now they require below 200 to clean sweep New Zealand. One must say, England are the favourites going by the way this new England team under the leadership combo of Stokes and McCullum has played. You can switch tabs and enjoy that game for a while. However, don't go far away as we continue to bring all the updates from Malahide.
Update 9.57 pm IST (4.27 pm GMT) - 'The rain is light and the super sopper is at work, but there is no update on a start time as yet...' tweets the official handle of Cricket Ireland.
As we wait for the action to unfold here in Dublin, an Indian team in whites has completed its warm-up game against Leicestershire just some 430 km away from this Irish city. It seems that India had a decent outing with almost everyone spending some valuable time in the middle, especially in the second innings. In the batting department, Kohli, Jadeja and Gill scored the fifties while Pant and Srikar Bharat, the two Indian wicketkeepers, also had good outings with the bat. In the bowling department, the most heartening part for the Indian fans would be to see Ashwin bowling in the second innings and getting two wickets as well after he arrived late. However, the bad news coming out from the Indian camp is that the Indian skipper, Rohit Sharma who batted in the first innings has been reported covid positive and that will be a big blow to the visitors.
Update 9.33 pm IST (4.03 pm GMT) - It's raining now. The wait continues. Thick heavy clouds are still around. The umpires are on the ground, getting the latest information from the groundsmen. Let's hope for some better weather soon.
More than cricket, we have interviews to push as updates for now. Here is Ruturaj Gaikwad. The Indian opener says that it has been a good learning curve for him and representing India is something you dream of. Adds that you learn a lot when you play with top players and he praises Hardik Pandya for his captaincy during the recently concluded Indian T20 League. Gaikwad is excited to play under Pandya. He reckons that batting in Ireland is going to be challenging. Shares that the preparation went really well. Mentions that it is a bit of a challenge to open the innings but as an opener, he gets an opportunity to bat the full quota of 20 overs, so he enjoys batting at the top. Talks about his international career so far and says that he is happy with the progress he has made as a professional cricketer.
Update 9.11 pm IST (3.41 pm GMT) - Unfortunately, the covers are still on. The rain has stopped but it looks more like a precautionary move to keep the covers on as the dark clouds are still hovering over the ground. We can see India's head coach for this series, VVS Laxman, having a word with the match officials. Later on, the two umpires were seen chatting with the two captains as well. Not sure what was said! We will let you know if we get any updates. Stay tuned.
Avesh Khan is down for a quick chat. He says that the ball swings here and he will try his best to make good use of any help that bowlers will get. Adds that it is a proud moment for him to represent India and he considers every match as a new beginning and tries to learn from every game. Mentions that he tries to learn from Bhuvneshwar Kumar on how the pitch is behaving as he bowls the first over most of the time and shares that he enjoys practising with the other bowlers. Tells that it is just the start of his international career and he is looking to perform whenever he gets an opportunity and feels that it will be important to adapt to the different conditions.
We had a short burst of rain after the toss but luckily it looks clear now and Alan Wilkins (on air) informs us that we will most probably have a full game here. We trust you, Wilko!
Ireland (Playing XI) - Andy Balbirnie (C), Paul Stirling, Gareth Delany, Harry Tector, Lorcan Tucker (WK), George Dockrell, Mark Adair, Andy McBrine, Craig Young, Josh Little, Conor Olphert.
India (Playing XI) - Ishan Kishan, Ruturaj Gaikwad, Deepak Hooda, Suryakumar Yadav, Hardik Pandya (C), Dinesh Karthik (WK), Axar Patel, Bhuvneshwar Kumar, Avesh Khan, Yuzvendra Chahal, Umran Malik.
Andy Balbirnie, the skipper of Ireland, says that they would have bowled first as the covers were on and there will be some help for the bowlers. Tells that the squad is brilliant and the guys are very excited and they will look to play a good brand of cricket. Mentions that playing India is great and it is good for the game in Ireland and to have a full house at Malahide is excellent. Talks about the new coach and shares that he is getting along with the team quite well. Informs that Conor Olphert will make his debut.
Hardik Pandya, the captain of India, says that they want to bowl first looking at the forecast, otherwise they would have batted first. Adds that Ireland is showing the three kinds of weather and it is all over the place. Says that he is looking forward to the two upcoming games. Mentions that it's an honour for him to lead India and a special moment in his life. Tells that they all are professionals and his role is simple, just to back his players. Confirms that Umran Malik is making his debut.
Toss time! Just a delay of around 7 minutes and we can see Hardik Pandya and Andy Balbirnie walk out in the middle. Andy Balbirnie tosses the coin up and it lands in favour of Hardik Pandya. INDIA WILL BOWL FIRST!
Topics mentioned in this article