Story Progress
Back to home
Australia vs India Live Score, Over 46 to 50 Latest Cricket Score, Updates
Live Updates of Today Match between India vs Australia from M.Chinnaswamy Stadium, Bengaluru. Check commentary and full scoreboard of the match.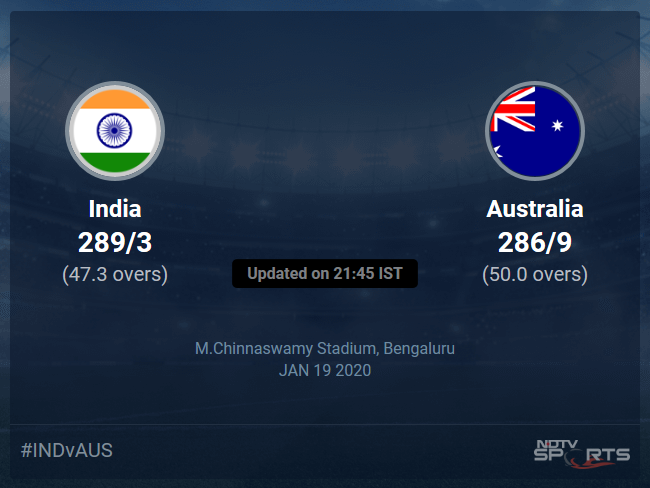 AUS vs IND Latest Score
Follow the India vs Australia 2019/20 live cricket score on Sports.NDTV.com. After 47.3 overs, India, chasing a target of 287, are 289/3. Get live score, ball by ball commentary and much more. Keep track of India vs Australia 2019/20 today match between India and Australia. Everything related to India and Australia match will be available on Sports.NDTV.com. Stay updated with India vs Australia live score. Do check for India vs Australia scorecard. You can get scorecard updates, match related facts. Get quick live updates with ads, Sports.NDTV.com, which is the perfect destination for live cricket score.
As far as India are concerned, their home season comes to an end. But their cricket does not end, does it? They plan for the New Zealand tour next and then the Indian T20 League. It was a marvellous period for them post the World Cup, where they did not lose a single series. They continue to find all types of bowlers - fast and spin and if any, they just need some exposure for the young guys who can play if the likes of Rohit, Dhawan and Kohli fail. Hope you enjoyed our coverage and looking forward for your company soon. ADIOS! TAKE CARE!
Right. That ends a competitive, really competitive ODI series. Perhaps the best series played by India at home post the 2019 World Cup. Australia will be disappointed. Not because they lost, but because they believed they had a really good chance to win. Last time around, a weak team had won the series from behind. This time, a strong unit let slip a series lead. However, given their torrid 2019, one would believe that they are turning a corner and are slowly getting back to being considered as one of the strong teams in world cricket. Their fast bowlers are always a revelation but it is the batting which keeps letting them down. Marnus Labuschagne is a good addition to the top four but the middle order needs to find players who are good and who can be consistent. Perhaps this break will help them.
VIRAT KOHLI HAS BEEN NAMED THE MAN OF THE SERIES. On him and Rohit doing well again, Kohli says that both of them are very experienced and believed that all they had to do was to deny Australia wickets. Stresses that this is how they play, one guy takes responsibility of batting through and allows the other to go for his shots. On his shot-making, especially against the short ball, Kohli says that he practices a lot in the nets but has plenty of clarity in his mind about playing the short ball on the front foot. Adds that on another day, if your mind is cluttered, you will nick one behind. On Australia's quality, Virat says that this unit was better than the one which visited Indian shores in 2019 which won after being 0-2 down. So to win against such a side, that too, from behind, after losing that last series, is a big boost to his side.
ROHIT SHARMA HAS BEEN NAMED THE MAN OF THE MATCH. Says that it was an important game but the team just wanted to enjoy itself which it did. Lauds the bowling unit for keeping the Australian line-up under 290. Adds that once Rahul got out, it was important that the hosts got a good partnership and none better than Kohli to have as your partner. Stresses that at no stage did either of them want the momentum to go to the opposition and further says that it was he who told Kohli that he was looking in good touch and hence, it should be he who should go for the shots. Praises Australia for always coming up with quality bowling attacks and says that the Indians had to be smart while playing them. Admits that in the first two games he was trying something different, hence struggled but here, he just looked to bat through. Adds says that he was seeing the ball really well.
Australian captain, Aaron Finch, says that he was happy with the score put up by Australia although he admits that they were 20-30 runs short. Stresses that the guys are improving but the momentum keeps getting stolen from them as the middle order is still trying to get to terms. On Zampa's performance, Finch says that the big difference in this series was Zampa's line, which he says, he learnt from Jadeja. Is proud to be a part of such a series where both teams plays well. On Starc and Cummins proving expensive here, Aaron is not too concerned and says that such things happen when you play against the best side in the world.
Shreyas Iyer now comes up for a chat. Admits that in all the matches that he has played so far, Australian attack has been the best and says that it feels satisfying to come out on top. Admits that they were targetting the short ball against him, into the body but he was mentally prepared and counter-attacked. Stresses that no matter what, he would do only what his skipper says and tells that the captain's advice was to try and take as many singles as possible and that gave him plenty of confidence.
Indian head coach, Ravi Shastri has a chat with Sanjay Manjrekar. Shastri says that the Indian team showed great character, especially after the thrashing in Mumbai. Is happy that the Indians believed that they could come back and do well not once but for two games in a row. Stresses that the hosts won against all odds as it was Australia who won all the tosses in the series but it was India who capitalized on the moments. Is really happy that the batsmen did not open the door against the Aussie attack which always looks for wickets. Is particularly happy with Rohit taking his time and then attacking and the composure of Shreyas Iyer as well. On the bowlers developing yorkers, Shastri says that it is a warning for other sides who look to attack India at the death because they have variety. Believes that this was a very tough Australian side which played India, credits them for playing well but also praises his own unit for coming out on top.
Earlier in the day, Australia lost their way from a commanding position at 173/2 in the 32nd over to finish at least 40 runs below par. Steven Smith and Marnus Labuschagne played really well but it was India who came back superbly towards the end of the innings. The Indian spinners bowled well while Shami got a 4-fer.
Another disappointing night for Australia. They are a pack which looks for wickets but if the surface does not offer them much, they struggle. Pat Cummins perhaps bowled his worst ever ODI spell in over a year and that perhaps shows how tired he was. His body needs rest. Mitchell Starc is nowhere near the Starc we all know and sprayed the ball all around the pitch. Hazlewood was on the money as he just does not need the pitch for any assistance. On a track which was slowing a little, Agar and Zampa did well, with combined figures of 20-0-82-2. Perhaps, if the target was above 300, the batsmen might have gone after the spinners and that could have resulted in their wickets but Rohit and Kohli were content in just playing them out.
Towards the end, Shreyas Iyer helped himself to some useful runs and spent some nice time in the middle along with his captain. He struggled at the start but was determined and disciplined not to throw it away and slowly eased into his innings. Kohli missed out on his century but he was just playing for the team's win. A totally unselfish innings, allowing the youngster to gain confidence and not worrying about the 3-figure mark.
Australia tried whatever they could. They kept telling themselves that they were one wicket away from a collapse but that never came. The 137-run stand between Kohli and Rohit just shut all doors on the visitors and so convincing and dominating was the stand, that when Rohit eventually got out, with 81 runs more needed from 80 balls, the game was virtually over. Rohit produced probably his best knock in a run chase while Kohli, was Kohli. Just struggled a bit against the spinners but then eased off against the others.
As is always, the top 3 are crucial for India whether they bat first or second. Here it was just 2 - Rohit and Kohli. Sharma, in the absence of Dhawan, added 69 for the opening wicket with Rahul but the latter was struggling big time. Then, in came the skipper and just punished Australia out of the game and series.
A comprehensive win for the Indians. 286 was not a bad score from the Aussies, albeit it was 30-40 runs less, but the manner in which India have chased it down shows their dominance. A total thrashing in the second and third games. Truly the better of the two sides.
47.3 overs (4 Runs) FOUR! That is it! INDIA WIN BY 7 WICKETS! Full and around off, Pandey hammers it straight back. Hazlewood does not even react while the umpire tries to duck and just about does so. The ball races to the fence down the ground. INDIA WIN THE SERIES 2-1!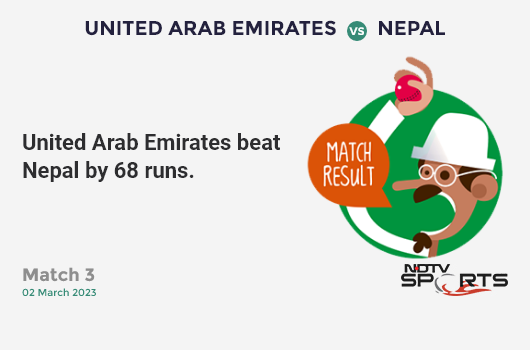 47.3 overs (1 Run) WIDE. A bouncer, down the leg side, Pandey ducks. Hazlewood is not happy with the call.
47.2 overs (0 Run) Around off, defended towards short mid-wicket.
47.1 overs (4 Runs) FOUR! GORGEOUS! Full and outside off, Pandey drives this straight back past the bowler and beats mid off! India a hit away now.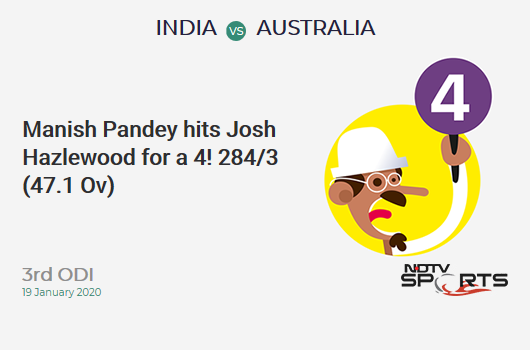 46.6 overs (0 Run) Full on middle, Iyer flicks it through mid-wicket but the fielder dives to his right to stop the ball at short mid-wicket.
46.5 overs (0 Run) A low yorker outside off, dug out back to the bowler.
46.4 overs (2 Runs) Outside off, driven through the covers for a couple.
46.3 overs (0 Run) Full and straight, Shreyas pummels it down the ground, just past the non-striker. Mid on mops it up.
46.2 overs (0 Run) Full on middle, driven back to the bowler.
46.1 overs (4 Runs) FOUR! That is an outstanding shot. Full and outside off, Iyer reaches out and carves it over cover. His bottom hand comes off the bat but the flies towards the fence! Almost goes the distance. The umpire checks it upstairs and replays find that the ball just bounces in front of the ropes.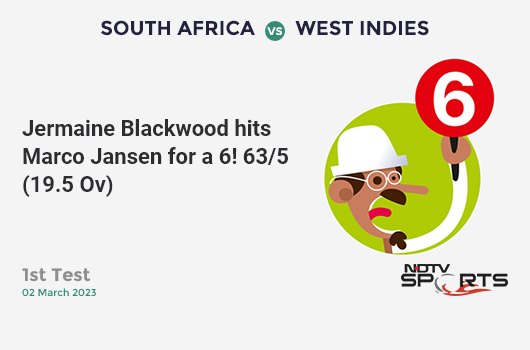 45.6 overs (0 Run) Full and outside off, driven straight to cover. 9-1-46-1 for Hazlewood.
Manish Pandey walks out for the final rites.
45.5 overs (0 Run) OUT! BOWLED! Perfect ball, but 45 overs late. Very full, around middle, Kohli looks to swing across the line but misses it altogether. A rare cross-batted shot and that brings about his downfall. The ball hits the pad and then hits the stumps. Century gone for Kohli but he will not care. Series in the bag. Just 13 more needed for a win.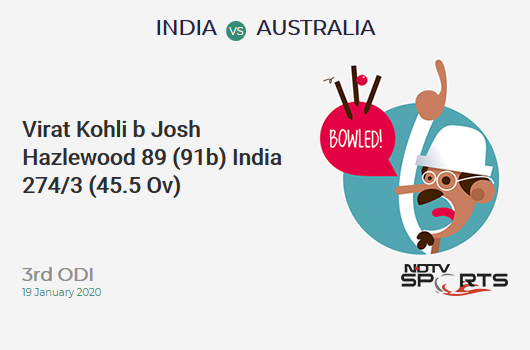 45.4 overs (0 Run) A yorker, on middle, pushed towards mid on.
45.3 overs (4 Runs) FOUR! A short ball, outside off, Kohli pulls it over mid-wicket for a boundary!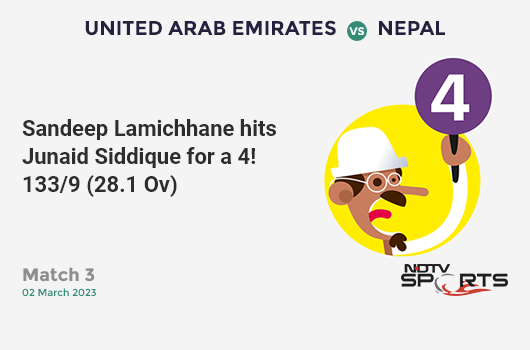 45.2 overs (1 Run) Outside off, punched through the covers for a run.
45.1 overs (1 Run) Around middle, helped through mid-wicket for a single.
Match Reports
Topics mentioned in this article