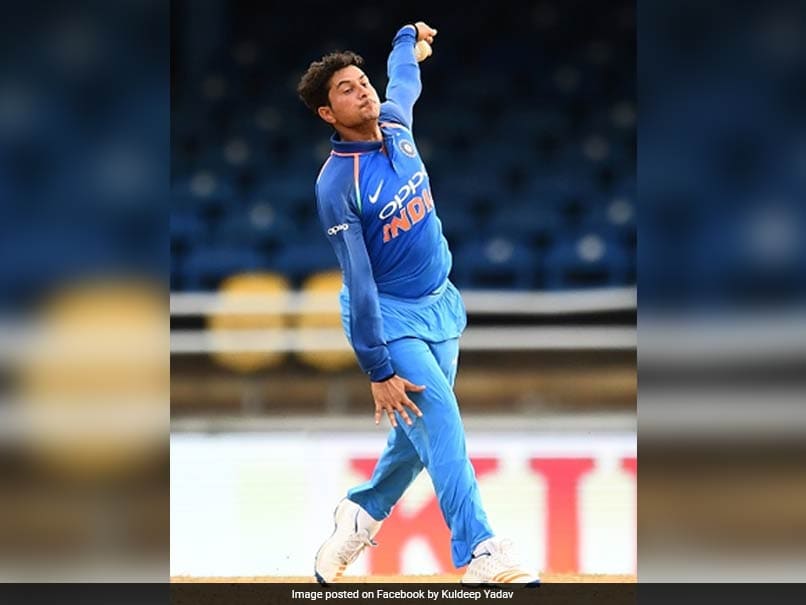 Highlights, India vs Australia: Kuldeep Yadav took his maiden hat-trick at Eden Gardens
© Facebook
A brilliant opening spell from Bhuvneshwar Kumar and a terrific hat-trick from Kuldeep Yadav towards the end of the innings helped India beat Australia by 50 runs at Eden Gardens, Kolkata. Opting to bat first, Kohli-Rahane century-run stand had put the hosts in a commanding position but the Indian middle-order failed to capitalise on the good start as the hosts were bowled out for 252. But a brilliant bowling performance by the Men in Blue had never let the Aussies get off the hook. Steve Smith's fifty and later an unbeaten 62 from Marcus Stoinis kept the Aussies in the hunt right till the end before Bhuvneshwar removed Kane Richardson to bowl Australia out for 202. (SCORECARD) 
Highlights between India vs Australia, 2nd ODI straight from Kolkata
21:36 IST: India have won the match by 50 runs. Australia bowled out for 202.
21:34 IST: Bhuvneshwar Kumar who started things off for India with the ball in hand has done the job for his team by claiming the last wicket. Kane Richardson trapped right infront while Stoinis remained unbeaten at the other end. Spare a thought for the young all-rounder. Stoinis almost single-handedly kept Australia alive in the match.
21:33 IST: Bhuvi's first ball, rapped on the pads and a huge appeal for leg-before. The umpire raises the finger and Australia goes for the review straight away.
21:32 IST: Bhuvi comes on, can he get the last wicket for India?
21:28 IST: Six! Picked it up off his legs and that's gone all the way. Stoinis is playing the innings of his life here. Australia still in with a chance. There is a bit of dew as well and that doesn't make things easier for the bowler.
21:27 IST: Bumrah comes back on, replacing Chahal.
21:27 IST: Australia need 57 from 48 balls.
21:24 IST: Six! Stoinis again goes straight and clears the fence easily. Brings up his maiden fifty. He has still not given up hope. Can he pull off something special for the Aussies?
21:23 IST: Pandya continues. This will be his last over. Let's not forget he got the big wicket of Smith.
21:21 IST: Six! Comes down the track to Chahal and hits it straight over the top of the bowler's head. Stoinis will get a maximum for that shot.
21:20 IST: Chahal gets the outside edge but again just falls short of Kohli at first slip. Stoinis survives a scare.
21:19 IST: This time Pandya finds the outside edge but just falls short of Kohli at first slip. Richardson survives again.
21: 17 IST: Uppishly played by Kane Richardson and a valiant effort from Chahal in the covers to take the catch. Just couldn't hold on to it.
21:15 IST: Wicket! Another short ball from Pandya and Coulter-Nile got a top edge that scoops up in the air. Pandya takes an easy caught and bowled chance. Australia lose their ninth wicket.
21:11 IST: Four! Great shot from Stoinis. Sweeps and sweeps well. It is not over till it's over. Australia need 72 from 68 balls. This match is well but over if India doesn't get rid of Stoinis. Let's not forget Coulter-Nile is no mug with the bat. Seven runs of that Chahal over.
21:09 IST: A mix-up between Stoinis and Coulter-Nile but a dive from Stoinis saved him.
21:09 IST: Chahal comes back on to bowl his final spell, possibly.
21:07 IST: Hat tricks taken by Indians in ODIs: Chetan Sharma vs New Zealand, Nagpur, 1987, Kapil Dev vs Sri Lanka Kolkata, 1991 and Kuldeep Yadav vs Australia Kolkata, 2017
21:05 IST; Pandya comes back on with Australia struggling in the run chase.
21:03 IST: That's the end of Kuldeep's spell. Returns with figures of 3 for 54.
21:02 IST: Kuldeep again bowls the wrong one and gets the outside edge. Stoinis survives. Gets a couple.
21:01 IST: Four! Two back to back boundaries for Stoinis. Kuldeep proving to be a bit expensive in his last over but he has done his job.
20:59 IST: Meanwhile Bumrah induces a false shot of Stoinis but the ball falls short of the fielder at deep.
20:57 IST: Five runs coming of Kuldeep's ninth over. Still looking for his fourth wicket.
20:54 IST: Kuldeep was not having the best of days with the ball in hand and what a turn around it has been for the left-arm chinaman bowler. That just goes on to show that the young spinner has a big heart which is one of the ingredients to become a great spinner and he has everything to become one.
A hat-trick for @imkuldeep18. He becomes the third Indian to achieve this feat, after Kapil Dev and Chetan Sharma #INDvAUS pic.twitter.com/1VNgiDUvzj

— BCCI (@BCCI) September 21, 2017
20:50 IST: You will hardly see a better hat-trick ball than the one Kuldeep bowled. Credit to Dhoni for taking the catch. It is never easy for a wicket-keeper when there is so much of deviation of the bat.
20:48 IST: Kuldeep Yadav becomes the third Indian bowler to take a hat-trick in ODIs. Chetan Sharma and Kapil Dev being the other two.
20:46 IST: Wicket: And he has got it. Bowled the wrong one and Pat Cummins had no clue which way it was going. Gets a thin edge and Kuldeep claims his maiden hat-trick. What a over. It has turned the match in India's favour completely. A triple-wicket maiden over.
20:44 IST: Wicket: Ashton Agar departs before troubling the scorers. Kuldeep Yadav is on a hat-trick. India are right on top in this match now.
20:40 IST: Wicket! Kuldeep Yadav removes Wade. Not the best of balls to get a wicket. Pitched outside off-stump and turned away from the left-hander. All Wade could do was to reach out for the ball and chop it into his stumps. Probably a bit of extra bounce did him there.
20:39 IST: Four! Stoinis pulls and pulls well. Will get a boundary. 9 runs coming of that Pandya over.
20:30 IST: Australia 139 for 5 in 31 overs as players head off for a drinks break.
20:28 IST: Kohli keeps switching and changing his bowlers. Now Kuldeep comes on from Chahal's end. Matthew Wade is the new batsman for Australia.
20:24 IST: Wicket: Pandya bowls it short and Smith went for the pull, didn't get it of the middle of the bat and Ravindra Jadeja on as a substitute fielder takes a very good catch.
20:22 IST: Four! Pandya bowled it wide and Smith got a thick edge. Not convincing but effective.
20:21 IST: So change of end for Pandya. He is now bowling from Kuldeep's end.
20:20 IST: Another excellent over from Chahal. Only one coming of that over.
20:17 IST: Chahal replaces Pandya and immediately beats the bat of Stoinis.
20:15 IST: Four! Too full from Kuldeep and Stoinis puts that away in style. Boundaries are coming quite easily for the Aussies. There is always one loose ball on offer in an over and that doesn't help to keep the pressure on the batting team. Apart from Bhuvi and Chahal, there hasn't been much help coming from the other bowlers.
20:13 IST: Four! Again Pandya drifts down the leg-side and Smith is too good a player to miss out on such opportunities.
20:11 IST: Another play and miss from Smith. A bit of lapse in concentration, one would believe.
20:09 IST: That was a beauty from Pandya. Pitches just outside off-stump and decked away from Smith. That was almost unplayable. Smith did well to miss the ball.
20:07 IST: Smith brings up his 18th fifty by picking up a single. Australia likely to win this match if their captain stays till the end. What a good knock this has been under pressure when wickets were tumbling at the other end.
That's fifty for Smith in his 100th ODI, the 18th of his career. What a player! #INDvAUS pic.twitter.com/IW87BkF0Z3

— cricket.com.au (@CricketAus) September 21, 2017
20:06 IST: Australia 120 for 4 in 25 overs.
20:04 IST: Four! Poor bowling from Pandya. When you don't have a deep square-leg, you don't bowl on the legs. Easy pickings for Stoinis.
20:00 IST: Marcus Stoinis is the new man in for Australia. Pandya comes back on, replacing Chahal.
19:58 IST: Four! Kuldeep bowls it full and Smith drives it through covers for a boundary. 10 runs coming of that Kuldeep over.
19:54 IST: End of an excellent over from Chahal. A wicket-maiden for the leg-spinner.
19:53 IST: Wicket: Just as we speak, Chahal has got his man. Maxwell has to take the long walk back. There is nothing that Dhoni can ever miss behind the stumps. Brilliant presence of mind to whip off the bails in a flash. Australia lose their fourth wicket.
Risk vs reward @Gmaxi_32 always on the edge of your seat watching him

— Michael Clarke (@MClarke23) September 21, 2017
19:52 IST: Another beautiful leg-break from Chahal. Dhoni whips off the bails in a flash but no damage done. Dhoni's word of encouragement from behind the wicket,'Bohut Badiya.'
19:49 IST: Bumrah comes back on and gives away only one run in that over.
19:43 IST: SIX! Another one from Maxwell. Maxwell slogs this over deep mid wicket region. Australia 102/3 in 20 overs, need 151 runs to win. 
19:42 IST: SIX! Maxwell launches Kuldeep Yadav towards deep mid wicket for a huge six. Excellent shot from the Australian.
19:38 IST: That was beautifully bowled. A great leg-break from Chahal. The leg-spinner is asking questions at the moment. Smith is struggling a bit here against the leg-spinner.
19:36 IST: Glenn Maxwell is the new man in and India would know what damage this man can do if he spends some time at the crease.
19:33 IST: Wicket! Chahal removes Head. You don't always get a wicket of a good ball. That was a juicy full toss and all Head could do was to find the man at mid-wicket. Virat Kohli is thrilled to bits.
19:29 IST: So both the spinners bowling in tandem for India.
19:29 IST: Australia 80 for 2 at the end of 60 overs.
19:26 IST: Kuldeep Yadav has been introduced into the attack as Dhoni shouts from behind, 'zyada age mat dal.'
19:25 IST: Australia have hit 10 boundaries in the first powerplay. 
19:22 IST: Chahal gets it turn back to the left-hander and that looked very close. Chahal goes up in an appeal, as is the wicket-keeper. But the umpire is not interested. Kohli looking for some feedback from Dhoni and the bowler and at the end decides not to take the review. Replays suggest that hit Head just outside the line but a good shout nonetheless.
19:20 IST: Chahal now getting it to turn a bit. The first two balls have taken the leading edge of Smith. This is a very important phase of the match.
This is an excellent counter-attack from Australia. The outfield at the Eden is electric and is giving value for good shots

— Harsha Bhogle (@bhogleharsha) September 21, 2017
19:19 IST: Australia almost getting a boundary every over. India need to break this partnership. It is already hurting India.
19:16 IST: Four! That was beautifully timed by Head. Races away to the mid-wicket boundary. Pandya is proving to be expensive.
19:14 IST: Pandya to continue and gives away a couple in the first ball of the over.
19:14 IST: 3 coming of that Chahal over. Australia 64 for 2 in 13 overs.
19:10 IST: So first sign of spin. Yuzvendra Chahal comes on in place of Bhuvi.
19:09 IST: Another big over comes to an end. 12 coming of that Pandya over.
19:07 IST: Four! It was full and Smith this time hits it straight past the bowler for a boundary. Australia have found batting easy in the last 20-25 minutes.
19:06 IST: Pandya to continue. Gives a bit of width and Smith drives it beautifully through the covers. Runs are coming for Australia here.
19:04 IST: Australia are 49 for 2 in 11 overs.
19:00 IST: Bhuvneshwar getting an extended spell. This will be his sixth over on a trot and rightly so. If he can get another wicket, it will give India a great chance to win the match.
18:55 IST: Four! Short and Head quick to pounce on it. Pandya needs to get his length right. You can't always bounce an Aussie out with that pace.
18:54 IST: Hardik Pandya comes on, replacing Bumrah who was getting picked for runs today.
18:51 IST; Bhuvi in the middle of a brilliant spell. Again gets past the outside edge of Head.
5-2-7-2 @BhuviOfficial so far... #TeamIndia #INDvAUS pic.twitter.com/VOu77yyLHR

— BCCI (@BCCI) September 21, 2017
18:49 IST: Bumrah again bowls it down the leg side. 4 leg-byes. Australia 39 for 2 in 8 overs.
18:49 IST: Four! Bumrah over compensates. Now bowls it wide and Smith gleefully accepts the invitation. Cuts it for a boundary.
18:47 IST: Four! Bumrah drifting down the leg-side and Smith finds the boundary.
18:43 IST: Bhuvi finds the edge again and Rohit Sharma at first slip drops it. Head living dangerously. That was a pretty simple chance.
18:42 IST: Four! Bhuvneshwar strays down the leg-side and Head flicks it for a boundary.
18:37 IST: Four! A bit of room outside off-stump and Head finds the gap through covers.
18:36 IST: Four! Bumrah would feel he is unlucky to have missed out on a wicket there. Inside edge and somehow it missed the stumps. Travis Head lucky to be still there.
18:34 IST: Bhuvneshwar has bowled 3 overs, picked up two wickets and has given away only one run.
18:33 IST: Wicket! This is a great spell from Bhuvneshwar Kumar. Now gets Warner to edge it and Rahane makes no mistake in the slip cordon. Australia have lost both their openers.
18:32 IST: Another jaffa from Bhuvi. Warner did well not to edge it.
18:31 IST: Bhuvi to continue. Excellent last over from him. Kept probing in the corridor of uncertainty and then got one to come back in that caught Cartwright napping.
18:30 IST: Four! Outside edge and it runs away for a boundary. Australian captain Steve Smith is looking a bit tentative here. Bumrah won't mind that.
18:25 IST: Bowled! That was an absolute jaffa from Bhuvneshwar Kumar. Went wide of the crease and got it to come back in. Went through the gate and all Cartwright can do is to see his off-stump knocked over.
18:21 IST: Another excellent ball to end the over. This time beats Warner all ends up. Only one coming of that Bumrah. Good start by the Indian seamers.
18:19 IST: Beautifully bowled by Bumrah. Made it to move away from the right-hander Cartwright and it just missed the outside edge.
18:18 IST: Bumrah to share the new ball with Bhuvneshwar Kumar.
18:15 IST: Cartwright knocks it to the square leg to get off the mark with a single. Australia 1/0 after the first over
18:12 IST: Welcome back! Australia need 253 runs to win in 50 overs. Hilton Cartwright and David Warner to open the innings for Australia. Bhuvneshwar Kumar to start the proceedings for India.
17:42 IST: Chahal goes for a wild swing but misses the final ball. Tries to steal a single but Wade was well aware of the situation. Runs Chahal out. India 252 all out in 50 overs.
Innings break! #TeamIndia - 252 all out in 50 overs ( Kohli 92, Rahane 55) #INDvAUS pic.twitter.com/2s2m6HBcd1

— BCCI (@BCCI) September 21, 2017
17:40 IST: Four! Bumrah somehow finds the fence and takes India to 250.
17:38 IST: Wicket: Slower ball and Pandya picked out the fielder at long off. India lose their ninth wicket. India 246 for 9 with only five balls remaining in the innings. Richardson picks up his third wicket.
17:37 IST: India 246 for 8 after 49 overs.
17:35 IST: Four! Bumrah gets an outside edge and it runs away for a boundary.
17:33 IST: Wicket! Another one bites the dust. Kuldeep Yadav departs. Cummins gets the wicket. Brilliant catch by Wade behind the stumps.
17:31 IST: Wicket! The drop catch didn't cost Australia much as Bhuvneshwar gets out next ball. Richardson picks up another wicket.
17:30 IST: Bhuvi goes for the big one, didn't get it anywhere in the middle of the bat and Smith drops the catch.
17:28 IST: The players are out in the middle. Play about to resume.
17:19 IST: Some good news coming on. The rain has stopped and the covers are coming off.
17:56 IST: There is a lot of confusion out there in the middle. Pandya started walking thinking that he was out and Smith saw the opportunity and went for the run-out. While the law clearly states that if a batsman walks off under the impression that he is out and the players attempt to run him out, it is not out.
Law 27 says if a batsman is walking under a misapprehension that he's out,the umpires will signal dead ball & no further action can be taken

— Harsha Bhogle (@bhogleharsha) September 21, 2017
17:11 IST: Waist high full toss and Pandya only manages to sky it up to covers. Smith takes the catch. But it has been called a no ball for height. Meanwhile, it has started to rain and the covers are coming on. Players are going off the field.
Not often you'll see someone caught, run out...and given not out all in the same delivery! #INDvAUS https://t.co/cHT9i4c01Z pic.twitter.com/MgXAGln0VC

— cricket.com.au (@CricketAus) September 21, 2017
17:07 IST: India 233 for 6 in 47 overs. That ends Coulter-Nile's spell. Returned with figures of 3 for 51.
17:04 IST: It was full from Coulter-Nile and Bhuvi struck it well. Found Pandya at the non-strikers end. That was nasty blow for the all-rounder. But he is up and thankfully all seems to be well.
17:02 IST: Four! Bhuvi goes for the big almighty swing, gets an outside edge and it flies down the third man region. Welcome boundary for India. Doesn't matter how you get them at the moment.
17:00 IST: Pandya and Bhuvi just feeling the pressure at the moment. Looking for a single and a bit of a misunderstanding between the two. Warner at mid off had a go at the stumps and had that would have hit, Bhuvi would have been on his way back.
16:57 IST: Only one boundary coming of the last five overs. Australia have come back well in the match after Kohli threatened to take the match away from them.
16:55 IST: Chance of a run-out. Excellent running between the wickets from Bhuvi and Pandya. India 221/6 in 44.2 overs.
16:45 IST: FOUR! Hardik Pandya goes on the back foot and slaps the ball towards deep extra cover. Powerful shot from the all-rounder.
16:40 IST: India 208 for 6 in 41 overs.
16:36 IST: Bhuvneshwar Kumar is the new man in. End of a successful over from Richardson. Only 3 from it.
16:34 IST: Wicket: Another big wicket for Australia. Richardson strikes as Dhoni takes the long walk back. Bowled it wide and Dhoni playing away from the body hits it straight to covers.
16:30 IST: Meanwhile Agar is struggling with some cramps here. Cummins comes back on and gives away only 3 runs in that over.
16: 24 IST: Pandya gets off the mark with a boundary. But in a very streaky manner. Almost got bowled. Coulter-Nile getting it to reverse a bit here. Pandya got a edge in trying to defend and gets away with it.
16:20 IST: Wicket: Big wicket for Australia. Kohli trying to run it down through third-man but instead drags it onto his stumps. Coulter-Nile strikes. India lose their fifth wicket.
16:18 IST: Four! Perfect cover drive on the up. Can't get better than that. Kohli looking set to get past Ricky Ponting. This will be his 31st hundred with only Tendulkar ahead of him.
16:15 IST: Four! MS Dhoni has got the crowd on its feet. His second ball and he has helped it round the corner for a boundary through fine-leg.
16:12 IST: Wicket: Short again. Jadhav cuts but straight to the man at point. India lose their fourth wicket. MS Dhoni is the next batsman as the crowd goes berserk. Coulter-Nile strikes.
Dhoni + Kohli in the middle at Eden Gardens = fair old reaction from the crowd! #INDvAUS pic.twitter.com/s7C1hxojsC

— cricket.com.au (@CricketAus) September 21, 2017
16:10 IST: India 185 for 3 in 35 overs.
16:07 IST: Six! You give Jadhav room and he will hit you all day. Stoinis made the mistake of bowling it short and wide and Jadhav smashes it over point. First six of the match.
16:05 IST: Four! Jadhav goes inside out and goes over covers. Excellent shot. Followed it up with a cheeky little paddle sweep. So big over for India. Agar had been more than disciplined today except this over.
16:03 IST: Kohli plays another beautiful late cut that goes for a boundary but the umpire calls it dead ball. The towel just fell off before Agar delivered the ball. Unlucky but that's how the game is played.
16:00 IST: Four! Kohli this time just using the pace of Stoinis and gets a boundary.
16:00 IST: Sloppy from Wade behind the stumps and Kohli steals a single.
15:57 IST: Marcus Stoinis comes back into the attack.
15:55 IST: Agar has not bowled badly at all. Justifying his selection ahead of Adam Zampa. He has kept the scoring to mostly ones and twos. Another one of those tidy overs from Agar comes to an end.
15:49 IST: So a single from Jadhav brings up the 150 for India in 30.2 overs.
15:47 IST: Runs coming in ones and twos of that Agar over. Still got seven. India 148 for 3 in 30 overs.
15:43 IST: So after a couple of quiet overs, seven coming of that Richardson over.
15:40 IST: Richardson comes back on to the attack and Kohli welcomes him with a boundary.
15:39 IST: Australia are chipping away with a couple of quiet overs. Only 3 coming of that Agar over.
15:37 IST: Kedar Jadhav joins Virat Kohli in the middle.
15:35 IST: Bowled! Agar bowls it quicker through the air and it has disturbed the timber. Pandey departs. India 131 for 3 in 27.2 overs.
15:33 IST: Another good over from Coulter-Nile. Only two this time of his sixth over.
15:29 IST: Head not doing a bad job here with the ball. Eleven off his two overs.
15:25 IST: Coulter-Nile coming back into the attack has bowled a good over. Only three coming of that over.
15:20 IST: Manish Pandey is the new man in for India.
15:19 IST: Wicket! Rahane dives to save his wicket but at the end just fell short of the crease. The century-run stand ends with a run-out. India lose their second wicket with the score on 121 in 23.4 overs.
Doesn't get much closer than that! #INDvAUS pic.twitter.com/vJDFyjl8Fd

— cricket.com.au (@CricketAus) September 21, 2017
15:18 IST: Four! Rahane punches Travis Head infront of square in the off-side for a boundary.
15:15: Rahane works it on the on-side and gets to his 20th fifty. India 114 for 1 in 23 overs.
15:13 IST: Rahane drops it and goes for a single. Cummins was quick on to the ball and kicks the ball towards the stumps in order to inflict a run out. Replays suggest Kohli would have been well short of the crease had it hit the stumps.
15:13 IST: Now that's an interesting piece of stat.
This is the first time in seven innings against Australia that Virat Kohli has scored more than 20 #INDvAUS

— Martin Smith (@martinsmith9994) September 21, 2017
15:10 IST: Kohli takes a single and gets to his 45th fifty. India 111 for 1 in 22 overs.
FIFTY! Virat Kohli brings up his 45th ODI 50 @Paytm #INDvAUS pic.twitter.com/L679NqoCA2

— BCCI (@BCCI) September 21, 2017
15:05 IST: Rahane has a reputation of getting stuck in the middle overs. Well, not today.
Just as interested to see how @ajinkyarahane88 plays these middle overs. Played the 1st power play well.

— Harsha Bhogle (@bhogleharsha) September 21, 2017
15:01 IST: Both the Indian batters, Kohli and Rahane are getting close to fifty. Just as we speak, Kohli late cuts Agar for a boundary. India 101 for 1 in 20 overs.
14:58 IST: Kohli goes for the quick single and a direct hit would have made things interesting. To make matters worse for Australia, there are overthrows for the taking.
14:55 IST: Four! Short from Stoinis and Kohli pulls it wide of the fielder at mid on and once it gets on to those practice pitches in Kolkata there is no stopping the ball.
14:50 IST: Yorker from Stoinis, well dug out by Rahane.
14:48 IST: Matthew Wade still seems to be struggling a bit.
14:46 IST: Both Rahane and Kohli are milking Agar for singles, doubles with ease. India are 77/1 in 16 overs.
14:41 IST: Both the players, Kohli and Rahane have already added 53 for the second wicket as players head off for a drinks break. Australians would be relieved keeping in mind, it is really hot in Kolkata today.
Extremely hostile conditions in Kolkata at the moment. Hard to believe rain was the big concern less than 24 hours ago! #INDvAUS pic.twitter.com/Z8sRouNKEp

— cricket.com.au (@CricketAus) September 21, 2017
14:34 IST: First signs of spin. Left-arm spinner Ashton Agar comes on to the attack.
14:31 IST: Meanwhile, Matthew Wade seems to be struggling with the heat and humidity in Kolkata. Players taking a drinks break.
Few Australian players struggling on the field prompts an early drink break. 40+ temps and very humid at the ground. #INDvAUS

— cricket.com.au (@CricketAus) September 21, 2017
14:28 IST: Four! Hardly anyone in world cricket who plays the cover drive better than Virat Kohli. There was another example of that. Great shot. The current Indian coach Ravi Shastri would have said, that went like a tracer-a-bullet to the boundary, had he been in the commentary box.
14:25 IST: Another great cover drive from Kohli but there is protection there at the deep.
14:21 IST: Four! Short from Richarson and Kohli transfers his weight on to the back foot and hooks it over square-leg for a boundary. He was in full control of that shot.
14:16 IST: Talking about cover drives and there have been a few today, here you go.
How good have the cover-drives been today! One of the great shots to watch and we've seen a few already.

— Harsha Bhogle (@bhogleharsha) September 21, 2017
14:15 IST: Aussies are missing a trick here I think. With Kohli still not set, you need your best bowlers to bowl to him. And Coulter-Nile and Cummins have been taken off the attack.
14: 14 IST: Marcus Stoinis comes into the attack as a second change bowler. Richardson is bowling from the other end after the initial bursts from Coulter-Nile and Cummins.
14:12 IST: Four! Short and wide and the kind of form Rahane is in today, he will not miss out on those. Cuts it past point for a boundary.
14:10 IST: Four! Now Kohli gets into the act. Little bit of a shimmy down the track by Kohli, meets the ball on the rise and caresses it through covers.
14:07 IST: Four! Another great shot from Rahane. Playing on the up and finds the gap between mid-off and covers. Eight coming from that Coulter-Nile over. India 34 for 1 in 8 overs.
14:07 IST: Aussies are wearing a black arm band today.
The Australian players are wearing black armbands today to honour former Test spinner Bob Holland #INDvAUS pic.twitter.com/OI2ERN3cfj

— cricket.com.au (@CricketAus) September 21, 2017
14:05 IST: Four! Great shot. Everything perfect about that shot. Rahane looks in good touch here.
14:02 IST: This looks like a two paced track with some balls holding up and others climbing up sharply.
14:00 IST: Four! Half volley and Rahane makes no mistake. Seven coming from that over. India 26 for 1 in 6 overs.
13:59 IST: Kohli gets off the mark. Playing at a ball wide of the off-stump and Kohli goes for it. Just wide of the slip in place.
13:58 IST: Virat Kohli is the new man in.
13:54 IST: Wicket: That was a full ball from Coulter-Nile and all Rohit could manage to do is hit it straight back to the bowler. Coulter-Nile holds on to the catch. India lose their first wicket.
Huge wicket from NCN! India 1-19, the captain Kohli now to the crease. #INDvAUS pic.twitter.com/EzlHqhQX7v

— cricket.com.au (@CricketAus) September 21, 2017
13:52 IST: That was great ball from Cummins. That ball climbed up sharply but it was well played by Rahane at the end. Great carry to the keeper.
13:50 IST: Big appeal from the bowler. Clearly going down the leg-side. Only the bowler thought it was out. Rahane looking to work it on the on-side but misses the ball.
13:46 IST: Four! This is an even better shot from Rahane. Nothing wrong with the ball but Rahane just opens the face of the bat and finds the gap through cover point. So two boundaries already from the over.
13:44 IST: Four! Lovely shot from Rahane. This time Coulter-Nile giving some room to Rahane and the Indian opener obliges by dispatching it to the fence.
13:41 IST: Width on offer and Rohit doesn't miss out on those. First boundary of the innings. Rare bad ball from Cummins. Otherwise he is probing away with that off-stump line.
13:39 IST: A new tradition started by the CAB president Sourav Ganguly, just like the way they do it at Lord's.
Former #TeamIndia batsman @virendersehwag and @BCCIWomen all-rounder @Jhulan_Goswami ring the bell at Eden Gardens #INDvAUS pic.twitter.com/1azydR0rXX

— BCCI (@BCCI) September 21, 2017
13:35 IST: Nathan Coulter-Nile to share the new ball with Cummins.
13:33 IST: First ball for Rohit Sharma and he gets off the mark with a single. So both the openers are off the mark. India 3-0 after the first over.
13:32 IST: Short again, outside off-stump and Rahane guides it to third-man to get off the mark. India are away.
13:31 IST: There is good carry for Cummins. Rahane poking at a ball just outside off-stump after shouldering arms in the first ball.
13:30 IST: Both the Indian openers are out there in the middle. Rahane to take strike. Pat Cummins with the new ball.
13:24 IST: For India, it is important that Ajinkya Rahane gets going at the top of the order. One it will give India more options, once Shikhar Dhawan is back in the side. And for a player like Rahane, it is difficult to fit him in the middle-order. If Rahane has to be a part of the one-day side, it has be at the top of the order. Do let us know about your views?
13:22 IST: Lets hope that the rain stays away and we can have a full match. The weather was not that great in the last couple of days.
13:15: Send us your views on what you think of the Australian changes. Is Agar a better option than Zampa? Tweet us at @CricketNDTV
13:08 IST: Australia, as mentioned earlier have made a couple of changes. Here is their line-up.
AUS XI: D Warner, H Cartwright, S Smith, TM Head, G Maxwell, MP Stoinis, M Wade, K Richardson, P Cummins, N Coulter-Nile, A Agar

- BCCI (@BCCI) September 21, 2017
13:08 IST: Here is a look at the Indian line-up.
IND XI: A Rahane, RG Sharma, V Kohli, M Pandey, MS Dhoni, K Jadhav, H Pandya, B Kumar, K Yadav, Y Chahal, J Bumrah

- BCCI (@BCCI) September 21, 2017
13:07 IST: Leaving out Faulkner would mean that Australia just doesn't have enough faith on the all-rounder. While Richardson can bat a bit but no where as explosive as Faulkner can be at the end of the innings.
13:06 IST: Interesting move to bring in Agar instead of Zampa who didn't really have a that bad a game except a poor over where Hardik Pandya took him to the cleaners.
13:03 IST: India have gone in with an unchanged side. Australia have made two changes to their side. Kane Richardson, Ashton Agar comes back into the side while the visitors have decided to leave out James Faulkner, Adam Zampa.
13:02 IST: Meanwhile Virender Sehwag is at it again. He does the pitch report in his own style.
Eden Gardens - pitch toh turn hogi , kya Australia ki kismat turn hogi ? #IndvsAus #ViruKiCommentary pic.twitter.com/brgoWLv4Mp

- Virender Sehwag (@virendersehwag) September 21, 2017
13:00 IST: India have won the toss and have elected to bat first.
Captain @imVkohli wins the toss. Elects to bat first in the 2nd @Paytm ODI #INDvAUS pic.twitter.com/xnTXMnuQCN

— BCCI (@BCCI) September 21, 2017
13:00 IST: Hello and welcome to the second match played between India and Australia.
The visitors were seen taking the help of local wrist spinners to find tricks to counter the Indian bowlers. While Kerala's KK Jiyas helped them before the Chennai ODI, two local club bowlers -- Ashutosh Shibram and Rupak Guha -- provided some practice to the Aussie batsmen in Kolkata.
Chasing a revised target of 164 in 21 overs in the rain-interrupted first ODI, Aussies were 35 for four before Glenn Maxwell's power-hitting raised hopes of an unlikely win.
But Chahal and Yadav went about their task meticulously to seal a 26-run win by the D/L method.