Story Progress
Back to home
Yearender 2017, Hockey: A Mixed Year For India
Hockey in India has risen another notch in 2017, that is clear and beyond negotiation.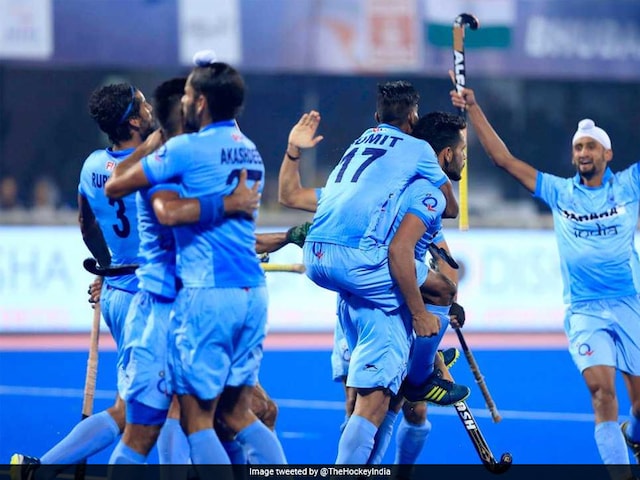 India's high point in 2017 has to be the Asia Cup title.
© Hockey India
Highlights
Manpreet Singh-led team went on to lift the Asia Cup

The women's team won the Asia Cup and qualified for the World Cup

PR Sreejesh suffered a knee injury early in the year
The Indian hockey scenario took some interesting turns over the year 2017. While the side looked like shedding years of lethargy and promising a lot for the future, the rough edges are still visible and will need a lot of repair work in 2018, which also highlights the Hockey World Cup at home. That said, the sport at least is now getting eyeballs back, something that was beginning wane. That in itself is a good sign.
Men's Hockey
India started off at an average pace in 2017, finishing third in the Sultan Azlan Shah Cup tournament where they were termed favourites to win. Then came the Hockey World League Semi-Final in June where the team again didn't perform up to the expectations of the people. India finished sixth after losing to lower-ranked Malaysia and Canada.
However, the Manpreet Singh-led team went on to lift the Asia Cup in October and clinched the bronze medal at the Hockey World League Final in December to retain their sixth position in Hockey rankings and also reduce the gap with fifth-placed Germany.
The Indian men's team was at the sixth spot in the beginning of this year and managed to maintain its position throughout 2017. India finished with 1566 points.
India's high point in 2017 has to be the Asia Cup title, which came at a time when the experienced Roelant Oltmans was sacked as coach after a three-day Hockey India meeting in September. Oltmans knew Indian hockey inside-out, having spent close to 24 months as High Performance Director and then approximately two years as chief coach.
Interestingly, India women's coach Sjoerd Marijne was asked to take over as men's coach and experienced Harendra Singh was given women's team to handle. But the controversy faded as soon as both the teams (men and women) created history in the Asia Cup.
Before beating Malaysia 2-1 in the men's final, India registered their third win of the year against Pakistan.
Under Marijne's guidance, the Indian team performed exceptionally well against World No.3 Belgium in the quarter-final of Hockey World League Finals and defeated them in the penalty shoot-out to enter last four. Though, they lost to Argentina in the semi-final match but beat Germany to win the bronze medal.
It also made Marijne the first foreign coach of an Indian team to finish his first two tournaments on the podium.
Women's hockey
India had to wait long for their second Women's Asia Cup title with the last one coming way back in 2004. India edged past China 5-4 via shootout to win the title in November. With this win, they also qualified for next year's World Cup as continental champions.
The team, which started the year on 12th position, jumped two places and entered the top 10 rankings for the first time. Their Asia Cup win in November helped them gain two positions, leapfrogging Spain and Japan.
Off-pitch trouble
India's star goal-keeper and captain PR Sreejesh suffered a knee injury early in the year which required surgery and long rehab that is expected to be completed in January 2018. Though India have badly missed the services of Sreejesh, Akash Chikte and Suraj Karkera have made full use of the opportunities given to them.
The Indian team's celebrations following their 7-1 win against Pakistan in the Hockey World League Semi-Finals in London was cut short following a summons from Yorkshire police to former skipper Sardar Singh. Ashpal Bhogal, a British citizen of Indian origin claimed to be his fiancée and had accused Sardar of sexual assault.
After five successful editions, there will be no Hockey India League (HIL) in 2018 and the tournament will only return in 2019 with a fresh outlook, Hockey India said. There were reports that unhappy franchises and financial concerns may see the end of the HIL after just five seasons.
However, the chairman of Hockey India League and secretary general Mohd Mushtaque Ahmad clarified that this will only be a temporary discontinuation and that the HIL will return in 2019.
Promoted
India have big tournaments in 2018 - the Commonwealth Games, Champions Trophy, Asian Games, and the World Cup at home.
There is still some way to go before India is once again considered a global superpower in hockey. But the highly competitive men's team, now ranked sixth in the world, seems well set on the long road to resurgence and women's team too look promising.
Topics mentioned in this article