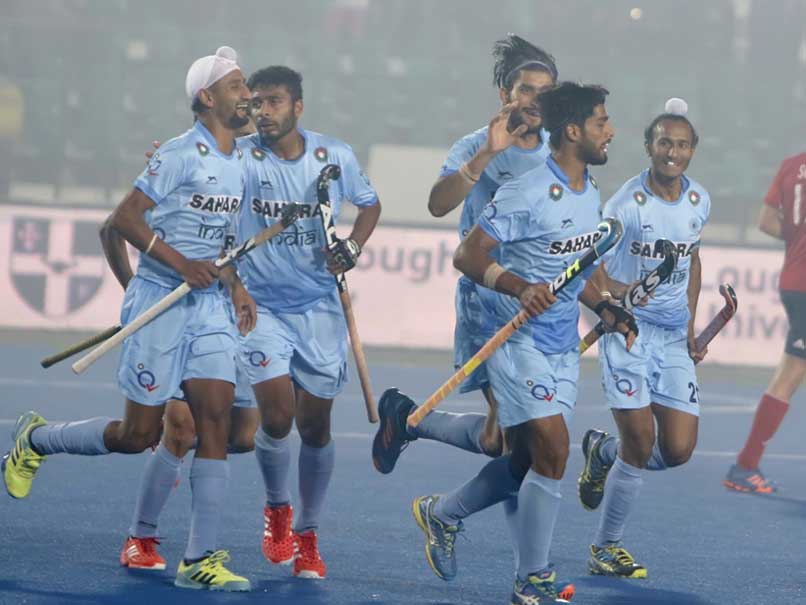 Junior Hockey World Cup: India maintained an all-win record in the pool stage.
© Hockey India
Lucknow:
Having received a much-needed wake-up call in their final pool match, favourites India would look to iron out chinks in the armour and play "simple hockey" when they face Spain in the quarterfinals of the men's Junior Hockey World Cup here on Thursday.
Even though India maintained an all-win record in the pool stage, it was their performance in their last pool game against South Africa which has raised some eyebrows.
The Indians were clinical in their first two wins over Canada (4-0) and England (5-3) but against South Africa they had to slog hard to register a fighting 2-1 victory.
But it should come as a big lesson for the Indian colts ahead of the knockout stages as any slip from here on will dash their hopes of reclaiming the title after a hiatus of 15 years.
"I was surprised with our performance because we didn't play to our potential after the first 15 minutes (against South Africa). I always say that I don't think about opponents, I am always concerned about our own methods," India's head coach Harendra Singh had said after the South Africa game.
"We play simple one-touch hockey and that is what we should play. We just didn't play simple hockey (against South Africa) but the good thing is that it has happened before the knockout stages," he said.
Going by present form, India start as overwhelming favourites against Spain. The Indians have defeated the Spaniards twice in the recent past in a four-nation tournament in Valencia.
The Valencia outing, where India went on to win the title by beating six-time champions and current world junior champions Germany, should give the home team confidence going into tomorrow's all-important encounter at the Major Dhyan Chand Astroturf stadium here.
Although India are expected to win the game hands down, Harendra warned his players against complacency. "In a World Cup we can't afford to take any team lightly.
We have defeated Spain twice in Valencia but here it is altogether different. Every participating team wants to win the World Cup," Harendra said.
In their last two pool games, India let their momentum slip in phases. Against England they were sloppy in the last 10 minutes and conceded two goals, while against South Africa the Indians faded away after the initial 15 minutes burst.
Excited and pumped up in front of home crowd, the Indians tried too many things and this is something which Harendra would like his wards to avoid on Thursday.
India's senior team's chief coach Roelant Oltmans, who is here as the manager of the junior side, has called on the colts to use their brains a bit more and stick to their game plan instead of trying too many things.
"The most important thing is to stick to our game plan. If we would have used a little bit more brain, we could have scored more goals (against South Africa) and that is what we have to learn. If you can close the game we should close it. We shouldn't give our rivals opportunity to come back into the game," Oltmans said.
The Indians created plenty of scoring chances but the striking force lacked the finishing touch before Mandeep Singh came to his side's rescue with a brilliant match-winner against South Africa.
India skipper Harjeet Singh has been phenomenal in the tournament so far having led the side from the front. Against South Africa he not only scored a goal but also created numerous chances for his teammates.
Even though the Indians created chances, penetrated the opposition circle and earned penalty corners in numbers, the final execution was lacking and the hosts would need to work on these aspects and raise their game to avoid giving Spain any chance to create an upset.
Meanwhile in the other quarterfinals of the day, Belgium will play Argentina, defending champions Germany will face England and Australia will take on the Netherlands.
Topics mentioned in this article
Hockey