Story Progress
Back to home
Injured PR Sreejesh Using Junior Hockey World Cup to Hone Coaching Skills
PR Sreejesh is currently with the India colts participating in the Junior World Cup as a goalkeeping consultant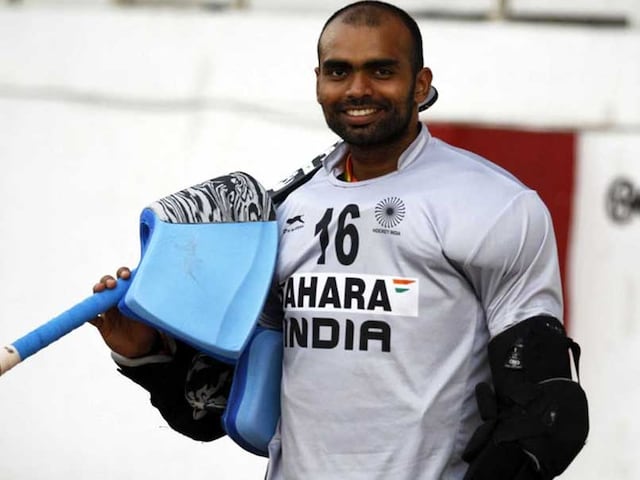 PR Sreejesh is India senior hockey team's captain.
© PTI
Highlights
PR Sreejesh suffered an ankle injury during Asian Champions Trophy

He has been training the Indian colts in the national camp

He is with the team as goalkeeping consultant
Lucknow:
Down with an ankle injury since the Asian Champions Trophy in October this year, India captain PR Sreejesh can't afford to get back to action and is utilising the ongoing men's Junior Hockey World Cup not only to undergo his rehabilitation but also to pursue his career option after quitting the game, i.e. coaching.
Sreejesh is currently with the India colts participating in the Junior World Cup as a goalkeeping consultant, a role which he feels will benefit him as well as junior goalkeepers Vikas Dahiya and Krishan B Pathak in the longer run.
He has been training the Indian colts in the national camp in Bengaluru in the run up to the World Cup. But he later requested the team management to involve him with the team during the Junior World Cup which will not only be beneficial for him but for the Indian colts as well.
"I was about to undergo my rehabilitation after the injury I sustained during the Asian Champions Trophy and then a thought suddenly came into mind to train with the junior side. I asked the coaching staff and Roelant (Oltmans) about it and they readily agreed," Sreejesh said.
"Apart from helping the junior goalkeepers, I foresee this opportunity to study and analyse myself. This opportunity will give me an idea about where I am making mistakes because teaching is all about learning," he said.
Sreejesh said coaching has always been his passion but right now his role is all about fine-tuning.
"Coaching is something I look upto after I finish my international career. But right now it's all about helping the juniors by sharing experience and tips. Now you can only do polishing for these people. You can't do any visible changes. You can bring in some confidence.
"Being a goalkeeper, you can motivate them. Even they can relate to it, thinking that I've been in similar situations that they face. They will take my words seriously because of that," said the lanky Kerala lad, who is regarded as one of the finest goalkeepers in the world currently.
"Goalkeeping is a different story in hockey. More than technical, it's about the mental part. In 70 minutes, you will get the ball twice or thrice. Now, if one concedes a goal early, he's going to get another chance after a very long time.
"So I talk to them mainly about preparing themselves mentally for the match and how to control the negative or positive moments in the match. You can't make a couple of saves and be on a high. You need to keep your mind stable for rest of the match," an ever-smiling Sreejesh added.
Dave Staniforth had been preparing the goalkeepers of the junior side ahead of the ongoing World Cup, a role which Sreejesh took over after the South African left following the completition of his short stint a day before the start of the tournament.
Promoted
Sreejesh too had to wait a lot for his chance and only got his break following a career-destroying eye injury to Baljeet Singh in 2009.
"I just didn't play 10 or 15 tournaments and got into the senior team. I waited a lot. You need experience. You can't feel good about yourself by making a couple of saves, nor should you get demotivated after conceding a few of goals. You can't achieve everything overnight. You have to be patient," he concluded.