Story Progress
Back to home
Asia Cup 2017: Coach Harendra Singh Thinks World Cup Within Reach Of Indian Women's Hockey Team
The women's squad won the Asia Cup after a span of 13 years.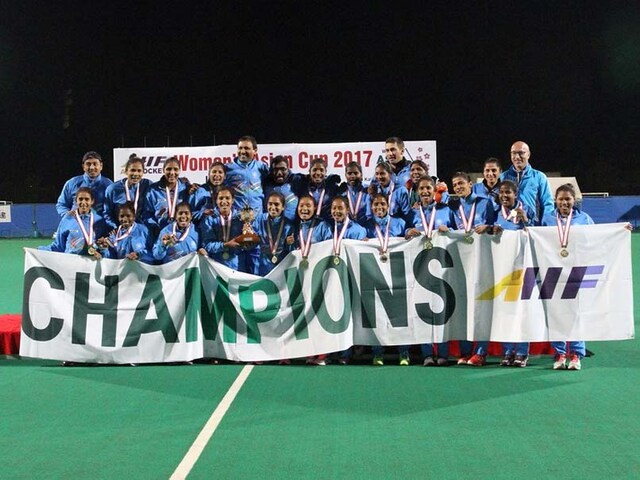 The women's hockey team pose after their Asia Cup Hockey triumph
© Hockey India
Highlights
India women beat China 5-4 in the penalty shootout to win Asia Cup Hockey

With the win, India qualified for the next year's World Cup

Coach Harendra Singh is confident India will do well in next year's WC
If Mahendra Singh Dhoni was called the captain with the Midas touch, the same tag can be used for India women's hockey team coach Harendra Singh. Since his inception in the Indian hockey arena, the sport has been bringing laurels to the country. First, he helped India junior men's team to win the World Cup title in 2016 and now added another feather to his cap by propelling India women's team to Asia Cup title. India created history as they edged past China 5-4 in the penalty shootout to win the title on Sunday.
"These girls have a lot to offer. This is just a beginning for them. Now, wait and watch how they go ahead," excited coach Harendra Singh told NDTV.com in an exclusive interview.
"This victory has doubled the happiness. The Asia Cup title and we have qualified for the next year's World Cup too. This is a cherry on the cake for us. We are so happy.
"These girls are celebrating since they left the venue. The win hasn't sunk in yet. They are singing, dancing and cheering continuously," Harendra said.
It was skipper Rani Rampal who scored the winning goal for India while goalkeeper Savita made a great save in sudden death to ensure India win 5-4 in the penalty shootout.
It was in 2004 when the Indian women's team won the Asia Cup last time, beating Japan 1-0 in the final.
"The title has come after a long time. You always enjoy a win when it comes after a lot of hard work and struggle. These girls have done it. One can't imagine how much talent these girls have. They are ready for every challenge," the ecstatic coach said.
Harendra said he has watched Shah Rukh Khan starrer Bollywood movie Chak de India and the Asia Cup final against China was quite similar to the final which was played in the film.
"In the final I didn't give any tips to the girls. I just told them you will be on podium but you have to decide whether you want to stand with silver or gold. Choice is yours. They went and did it in style. The entire country is proud of them," he added.
On being compared with Chak de girls, Harendra said: "These girls are far, far ahead. These are real life stars and they were reel stars. So there is no comparison."
Promoted
After the Asia Cup triumph, the Women's World Cup 2018 is next target for the coach.
"The journey has been amazing so far. I can see lot of confidence in these girls. If they play the way they are, no one can take the World Cup from us," Harendra said.
Topics mentioned in this article