Story Progress
Back to home
Shubhankar Sharma On Brink Of History At WGC, Leads Star-Studded Field
Shubhankar Sharma two ahead of some of the biggest names in contemporary golf on a crowded leaderboard.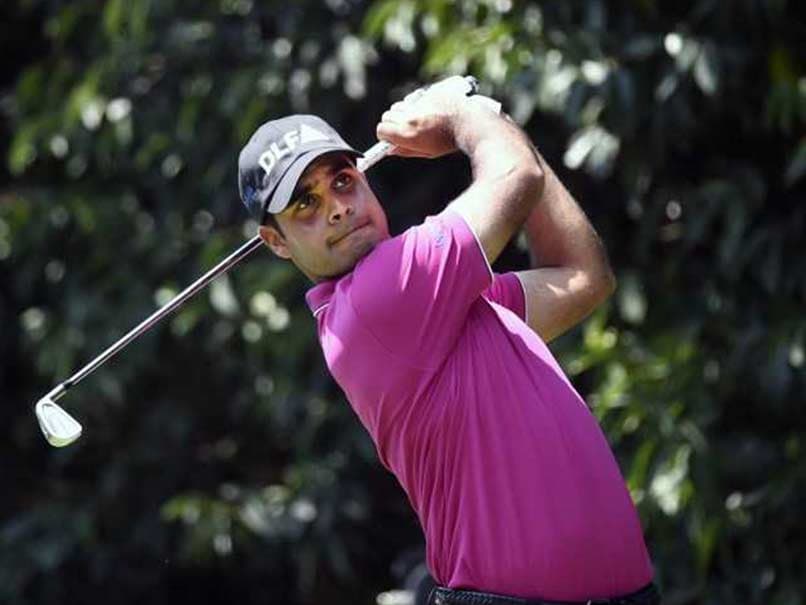 Indian golfer Shubhankar Sharma plays a shot at the World Golf Championship.
© AFP
Highlights
Shubhankar Sharma on the verge of creating history

Shubhankar is 2 shots ahead of some of the biggest names in golf

The top-10 after three rounds are separated by four shots
Shubhankar Sharma upstaged the biggest names in golf by bravely maintaining his overnight two-shot lead following the third round of the USD 10 million World Golf Championships here, venturing into a territory hitherto unknown to Indian golfers. The 21-year-old became the first Indian to hold a 54-hole lead in a World Golf Championship, as he added a grinding two-under 69 to move to 13-under. Shubhankar, with three birdies against one bogey on the front nine, was four shots clear at one stage. He later had two each of birdies and bogeys but made some great saves, including one on 18th.
He is two ahead of some of the biggest names in contemporary golf on a crowded leaderboard.
The top-10 after three rounds are separated by four shots and they include four Major winners -- Phil Mickelson (65) and Sergio Garcia (69) at T-2, Dustin Johnson (68) at T-6 and at Tied-10th is Justin Thomas, who was on fire with a record-breaking 9-under 62 at the Club de Golf Chapultepec.
In the morning five-time Major winner and Hall of famer, Mickelson, initially mistook him for a fan or a journalist and waved Shubhankar off at the practice green before the start of the third round, thinking he was a member of the media.
Mickleson soon realised his error, apologised and wished him as he went to the first tee for the start of his round.
The best position for an Indian at a WGC was Tied-1st for Jeev Milkha Singh after the first round at WGC at Doral in 2009 and at the same event, Jeev was T-9 after second round, T-3 after three rounds and eventually finished T-4, the best-ever for an Indian. The winner was Mickelson.
Arjun Atwal, in 2010, carried a 3-shot lead into the final round of the Wyndham Championships, which he won by one shot, and more recently Anirban Lahiri carried a four-shot lead into the final round of the 2016 CIMB Classic, but dropped to Tied-third at the end.
While Shubhankar at 21 years and seven months is the youngest in the field, Mickelson stands at the other end of the age spectrum at 41 years and eight months. It is not just Mickelson who is in hot pursuit, but a whole lot of others.
On his brief encounter with Mickelson before the round, Shubhankar said, "To be honest, me and my caddie Baaz, we both went up to him. He thought we were media and he said, 'Not right now, after the round'.
"Then he just realised and said, 'So sorry, I thought you were media', and he said 'hi', I said hi. Then he made a few putts and he came back to me and said, 'Have a good day'. It was nice."
Shubhankar, who was born five years after Mickelson turned pro, has been enjoying himself in the company of superstars.
He said, "For me, it's actually almost like watching TV. I was telling to Baaz, who's on my bag there, watching all of these guys on the range, it just seems like there's a TV in front of me and I'm watching them through the TV.
"Obviously the broadcasts these days are so clear in high definition, it just feels so unreal just watching them right in front of you. It just feels like there's a TV in front of me and I'm actually watching it through a TV.
"But yeah, it's great just to see the way some of the guys like Dustin strike the ball. I think it just pushes guys like me to play even better."
He added that he remembered all Majors and finishes because he had watched them on TV in the middle of the night in India.
"Yeah (we watched till), 4:00 or 5:00, 6:00 sometimes. Mostly (it was with) my dad. Mom as well. But yeah, dad and me are very passionate about it. I remember all the majors pretty much by heart and pretty much all the shots, and I remember Phil winning in 2013 and the shot on the 13th was just fabulous.
"The best I think was when Rory won the U.S. Open. It went on until 6:00 in the morning back home. I remember I was so inspired that I didn't sleep, I just went straight to the range and hit balls for two hours."
Keeping calm, a trait he picked from his father, Col M L Sharma, an Army man, who gave him all his time in the growing years, Shubhankar showed little emotion even while chatting with his caddie, Gurbaaz, on the course.
But the 11-12 footer on the 18th for par did see him heave a sigh of relief and a fist pump.
"It was very important. Obviously Rafa had a birdie putt and could have been a two-shot swing. I think I got a bit unlucky on the second shot. Right before my shot we checked the wind and it was still."
Promoted
In Mexico players have to adjust for the higher altitude which makes ball travel almost 15 percent more and then there is distance to be adjusted for uphill layout.
Shubhankar could potentially have a career-changing win with the winner's cheque worth USD 1.7 million, an exemption onto the PGA Tour through the 2020-21 season, 550 FedExCup points and starts in almost every major championship including THE PLAYERS Championship this season.
Topics mentioned in this article