Story Progress
Back to home
Pak Se-Ri, Retiring Korean Legend, Seeks 'Arnold Palmer' Legacy
Pak Se-Ri's victory in the 1998 US Open - then just 20-years-old and in her rookie LPGA season - changed everything. She was the first Korean to win the oldest women's major, and became the poster girl for a South Korean golfing boom that has since gone from strength to strength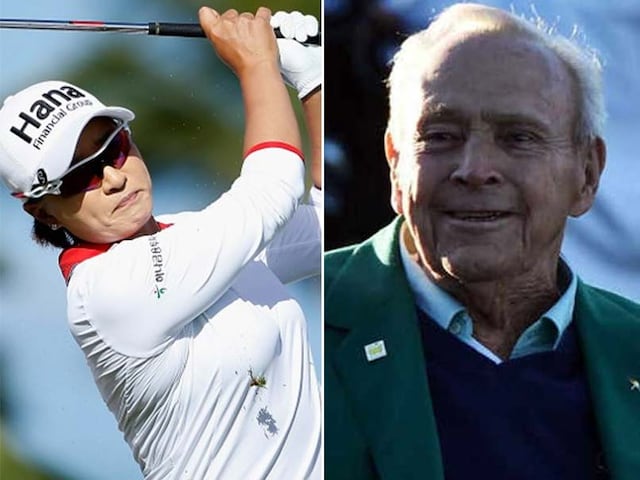 Pak Se-Ri said that after retirement, she wants to make a major contribution to golf like Palmer did.
© NDTV
Highlights
In nearly 2 decades on the LPGA tour, Pak racked up 25 wins, 5 majors

She was the first Korean to win the oldest women's major

Se-Ri said she wants to make a major contribution to golf like Palmer did
Rarely can a sliced drive into the rough off the first tee have been greeted with so much adoration and applause.
But for the fans who turned out Thursday to see the biggest name in Korean golf in her final tournament, the actual play came a distant second to recognising a career credited with triggering South Korea's rise as a dominant force in the women's game.
Pak Se-Ri's victory in the 1998 US Open -- then just 20 years old and in her rookie LPGA season -- changed everything.
She was the first Korean -- indeed the first Asian -- to win the oldest women's major, and became the poster girl for a South Korean golfing boom that has since gone from strength to strength.
Pak won Rookie of the Year in 1998, and seven other South Korean women have emulated her since then. The same number have won US Open titles, including the 2015 champion Chun In-Gee.
Many of those who have followed in Pak's wake -- including reigning Olympic champion Park In-Bee -- often refer to themselves as "Se-Ri girls", citing her US Open triumph as the moment they decided to pursue the sport seriously.
It's a legacy that Pak, now 39, clearly cherishes.
"When all is said and done, I want to be remembered as someone who was widely respected," she told reporters ahead of the LPGA KEB-Hana Bank Championship that started in Incheon on Thursday.
Name-checking the late US golfing great Arnold Palmer, Pak said she wanted to continue to play an influential role after she retires.
"I know I've got a long ways to go, but I'd love to be like Mr. Palmer and learn to become someone who can make a major contribution to golf.
"My goal is to become someone who can be helpful to young players and people around me. I am not interested in fulfilling personal desires," she said.
Pak, who was the South Korean team coach when Park In-Bee won her gold medal in Rio, said she would like to help other athletes beyond the golf world.
"I want to create an environment where athletes can thrive and compete to the best of their abilities," she said.
In nearly two decades on the LPGA tour, Pak racked up 25 victories and five majors -- a tally she has no real chance of adding to in Incheon, which is more of a celebratory goodbye then a genuine shot at one last triumph.
"I've come a long way, and I want to give myself a pat on the back," she said. "I am really happy because I know all of my hard work has paid off." 
She received a rapturous welcome at the first tee, with fans waving banners that read "Thank you Seri. We Love You."
She didn't manage to find the shot to suit the occasion, with her drive veering to the left and landing in the rough, but the fans applauded anyway.
Before the tournament got underway, LPGA tour commissioner Mike Whan paid tribute to Pak's lasting influence.
Promoted
"I've read a lot about how Se-Ri created a real explosion of golf in Korea, but that's too narrow.
"She woke up all of Asia," Whan said.
 
Topics mentioned in this article