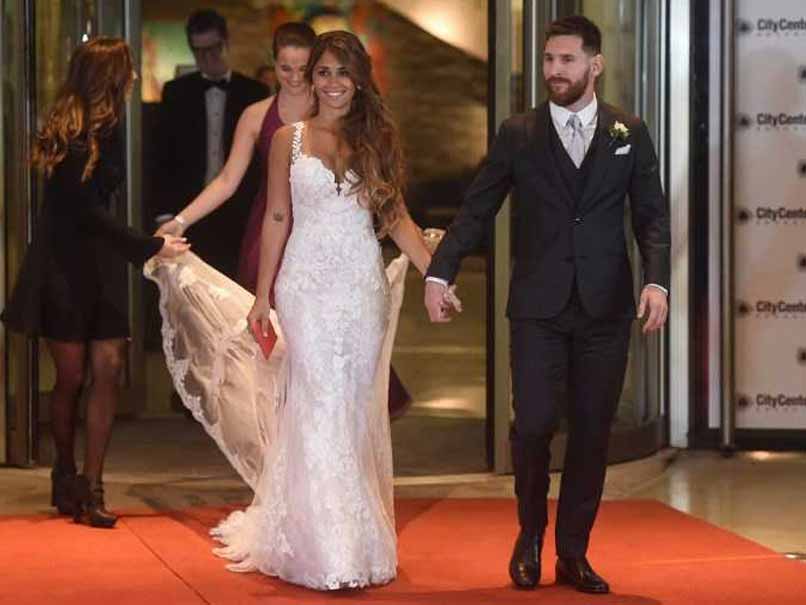 Lionel Messi married childhood sweetheart Antonella in Rosario recently.
© AFP
Lionel Messi is enjoying his honeymoon with wife Antonella in the Caribbean these days. With sons Thiago and Mateo, the Messis are living the sweet life after the childhood sweethearts tied the knot on June 30 in Rosario, Argentina. The newly-weds were joined by Messi's Barcelona teammate and close friend Luis Suarez and his family. The pictures posted on social media portrayed how the families were soaking up the gorgeous Caribbean sun, enjoying the last few days of a well-earned vacation before the footballers are due to report for duty at the club.
Messi posted a picture on Instagram and captioned it: "Visita sorpresa" (Surprise visit). The picture shows both families enjoying drinks in the Caribbean waters.
In an earlier picture, Messi had posted an adorable family picture from the honeymoon which showed the four relaxed and eating food.
Suarez and partner Sofia Balbi are close friends of Messi and Antonella and the four have often be seen enjoying each other's company. Suarez was part of the 'Wedding of the Century' in Rosario which saw only close friends and family in attendance.
The Barcelona stars are expected to report for pre-season training soon under new boss Ernesto Valverde.