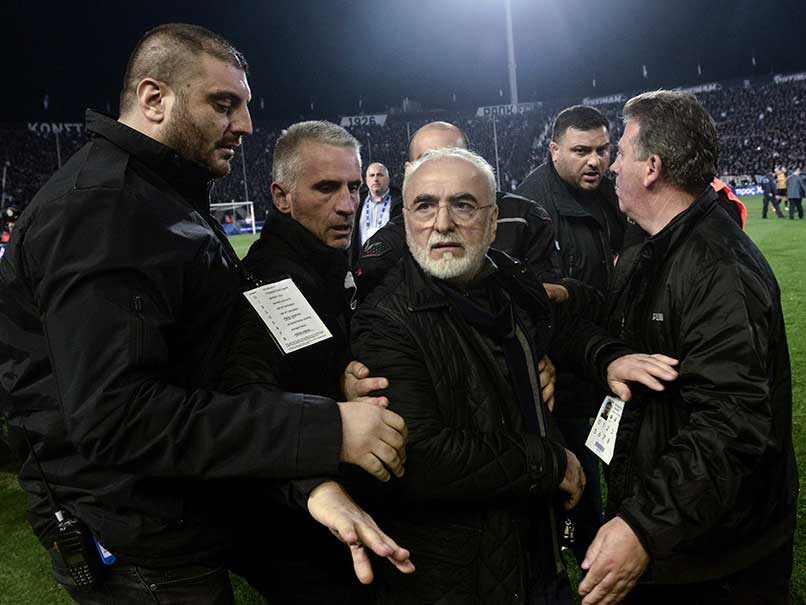 PAOK owner marched onto the pitch with his gun after a disputed goal
© AFP
The owner of Greek club PAOK has been banned for three years after storming onto the pitch with a holstered gun on his belt, league organisers said. PAOK were also docked three points and fined for Ivan Savvidis' actions, meaning they drop to third place in a tight championship race with AEK and Olympiakos. The ruling, which also includes a 100,000-euro (123,000 US dollars) fine for Greek-Russian businessman Savvidis and a separate 63,000-euro fine for PAOK, is open to appeal. Also on Thursday, the monitoring committee of global football body FIFA recommended the immediate suspension of Greece's football federation, according to a letter leaked to Greek media.
The Greek league will resume on Saturday after being suspended on March 12 in the wake of the Savvidis incident.
The clubs have agreed to a list of government demands, including point deductions and automatic relegation for clubs responsible for the violence.
The 58-year-old tobacco industrialist, a former lawmaker with the party of Russian president Vladimir Putin, is considered a political ally of Tsipras. Flanked by bodyguards, he stormed onto the field in the 90th minute earlier this month after a goal that would have won the top-of-the-table clash was disallowed for offside. Police have said Savvidis is not sought over the gun, for which he has a license, but for the pitch invasion, which is a criminal offence although it carries no prison sentence.