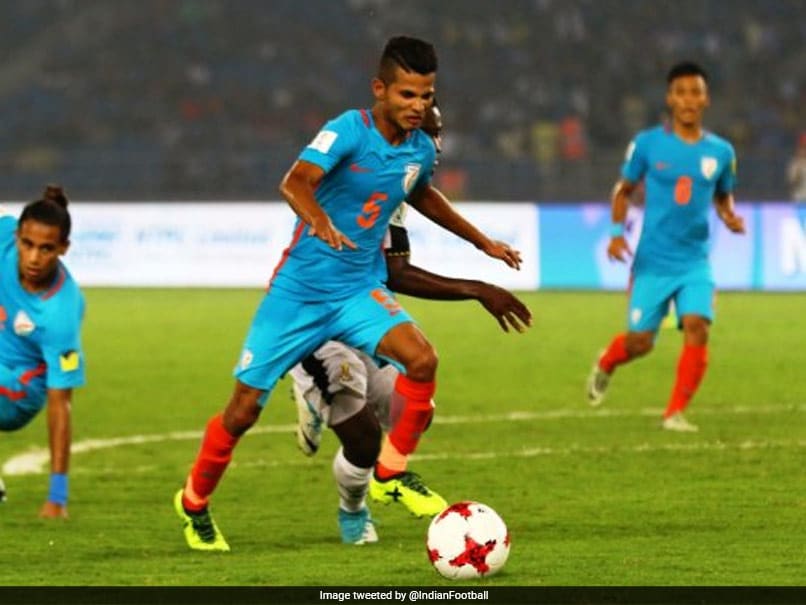 India lost 0-4 to a formidable Ghana in their third and final match of Group A.
© Twitter
Amarjit Singh Kiyam-led India bowed out of their maiden FIFA U-17 World Cup as they lost 0-4 to two-time champions Ghana in their third and final group A match at Jawaharlal Nehru Stadium, New Delhi on Thursday. The Indians played their hearts out in the final Group A game but could not match the energy that a formidable Ghana displayed throughout the game. Ghana captain Eric Ayiah scored twice -- in the 43rd and 52nd minutes -- while second half substitutes Richard Danso (86th) and Emmanuel Toku (87th) struck once each to break the hearts of the supporters. Indian fans had turned up in large numbers, hoping that their team would come up with another inspiring show but Ghana had other plans.
After the game, Twitterati heaped praise on the Indian team as they made the nation proud by displaying a gritty performance in the tournament.
Irrespective of the the results, the boys showed great character in this #FIFAU17WC the experience itself will help them in the years 2 come

— Gurpreet Singh (@GurpreetGK) October 12, 2017
You may not have made it,but you've made your way through to the hearts of at least 1.3 billion people. Come on, India! #INDvGHA #FIFAU17WC

— CK Vineeth (@ckvineeth) October 12, 2017
Good job @IndianFootball. You've created history, won a billion hearts and shown a way ahead. You're a beacon of hope for future. #INDvGHA

— Rajyavardhan Rathore (@Ra_THORe) October 12, 2017
Indian players are leaving the #FIFAU17WC stage for the last time. You guys showed the entire nation what you're capable of. #BackTheBlue pic.twitter.com/EOGXTh67iV

— Indian Football Team (@IndianFootball) October 12, 2017
It's nothing but the start of a new era. A football revolution is on cards. Thank you all for your support. Keep supporting #IndianFootball

— Indian Football Team (@IndianFootball) October 12, 2017
Team India coach Luis Norton de Matos said, "After two hard games, it was complicated to play a side like Ghana. African teams at this age-group level are very tough. Ghana was the toughest team and today difference was very big. Our best chance was in the first two games."
Talking about the energy which Ghana displayed in the second-half of the match, Matos said, "Our team was finished physically by first 45 minutes. There was no energy left in them to match that pace in the second half."
However, when Matos was asked that would he would like to coach this team in the I-League, he said, "I would like to be a part of this team going into the future, but I still have a few meetings with the AIFF. It is possible."
(with PTI inputs)