Story Progress
Back to home
A Look At World Football's Most Expensive XI
Philippe Coutinhos move to Barcelona from Liverpool for a staggering 160 million Euros has helped him spiral as the second most expensive transfer in the world.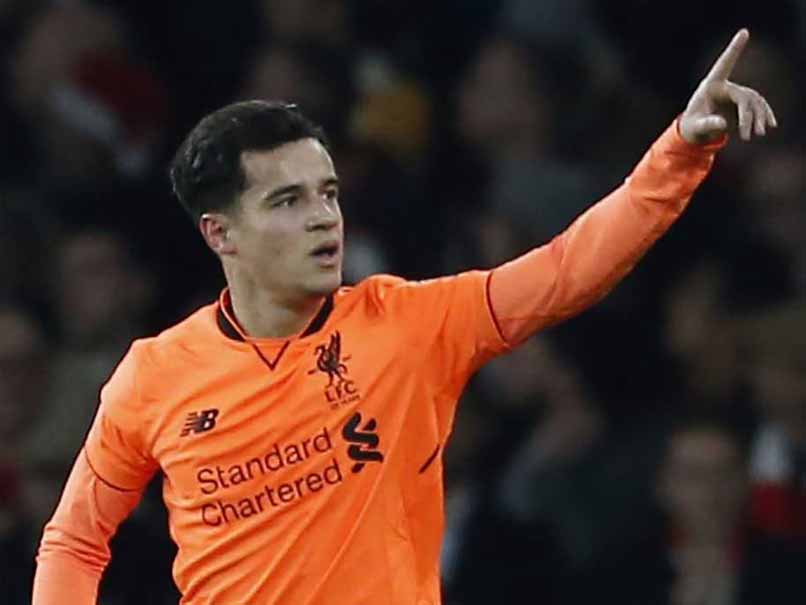 Philippe Coutinho became the second most expensive signing on Saturday.
© AFP
Highlights
Philippe Coutinho became the second most expensive signing on Saturday.

The Brazilians move to Barcelona comes in the middle of the season

The transfer fee is believed to be 120 million Euros and 40 million Euros
The beautiful game is turning into an expensive affair these days. The reference here is to the exorbitant and mind-boggling transfer fees being paid by clubs for a players' services. Philippe Coutinho's move to Barcelona from Liverpool for a staggering 142 million pounds is a testament to this inflated market. Putting this into context, Italian giants Inter Milan sold Coutinho to Liverpool in 2013 for just 8.5 million pounds, which shows that the Reds pocketed a profit of around 130 million pounds.
It is the second-most expensive transfer of all-time, trailing the 198 million pounds, French club Paris-Saint Germain paid Barcelona for Neymar last summer.
These players are special and deserve all the plaudits and money for their services. Here, we collate the most expensive playing XI position wise with a 4-3-3 formation.
Goalkeeper:
Ederson (Benfica to Manchester City, 34.7m pounds, 2017)
Brazilian Ederson became the world's most expensive goalkeeper when he signed a five-year deal with Manchester City in a move from Benfica. The City keeper is a good shot-stopper and has an eye for his offensive players. Not particularly a sweeper keeper, Ederson does have a knack of releasing balls early to set the tone for a counter attack. He already has 10 clean sheets to his name in 22 appearances until the Watford game played in January 3 this year.
Defenders:
Right-back - Kyle Walker (Tottenham Hotspur to Manchester City, 53m pounds, 2017)
The previous highest amount paid for a right-back was 27.1m pounds Real Madrid paid Benfica for Fabio Coentrao in 2011. But, Manchester City paid a whopping 50m pounds to Spurs. Walker has justified his hefty price tag and continues to do so.
Centre-back - John Stones (Everton to Manchester City, 50m pounds, 2016-17)
The total compensation which took Stones to City amounted to 50m pounds from Everton. The defender signed a six-year deal with Pep Guardiola's team in 2016-17 season. He made 23 Premier League starts in his first campaign at the club, with four more outings off the bench. Marred by an injury, he is back to partner Nicolas Otamendi.
Centre-back - Virgil van Dijk (Southampton to Liverpool, 75m pounds, 2018)
Liverpool's record signing of Virgil van Dijk turned heads all over the football fraternity. The Dutch defender was not concerned about his price tag weighing heavy. The transfer fee eclipses the 53m pounds spent by Manchester City to sign the England full-back Kyle Walker from Tottenham Hotspur last summer.
Left-back - Benjamin Mendy (Monaco to Man City, 49.2m pounds, 2017)
The 23-year-old left the French club Monaco for the Etihad in July 2017, with the powerful defender costing Guardiola just under 50m pounds. And that means four of this back five have all been signed by the Catalan since he took over at City. Mendy spent four seasons in the French top flight, Ligue 1, winning a domestic championship with Monaco before moving to England.
Midfielders:
Philippe Coutinho (Liverpool to Barcelona, 142m pounds - 2018)
The 25-year-old's transfer from Liverpool to Barcelona places him as the second most expensive signing. His creativity on the field is a trademark of a Brazilian national and his performances in the Reds shirt adds credence to this fact.
Ousmane Dembele (Borussia Dortmund to Barcelona, 97m pounds - 2017)
Barcelona signed Ousmane Dembele from Borussia Dortmund for an initial 105m euros (97m pounds), plus a potential 42m euros (38m pounds) in add-ons in August last year. Dembele was excellent for Dortmund last season as they finished third in the league and won the German Cup with the 20-year-old scoring the first goal in a 2-1 win against Eintracht.
Paul Pogba (Juventus to Manchester United, 89m pounds - 2016)
The world record holder for the highest ever transfer fee for Manchester United, Pogba moved back to United from Juventus for a total cost of 93.25m pounds in 2016-17. His first year with the Red Devils didn't turn out well but in his second season, he is proving his worth.
Strikers/Wingers:
Cristiano Ronaldo (Manchester United to Real Madrid, 80m pounds - 2009)

Ronaldo enjoyed his time as the world-most expensive player for four years when he moved from Manchester United to Real Madrid in 2009. Since then, he has not looked back, winning the Champions League three times, the La Liga twice and the Ballon d'Or five times.
Gareth Bale (Tottenham to Real Madrid, 86m pounds - 2013)
Bale's 85.3m pounds transfer fee is one of the highest fee received by a British club following his switch from Tottenham to Real Madrid in 2013. He has been linked with a move away from the Bernabeu and at 27, the Welsh international would cost big money to acquire were he to move on again. He has since had an up-and-down career in the Spanish capital but chipped in with key goals in cup finals.
Promoted
Neymar (Barcelona to PSG, 198m pounds - 2017)
He is the world's most expensive player following his historic move from Barcelona to PSG in the summer of 2017 for a shattering 198 million pounds. Neymar is a Champions League winner with Barcelona in 2015. Neymar joined PSG following four seasons at Barcelona where he scored 105 goals and provided 80 assists for the Catalans.
Topics mentioned in this article