Story Progress
Back to home
England vs India: England vs India, 2022 Live Cricket Score, Live Score Of Today's Match on NDTV Sports
Live Updates of Today Match between England vs India from Edgbaston, Birmingham. Check commentary and full scoreboard of the match.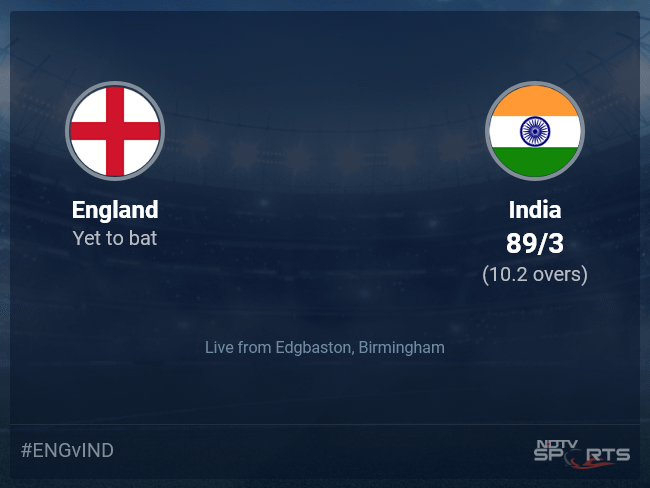 ENG vs IND Latest Score
A dedicated team of experts bring you live score, live cricket score, live match update on Sports.NDTV.com. After 10.2 overs, India are 89/3. The live updates of England vs India scorecard is also available. It is the perfect platform to follow your favourite teams in England vs India, 2022. Keep a track on your favourite batsmen and bowlers through England vs India, 2022 today match, ball by ball commentary, England vs India, England vs India live score, England vs India scorecard. Follow the excitement of the England vs India, 2022 on Sports.NDTV.com as you can follow live match updates and live cricket score through our platform.
9.6 overs (1 Run) Drilled but just for a single this time. On middle, Pandya steps out and muscles it straight back past the bowler who does get a hand on it. The ball goes towards long off and the batters cross over for a run. 13 off the over and at the halfway stage, India are 86/3!
9.5 overs (1 Run) Around off, this is pushed through covers for one.
9.4 overs (4 Runs) FOUR! Flatter and quicker, outside off, this is just slapped away through cover-point for a boundary.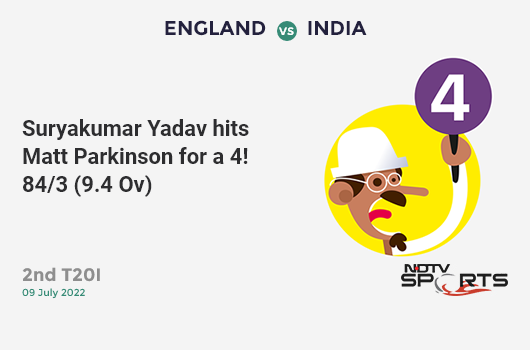 9.3 overs (2 Runs) Wristy from Suryakumar Yadav and that's a good bit of fielding from Chris Jordan in the deep. On the pads, SKY flicks it over wide mid on and Jordan runs around quickly from long on to keep it out. Two taken.
9.2 overs (1 Run) On middle and leg, this is pushed through mid on for a run.
9.1 overs (4 Runs) FOUR! Tossed-up delivery, on middle. Hardik Pandya steps out and absolutely drills it back past the bowler for a boundary.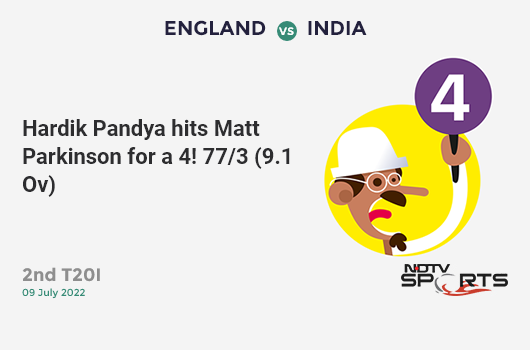 8.6 overs (1 Run) On a good length, around off. The ball bounces a bit extra but Pandya does well to keep it down towards covers and picks up a single as well. Tidy first over from Jordan, just four singles off it.
8.5 overs (1 Run) Length again, around off, Yadav stays inside the crease and just guides it down to third man for a single.
8.4 overs (1 Run) A touch fuller and outside off, Pandya pushes it towards mid on and sets off for a quick single. Good running.
8.3 overs (0 Run) BEAUTY! A cross-seamer from Chris Jordan, pushed wider. Pandya goes across the off stump, trying to work it leg side but the ball zips past the outside edge. A slip is now being put in place too.
8.2 overs (0 Run) A huge swing and a miss from Hardik Pandya! Short of a good length and outside off, Pandya looks to smash it over long on but is beaten for pace.
8.1 overs (1 Run) Starts off with a length ball, around the top of off. Yadav punches it through covers and turns the strike over.
Will Richard Gleeson continue? No, Jos Buttler has decided to bring Chris Jordan into the attack now.
7.6 overs (1 Run) Around off, this is driven down to long off for a run.
7.5 overs (0 Run) Drifted onto the pads, SKY gets down low to paddle sweep but can't beat the man at short fine leg.
7.5 overs (1 Run) WIDE! Trying to turn it away from the pads but spills it down leg, wide called.
7.4 overs (1 Run) Nicely flighted, on middle and leg, Pandya leans forward and pushes it through mid on for one more.
7.3 overs (1 Run) Flighted, full and on middle. This is stroked down to long off for just a single.
7.2 overs (4 Runs) FOUR! Tossed up, around middle and turning away. Suryakumar Yadav dances down the track, giving himself a bit of room and goes inside-out over covers to pick up a boundary.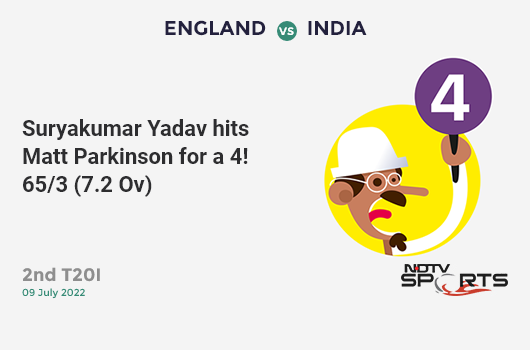 7.1 overs (0 Run) Nicely bowled! Floated up on a length and drifting onto the pads. The ball turns away as Suryakumar Yadav awkwardly defends it out.
6.6 overs (0 Run) A double-wicket maiden in a T20I game, absolute gold from Richard Gleeson! Back of a length, around off, Pandya dabs it down towards backward point.
6.5 overs (0 Run) On a hard length again, angling into the body and with a bit of extra zip behind it as well. Pandya does well to fend away the ball.
6.4 overs (0 Run) This is good, confident bowling from Gleeson. Around the top of off and nipping back in a touch. Pandya looks to thrash it through covers but mistimes it badly.
6.3 overs (0 Run) No hat-trick! Richard Gleeson goes full and straight, looking for the yorker. Hardik Pandya with a solid defensive punch towards mid on.
Hardik Pandya walks out to the middle now. He will face the hat-trick ball!
6.2 overs (0 Run) OUT! EDGED AND GONE! Two in two for Richard Gleeson and he is on a roll! Length again, on leg stump. Rishabh Pant continues with the aggressive approach and walks towards the ball, trying to swing across the line. The ball goes off the inside edge and Jos Buttler takes an easy catch behind the sticks. Gleeson is on a hat-trick and England making a strong comeback into the game.
Suryakumar Yadav is the next man in.
6.1 overs (0 Run) OUT! TAKEN! An absolute stunner from Dawid Malan! This is bowled on a hard length, around off stump. Virat Kohli with a very unlike Kohli shot tries to smash it back over the bowler's head from inside the crease. The ball flies off the top edge and goes over backward point. Malan runs back quite a fair bit and takes it over his shoulders. Brilliant from Malan and Richard Gleeson has sent back Rohit Sharma and Virat Kohli, what a debut!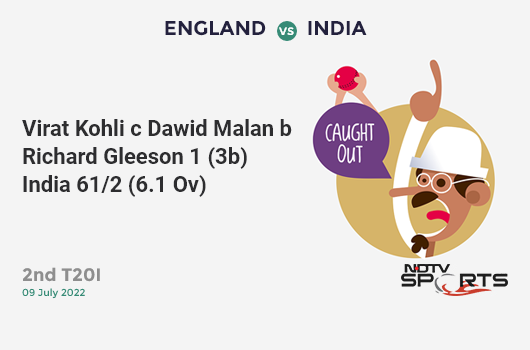 5.6 overs (1 Run) Kohli is underway! On the pads, this is flicked in front of square on the leg side for a single. At the end of the Powerplay, India are flying at 59/1!
5.5 overs (1 Run) On off, this is pushed towards mid off for a quick single.
5.4 overs (0 Run) Uppish but safe! Floated up around off, Pant looks to slog sweep but mistimes it badly on the bounce to the fielder at mid on.
5.3 overs (0 Run) Flatter delivery, on off stump, Pant can't get it away on the off side.
5.2 overs (4 Runs) FOUR! Nonchalantly done! On a shorter length and around leg stump, Pant with a sort of a half-pull, using his wrists and gets it past square leg for a boundary.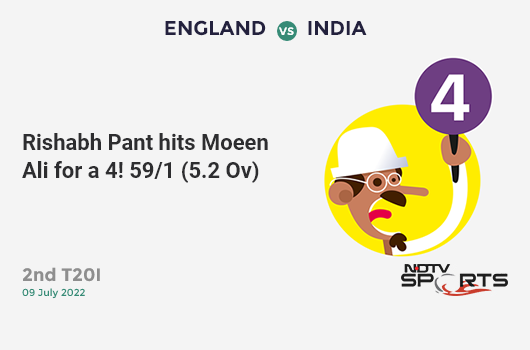 5.1 overs (6 Runs) SIX! India doing to England what they have been doing to almost everyone else in the last few years. Tossed up, around off. Rishabh Pant steps out and launches it over the vacant long off fence for a biggie.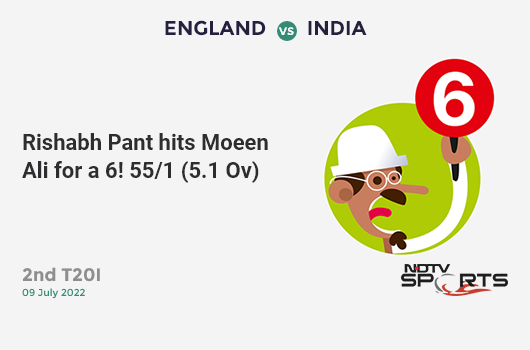 Match Reports
Topics mentioned in this article