Story Progress
Back to home
England vs India Live Score Ball by Ball, England vs India, 2022 Live Cricket Score Of Today's Match on NDTV Sports
Live Updates of Today Match between England vs India from Edgbaston, Birmingham. Check commentary and full scoreboard of the match.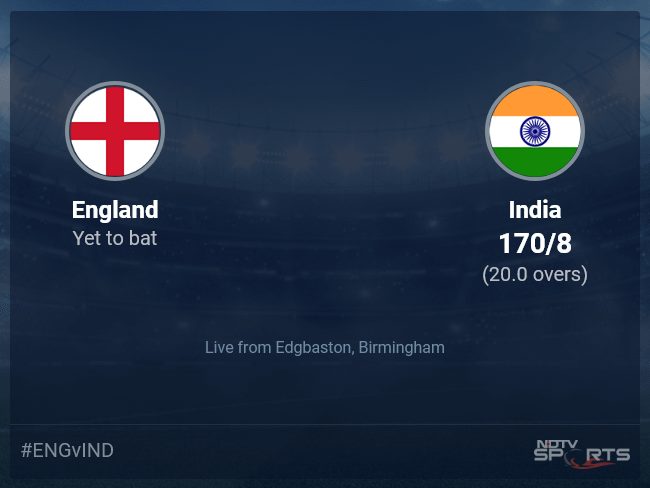 IND vs ENG Latest Score
Follow the England vs India, 2022 live cricket score on Sports.NDTV.com. After 20.0 overs, India are 170/8. Get live score, ball by ball commentary and much more. Keep track of England vs India, 2022 today match between England and India. Everything related to England and India match will be available on Sports.NDTV.com. Stay updated with England vs India live score. Do check for England vs India scorecard. You can get scorecard updates, match related facts. Get quick live updates with ads, Sports.NDTV.com, which is the perfect destination for live cricket score.
Right then, England have a par score to chase here. They have a powerful batting line-up and would be fancing their chances to chase this one. Indian bowlers were brilliant in the first game, can they defend this total? We shall find out.
England were put under pressure with the ball in the Powerplay but the debutant Richard Glesson brought them back in the game with three quick wickets as India were reduced to 61-3 from 49-0. Jordan was also brilliant for the second game in the row and did not allow India to take the game away from England at any point in time. Richard Gleeson and Jordan were the only wicket-takers for England taking three and four wickets respectively. The English bowlers have done quite well here and it is upto the batters now to chase this total down.
There has been a lot of talk about how India will approach T20 cricket and they have given us some solid answers in this series so far. They took the aggressive option again and started off with a bang with Pant and Rohit going great guns. Rohit departed after a breezy knock and Kohli and Pant followed him soon. However, the Indian batters did not shy away from playing their shots and despite losing wickets at regular intervals, India continued to score briskly. Jadeja made sure that he bats till the end and finished with 46 from 29 balls and that has taken India to a decent total here.
A competitive total on the board from India courtesy of a fine cameo by Jadeja in the end. However, England will go into the break as a happier side. They were much better with the ball in this game compared to the last one and have a real chance now to level this series here at Edgbaston.
19.6 overs (2 Runs) Pushing for two and the misfield will allow them to come back for the second with ease. Full and straight, this is pushed right back past the bowler but the fielder from mid off charges towards it and fails to collect it cleanly. Two taken. India finish with 170/8!
19.5 overs (2 Runs) Easy two there! Full and on leg stump, Jadeja gets an inside edge towards the vacant square leg region and races back for the second.
19.4 overs (0 Run) Gets away with one there Sam Curran. Yet another juicy full toss, this time Jadeja miscues it towards deep mid-wicket and it will be a dot ball.
19.3 overs (4 Runs) FOUR! Poor from Sam Curran and Ravindra Jadeja isn't going to miss out on that one. Another full toss on the pads, this is picked up and dispatched behind square on the leg side for a boundary.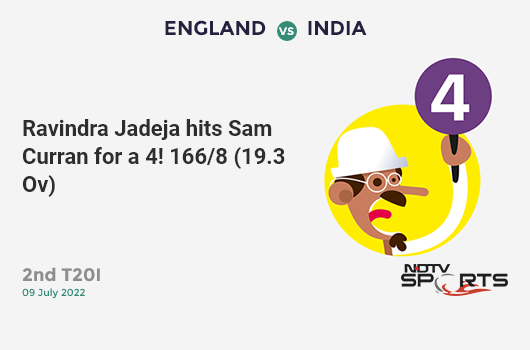 19.2 overs (0 Run) Length this time, angling into leg stump. Jadeja swings it away towards deep mid-wicket and doesn't take the single.
19.2 overs (1 Run) WIDE! Tries to bowl full and attack the pads but spills it down leg, wide called.
19.1 overs (2 Runs) Brilliantly fielded! A full toss on the pads, this is flicked away to the right of short fine leg but the fielder over there makes a good half stop. The batters do pick up a couple of runs.
Jasprit Bumrah is the next man in. Sam Curran to bowl the last over!
18.6 overs (0 Run) OUT! TAKEN! There to be hit but Bhuvneshwar Kumar finds the fielder! Full and wide, almost a half-volley. Kumar stays deep in his crease and looks to thrash it through extra cover and he gets the connection too, just not the elevation. The ball goes straight towards David Willey at extra cover and he takes a sharp catch. Chris Jordan finishes off his spell with a four-fer!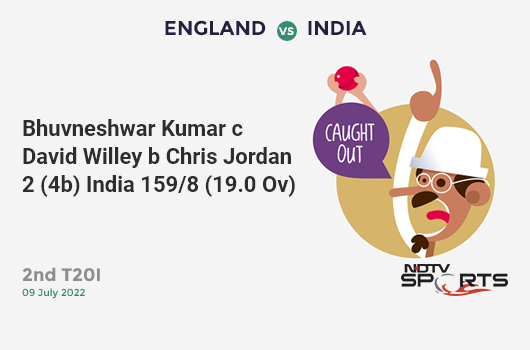 18.5 overs (1 Run) Switches to over the wicket and serves a very full ball on off stump, Jadeja pushes it out on the off side for a single.
18.4 overs (4 Runs) FOUR! Goes full again but not full enough, Jadeja drills this one past the man at mid off and picks up a much-needed boundary.
18.3 overs (0 Run) Excellent from Jordan! Comes from around the wicket and nails the yorker on the pads. Ravindra Jadeja gets cramped for room and fails to get it away as the ball hits him on the pads.
18.2 overs (1 Run) back of a length, on off, Bhuvneshwar Kumar plays it through covers for one more.
18.1 overs (1 Run) Slower delivery, on a good length and angling into middle and leg. Jadeja advances and hits it towards deep mid-wicket for a single.
17.6 overs (1 Run) A single to finish off an exceptional spell on debut. Richard Gleeson ends with figures of, 4-1-15-3! This is shorter and on leg stump, Ravindra Jadeja tucks it away past square leg for just a single.
17.5 overs (2 Runs) Good running, easy two in the end! Full again, on middle and leg, this is worked well in front of square on the leg side for a brace. The 150 is up for India.
17.4 overs (2 Runs) Sloppy from England yet again! Very full and wide, a low full toss. Ravindra Jadeja slices it towards deep point for a single and the throw from the deep is a difficult one for the keeper. Jos Buttler misses it and the batters are able to sneak in an extra run.
17.3 overs (1 Run) Good length, on middle and leg, Kumar tucks it away towards square leg for one.
17.2 overs (0 Run) A bit of yes and no but they survive. Around the top of off, Bhuvneshwar Kumar nudges it towards point and looks for the quick single but is sent back by Jadeja and rightly so.
17.1 overs (1 Run) This is dug in a bit short and on leg stump, Jadeja pulls it down to deep mid-wicket for a single.
Bhuvneshwar Kumar walks out to the middle and it will be Richard Gleeson to bowl his final over.
16.6 overs (0 Run) OUT! CAUGHT! Chris Jordan has the last laugh and picks up his third wicket of the game. Goes short again, over middle but this time with a lot more pace behind it. Harshal Patel backs away and tries to ramp it over third man for another maximum but ends up just timing it into the hands of the fielder over there. Richard Gleeson takes a simple catch and India lose their seventh wicket.
16.5 overs (6 Runs) SIX! Off the meat of the bat! Short of a length, slower and angling into the body, Patel with a short-arm jab over wide long on for a maximum. Brilliant hit.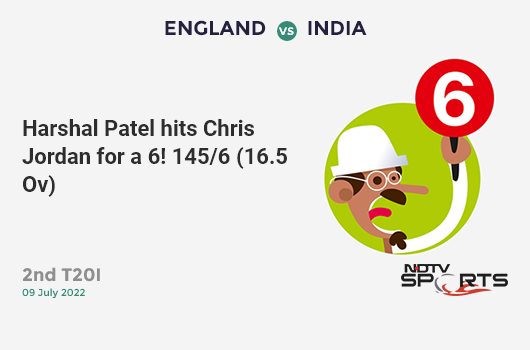 16.4 overs (0 Run) Goes full and on off, Harshal Patel backs away to go downtown but only manages to hit it firmly towards mid on.
16.3 overs (2 Runs) Excellent running! Length, around off, Patel hangs deep and just opens the face of the bat to guide it towards third man for a couple of runs.
16.2 overs (1 Run) And again but this time the fielder at point makes a good half stop. Back of a length, outside off, Jadeja cuts it to the right of point and picks up a single.
16.1 overs (4 Runs) FOUR! The boundaries are flowing now for India. A tad shorter and with ample width on offer, Jadeja waits for it and just taps it behind point for a boundary.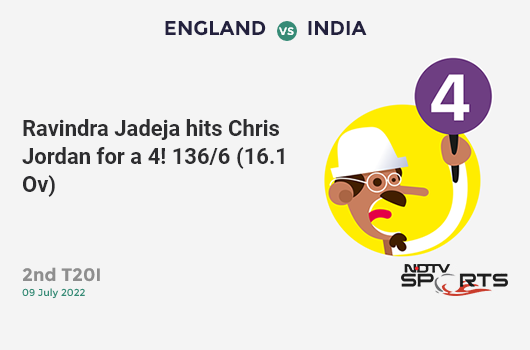 15.6 overs (4 Runs) FOUR! Flighted delivery, just a bit too full and wide, Harshal Patel creams this one through covers and picks up a boundary.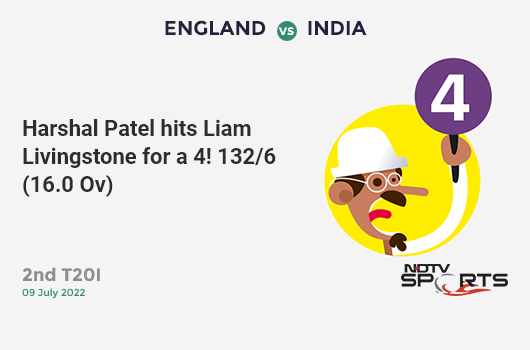 15.5 overs (1 Run) Pushed outside off, this is just caressed past covers for a single.
15.4 overs (0 Run) Quicker and a tad shorter on off, Jadeja defends it back on the deck.
15.3 overs (4 Runs) FOUR! Nicely played! Floated up, full and around off, Ravindra Jadeja just goes inside-out over extra cover and bisects the fielders at the cover fence and long off for a boundary.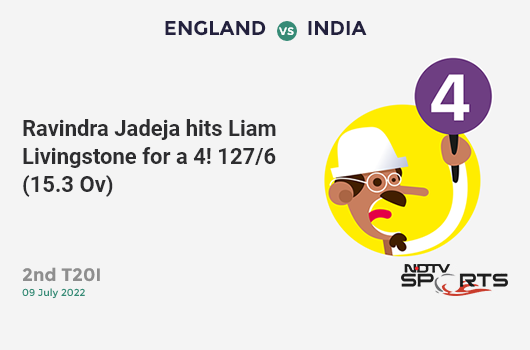 15.2 overs (1 Run) A low full toss, on leg stump. This is pushed through wide mid on for a single.
15.1 overs (2 Runs) OUT! RUN OUT! A huge mix-up in the middle and England have the breakthrough they needed. Quicker and flatter, this is cut away behind point by Ravindra Jadeja. The batters push for two but Harry Brook on the backward point fence is quick to get to the ball. Dinesh Karthik is halfway down the track when he is sent back and has to put in the dive. The throw is a bullet and Jos Buttler very calmly whips off the bails. The third umpire is called in and the replays show that Karthik is short of his crease.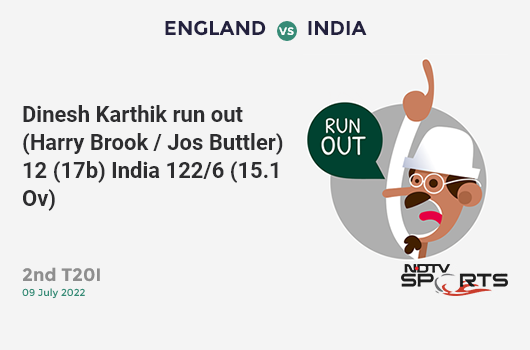 Harshal Patel is the next man in.
15.1 overs (5 Runs) FIVE WIDES! Smartly bowled but it has backfired for Liam Livingstone. Sees Jadeja stepping out and pushes it wider, a bit too wide though and Jos Buttler misses it too. The ball runs away into the third man fence.
Match Reports
Topics mentioned in this article