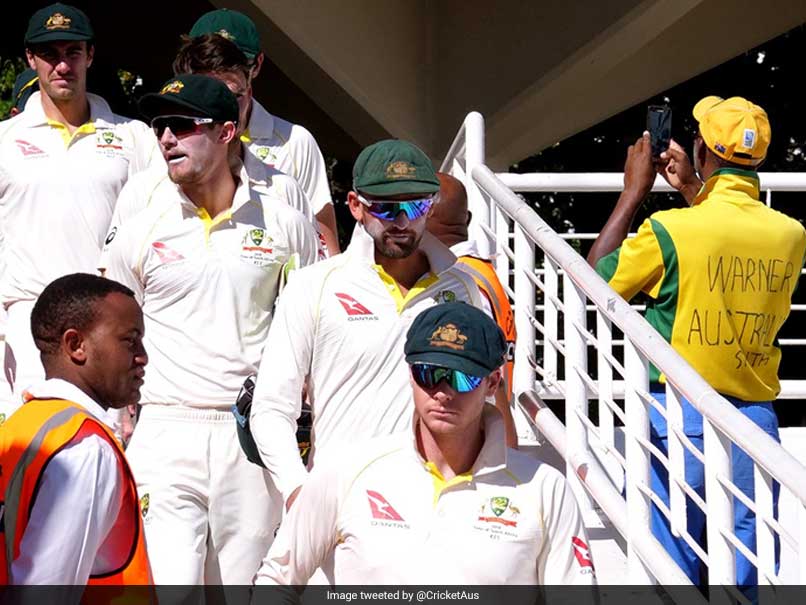 Australian coach Darren Lehmann labelled disgraceful behaviour by SA spectators.
© AFP
The Australian cricket team on Friday laid an official complaint over what coach Darren Lehmann labelled "disgraceful" behaviour by spectators during the third Test against South Africa at Newlands. "You are talking about abuse of various players and their families and personal abuse," said Lehmann. "It's not on at a cricket game -- not just here, it shouldn't happen. You can have banter, that's good fun, but it's gone too far here." The principal target was Australian batsmen David Warner, who was approached by a spectator in the members' stand after he was dismissed, causing Warner to stop and turn as he climbed the steps to the dressing room.
The pair appeared to exchange heated words with unconfirmed reports saying the spectator was evicted from the ground.
Lehmann said Warner was not the only Australian player to face personal abuse.
He said the level of abuse was the worst they had encountered anywhere in the world.
"There have been various incidents throughout the Test series but this one has taken the cake," he said. "We have lodged an official complaint with South African cricket and we will see what happens."
Lehmann acknowledged that Australian crowds had also been guilty of bad behaviour, notably in insulting South African batsman Hashim Amla on a previous tour.
"That's not good enough from an Australian crowd point of view either. We've just got to better at watching the game of cricket, supporting both teams."
There was no immediate response from Cricket South Africa.
Tensions in a hard-fought series have been particularly high since leaked closed circuit television camera footage emerged of an altercation between Warner and South Africa's Quinton de Kock on the stairs to the dressing room during the first Test in Durban.