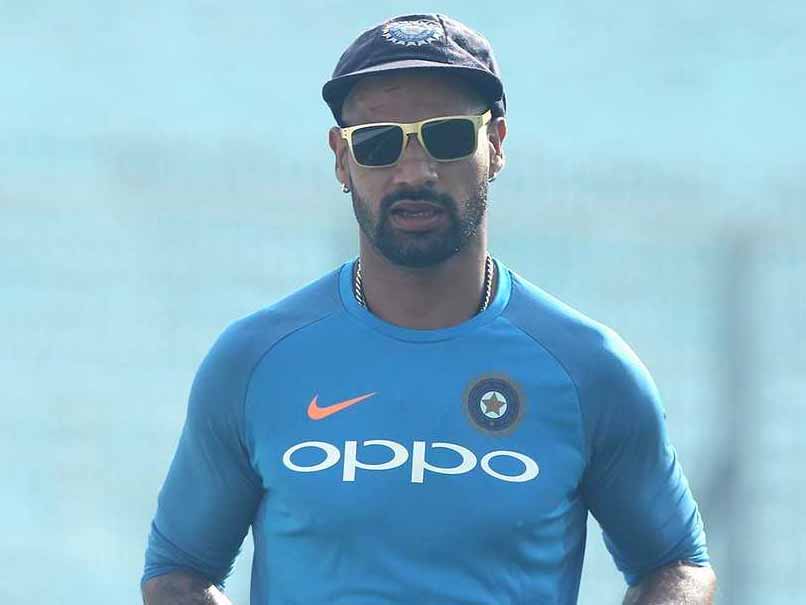 Shikhar Dhawan was dropped for the 2nd Test vs South Africa.
© BCCI
India opener Shikhar Dhawan on Thursday posted a message for Pakistan all-rounder Shoaib Malik, who was hit on the head during his team's fourth ODI against New Zealand in Hamilton. "Janab @realshoaibmalik, hope you're recovering well and will be fit soon to be back on the field! Take care," tweeted Dhawan. Floored by the 32-year-old's gesture, fans of Malik and Pakistan cricket thanked him for the get-well-soon tweet.
??

— Shoaib Malik (@realshoaibmalik) January 18, 2018
Dhawan's tweet drew praise from cricket lovers from across the border.
wow..its a good to see u such a great sportsman spirit.
have a good life @SDhawan25..
respect from ????????????

— Muhammad Usman (@usman_dona) January 18, 2018
Thank you for the prayers.

— Yasir Mushtaq (@realyasir18) January 18, 2018
Wao thank you dhawan ..??

— Hazrat ali (R.A) quotes (@ahmadahmi11) January 18, 2018
Thanku dhawan sb for tweeting about my hero @realshoaibmalik . We all praying for him, he will be fit very soon and will be back in field in shaa allah. Thanku once again and best of luck

— Ahmad Masood (@SyedAhmadMasood) January 18, 2018
Wahhh Great sportsman spirit Tusi great ho g Dhawan bhai @SDhawan25..
respect for you from????

— Kashif Gondal (@kashifgondal29) January 18, 2018
Pak india player's ke yahe understanding dono nation k liya acha hy

— Malik shahzaib (@malikshahzaib94) January 18, 2018
Thnku shekhar bhai love from Pakistan

— Faheem Qadir (@FaheemQadir6) January 19, 2018
Thsnks for wishing.. Great gesture

— Emran Faiz butt (@aAmi07) January 18, 2018
Malik was hurt in the 32nd over of the match when he tried stealing a single, with the throw from Colin Munro hitting him right at the back of his head. Malik came into bat without wearing a helmet as spinners were bowling and paid the price of not taking proper precautions while going out to bat. The impact of the ball hitting the head was so hard that it ricocheted off for a boundary. 
Malik was given immediate medical attention after being hit on the head and resumed his innings soon after. However, his stay at the crease was curtailed as Mitchell Santner dismissed him in the next over. 
Alhumdulilah I'm feeling great, the ball that hit me is in critical condition tho ??

Thank u dosto for all the wishes, messages, and tweets. Please remember me in your Duas ????

— Shoaib Malik (@realshoaibmalik) January 17, 2018
Malik, however, allayed fears of a series injury with an update for his fans and followers on Twitter.
Dhawan, who failed to deliver in the first Test against South Africa, was replaced with KL Rahul for the second Test at Centurion.