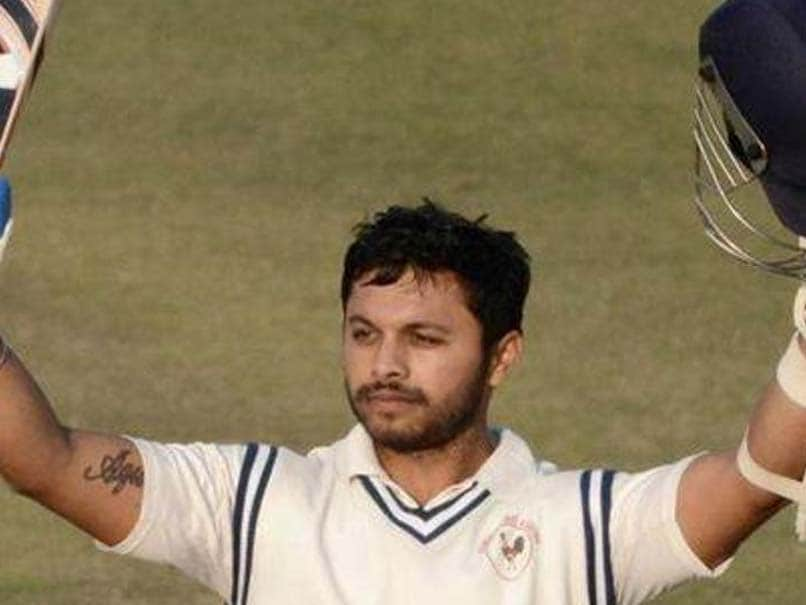 Samit Gohel has also became 4th triple centurion in history of first-class cricket to carry his bat.
© NDTV
Gujarat batsman Samit Gohel on Tuesday created a world record with his 359 not out against Odisha in Ranji Trophy quarterfinal match helping him become highest unbeaten scorer as an opener in a First-Class match at the Sawai Man Singh stadium, Jaipur.
Samit took the Odisha bowlers to task on his way to an unbeaten 359.
Gohel, with his score bettered the 117-year old record set by Surrey's Bobby Abel of 357 not out against Somerset at The Oval in 1899. While Hanif Mohammed's epic 499 remains the highest score by an opener in first-class cricket, no one has scored more than Gohel while remaining not out.
The 26-year-old also become the fourth triple centurion in the history of First-Class cricket to carry his bat through the innings.
S B Gohil 350 runs in 709 balls (47x4, 1x6) Gujarat 627/9 #GUJvODI #QF3 @paytm #RanjiTrophy Scorecard:https://t.co/WBcRXcammU

— BCCI Domestic (@BCCIdomestic) December 27, 2016
WORLD RECORD!
Samit Gohel's 359* is the highest indv score by an opening bat while carrying his bat thro' the inns in first-class cricket!

— Mohandas Menon (@mohanstatsman) December 27, 2016
Gohel, who is the fifth triple-centurion this season, is also the second Gujarat batsman to have scored a triple century after Priyank Panchal achieved the feat last month.
Riding on Samit's triple ton, Gujarat set Odisha a mammoth 706-run target on the fifth day of the Ranji match. Odisha managed to score 81/3 on the final day, as Gujarat entered the semi-final on the basis of first innings lead.
Gohel's 723-ball-knock had 45 boundaries and a six but the shy boy from Gujarat's dairy hub Anand was very unassuming. While the match was dead as a contest on final day but nothing can take away from his effort.
"I did not know it was a world record. The idea was to bat as long as possible. Coach sir (Vijay Patel) and Parthiv bhai (skipper Parthiv Patel) ne bola thaa lamba khelo. I just tried to do that. I am happy that I could bat this long. Obviously this is the greatest day of my life. I am actually still not able to express myself," Gohel said.
His father Bhanubhai Patel is a real estate property dealer and till now Gohel is happy to call himself a "professional cricketer".
"My father has a small-time property business. Not very big. Till date, I have only concentrated on cricket. But yes, I am searching for a government job. I have applied for sports quota job in Income Tax department as well as Dena Bank. Let's see what happens," said Gohel, who lives with his parents and wife.
"Actually, I have not yet been able to call my family and inform them about the world record," said Gohel, who is the first triple centurion opener in last 81 years in first-class cricket to carry his bat through.
One of his teammates Priyank Panchal has been the top scorer in this season's Ranji Trophy and Gohel said Panchal has been an inspiration for him.
"Priyank's performance and Parthiv bhai's show against England were an inspiration for all of us. Also I love to bat long. Even in the nets, I love to bat on and on. This lengthy duration at the nets also helped me in the middle. My childhood coaches Devang Desai and Hiren Patel always told me that temperament is key in first-class cricket," he said.
"The innings may seem to be a tad slow but the reason is Odisha in the end had put all fielders at the boundary circle. Getting boundaries became a difficult job," Gohel explained.
His Ranji Trophy coach Vijay Patel is also proud of Gohel's achievement.
"He is a defensive batsman as the stats will suggest. But he is now slowly increasing his repertoire of shots. Also one has to take into account that facing 723 balls (120.3 overs) speaks about his power of concentration. Also Gujarat today posted their highest first-class score of 641."
(With inputs from PTI)