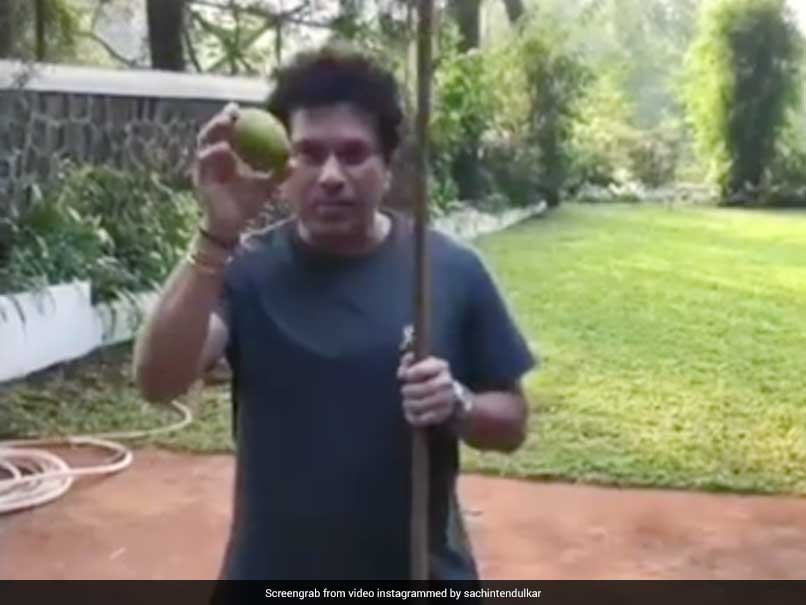 Sachin Tendulkar seems to be having a wonderful time after retirement.
© Instagram
Sachin Tendulkar can do whatever and it becomes an event for the social media. The former batting superstar was seen in action on his official Instagram page, snaring lemons off a tree in what appears to be a farmhouse, as the video shooter does running commentary. Sachin is in perfect vacation wear of T-shirt and shorts and is having a whale of a time. The lemon in question was not too keen on giving up easily and Sechin had to twist the snare around the fruit and yank hard before it came loose. "It's a six ..... errr it's a limboo," the cheeky caption says.
The person shooting the video begins how the master was tackling a mango, but by the time the fruit lands, he calls it a mango.
"Arre mango tree nahi, limboo hai," Sachin responds. "It's a limbo, my friend."
A lot of people following Sachin on Instagram however sent responses asking where his helmet was, referring to his campaign on social media urging people to wear helmets while riding two-wheelers.
Earlier, in April 2017, a video posted on Sachin's Twitter handle shows him sitting in the rear seat of a car and asking the youngsters on a bike next to him to wear helmets.
"Helmet Dalo!! Road safety should be the highest priority for everyone. Please don't ride without a helmet," Tendulkar says in the caption for the video..
He is heard speaking to the boys in Hindi. "Make me a promise, next time you will wear helmets."