Story Progress
Back to home
Highlights: India vs Bangladesh, DAY 5: Hosts Win By 208 Runs
Riding on Ishant Sharma's superb spell and the magic of both the spinners, India outclassed Bangladesh to register a comprehensive victory by 208 runs in the one-off Test in Hyderabad. With the win, the hosts also extended their unbeaten streak to 19 matches in Tests and 20 at home.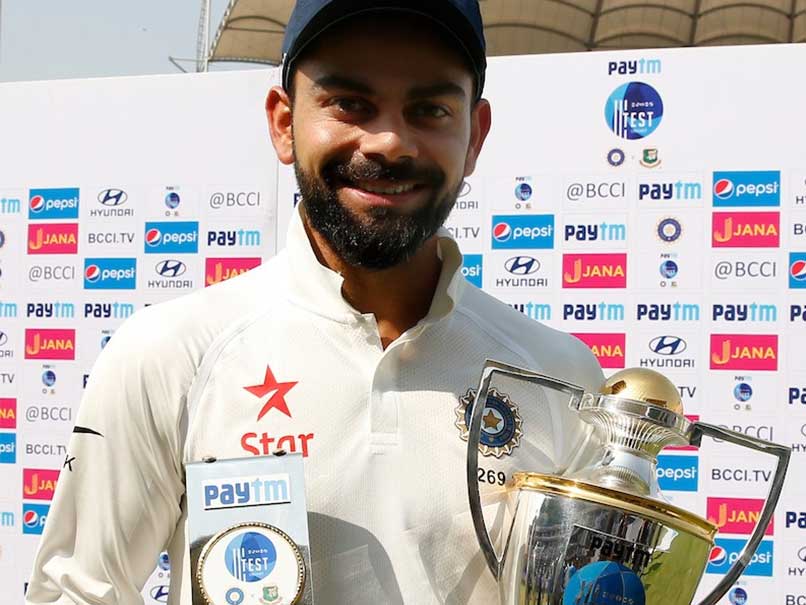 India vs Bangladesh: The hosts won the match by 208 runs
© BCCI
Riding on Ishant Sharma's superb spell and the magic of both the spinners, India outclassed Bangladesh to register a comprehensive victory by 208 runs in the one-off Test in Hyderabad. With the win, the hosts also extended their unbeaten streak to 19 matches in Tests and 20 at home. From Bangladesh, Mahmudullah kept his team afloat with his aggressive yet persevered innnings in the morning session after experienced batsmen, Shakib Al Hasan and Mushfiqur Rahim, disappointed with their poor and rash shots on Day 5. India will now play Australia in the four-match series beginning from February 23 at Pune. (SCORECARD)
Catch highlights of India vs Bangladesh from Hyderabad, India here.
14:50 IST: That's it from us, hope you enjoyed our coverage. Adios!!
Tail resists but Bangladesh succumb to defeat.
Read more: https://t.co/hkzHpq6TSJ#BANvIND pic.twitter.com/ORLs8usg94

— Bangladesh Cricket (@BCBtigers) February 13, 2017
It's all over! India win the one-off Test against Bangladesh by 208 runs @Paytm Test Cricket #INDvBAN pic.twitter.com/VSYZTyTjGS

— BCCI (@BCCI) February 13, 2017
14:46 IST:Virat Kohli and co. will rest for 10 days or so and will take on Australia, which is expected to be a very very competitive series. India play the first match on February 23 in Pune
14:45 IST:  Virat Kohli after the match said:It was a good wicket to bat on, a good toss to win. Putting up a good score in the first innings is always good. the opposition batted well. The bowlers got back into their groove before an important series and all in all a good performance.
The guys stuck it out, worked really hard for the wickets, did not get overexcited which was really good to see. Ishant's spell with the new and the old ball, swinging it either way was heartening to watch. Bhuvi bowled beautifully with the old ball which is positive for us.
Last year was something that I did not quite expect, but it is very important not to get ahead of myself. I am very happy with where my game is at the moment. I thought England was the biggest team of this season but after we won 4-0, there is a lot of pressure on us. Most of the boys have already switched mentally into the next series. I have said it earlier as well, the crowd has always been coming in to watch us play and I hope they enjoyed our brand of cricket.
14:40 IST: Virat Kohli receives the Man of the Match award for his double ton
14:35 IST:  India's coach Anil Kumble after winning:This was a very good surface to bat on, we had to literally bowl 200+ overs to secure 20 wickets, to bowl more than 120 overs in first innings and then come back and bowl another 100 overs, it was brilliant.
I expected this track to break up a bit more on the fourth and fifth day, but nothing like that happened, it held on - great effort from our bowlers. When we have a long home season, we need to look after the bowlers. It's a luxury to have 5 bowlers, but the batsmen have been very good right throughout the nine Tests. I was pleased for (Wriddhiman) Saha to get a hundred here. Even Jayant (Yadav) showed good skills with the bat against England.
We were not worried about the surface in any of the Tests over the ongoing home season, just wanted to get the job done. It was a very satisfying win, Bangladesh have come along really well in recent times, it was a good victory in the end. We are now looking forward to face Australia, it will be a tough 4-Test series, really pleased with all the things we are doing, the top-order, middle and lower order- everyone has chipped in, it augurs well for our future.
14:30 IST: India have now not suffered a single defeat in 19 consecutive Tests since losing to Sri Lanka at Galle in August 2015
14:20 IST:Virat Kohli also overcame Mohammad Azharuddin's record of winning 14 Tests under his captaincy. Kohli registered 15th Test victory. He also became the third most succesful captain of India after MS Dhoni and Sourav Ganguly
14:16 IST: OUT!!! That's it!! The third umpire gives it out and India have won by 208 runs. Bangladesh all out on 250
14:15 IST: REVIEW!!! Little confusion there. The on-field umpired checked for an edge before and now Kohli takes the review of LBW
14:11 IST: Bangladesh 249/9. Kamrul Islam Rabbi 3*, Taskin Ahmed 0*
14:10 IST: India a wicket away from a win now
14:05 IST: OUT!!Taijul Islam miscues a shot and a bit of confusion but Rahul takes the catch
13:50 IST:Just a matter of sometime now. India will extend their unbeaten streak to 19 matches now overall and 20 at home. Virat Kohli must be mighty pleased with the efforts
13:42 IST: OUT! Jadeja strikes!Mehedi is caught behind the wicket. He falls for 23. India just two wickets away from victory now.
13:30 IST:Umesh Yadav is brought back into the attack. Can he provide the breakthrough to India?
13:28 IST:R Ashwin comes back into the attack.
13:20 IST: FOUR!Mehedi Hasan lofts it over mid-off and gets a boundary. Waited for a loose delivery and makes use of the opportunity
13:11 IST: 13:11 IST: Bangladesh are 230/7 after 81 overs. Mehedi Hasan 13*, Kamrul Islam Rabbi 0*
13:10 IST: New ball being taken
13:06 IST:Bangladesh are 230/7. Bhuvneshwar Kumar come into bowl for the first time today
13:00 IST: Dropped!!Hard hands and Murali Vijay drops a sitter at slips. Ishant Sharma really unlucky there
12:52 IST:So, Mahmudullah's perseverance comes to an end. Ishant gets the wicket
12:51 IST: OUT!!Mahmudullah pulls it and goes in the airrrr. Taken by Bhuvneshwar Kumar in the deep. He goes on 64
12:40 IST: FOUR!!Jadeja tossed up well outside off and Mehedi Hasan does not let that go! Drives it for a boundary
12:37 IST: FOUR!! Mahedi Hasan plays it with soft hands and manages to find the gap
12:31 IST:Jadeja squares the batsman up but Saha fails to grab the ball!! Missed chance
Only Test. 70.4: WICKET! S Rahman (22) is out, lbw Ishant Sharma, 213/6 https://t.co/Ne2IQxxVKm #IndvBan @Paytm

— BCCI (@BCCI) February 13, 2017
12:28 IST: OUT!!! Good bowling by Ishant Sharma and he gets one more wicket. India need 4 wickets to win now
12:27 IST: REVIEW!!! Wrapped on the pads and the umpire gives it out . Oh!! that's plumb in front. Rahman goes on 22
12:26 IST:Not-out says the third umpire and India lose both their reviews
12:25 IST: Appeal for an LBW!!! Turned down by the umpire and India will take a review
12:20 IST: FOUR!!Cut hard by Rahman and the ball races away for a boundary.
12:15 IST: Mahmudullah on 59, Rahman on 18. Bangladesh 207/5
12:12 IST: FOUR byes. Jadeja bowls down the leg side, Rahman looks to sweep and misses
12:10 IST:We are back after lunch!! The second session is underway and Jadeja to bowl the first over
Lunch!
Mahmudullah clinched a fifty after the falls of Shakib and Mushfiq.
Watch the match live on: https://t.co/nmylz8Jv3z#BANvIND pic.twitter.com/DY5VaTpvkr

— Bangladesh Cricket (@BCBtigers) February 13, 2017
At Lunch on Day 5 of the one-off Test, Bangladesh (388 & 202/5), trail #IND (687/6d & 159/4d) by 257 runs #INDvBAN pic.twitter.com/vCq6MAYyjO

— BCCI (@BCCI) February 13, 2017
11:35 IST: Bangladesh are 202/5 in 67 overs of the second innings. Mahmudullah 58* and Sabbir Rahman 18*. They require another 257 runs to win and India are 5 wickets away from a victory
11:30 IST: It's LUNCH!! A bit of confusion and Marais Erasmus gets the bails off but Virat Kohli is not happy. May be, he was prepared for one more over
11:27 IST:It should be the last over before lunch!! Umesh Yadav comes in running
11:24 IST: FOUR!! All these batsmen hate Ashwin or what?? Sabbir Rehman this time steps out and bludgeoned it for a boundary
Well-fought fifty from Mahmudullah!
Watch the match live on: https://t.co/nmylz8Jv3z#BANvIND pic.twitter.com/ezhICwPtgW

— Bangladesh Cricket (@BCBtigers) February 13, 2017
11:18 IST: SIX!!Rahman steps out and comes from the sweet spot of the bat, over long on and right in the arc
11:16 IST: FOUR!!!Rahman steps out for a big heave, mistimes it. But Jadeja aims at a wicket and goes for overthrows
11:11 IST: FIFTY!! That's Mahmudullah's half-century. Good and patient innings by him, smashes his 13th fifty after 18 months
First occasion in their 9 Tests against India, Bangladesh have managed to survive in to the 5th day without any disruption (rain)#IndvBan

— Mohandas Menon (@mohanstatsman) February 12, 2017
11:05 IST: What a funny delivery by R Ashwin,the leg-break from him and it is sooo wavered and off target.
10:52 IST: FOUR!!!Mahmudullah cuts it for a boundary and reaches on 45 now. He is close to his 13th half-century
10:46 IST: OUT!!!Rahim goes again for a big one and caught in the deep. What a poor shot by the Bangladesh skipper. Horrendous shot!!! He goes for 23 and Ashwin gets the wicket in his first over
10:45 IST: FOUR!! Mushfiqur steps out and drives it hard
10:43 IST:Finally we see R Ashwin bowling now. Virat has brought him 1 hour and 15 minutes after the start of day's play
10:40 IST: Mahmudullah and Mushfiqur have added 50 runs for the fifth wicket. Bangladesh now 158/4. Rahim 19*, Mahmudullah 41*
10:39 IST:FOUR!!He has gone again, over the top now. Uses his feet and lofts it for a boundary
10:37 IST: FOUR!!Mahmudullah hits and hits it hard over mid-off. Sliced a bit but easily cleared the man.
10:23 IST:Virat has kept Ashwin away from bowling today. He will be seen shortly for sure
10:21 IST: SIX!!Got plenty of bat on that. Pulls the ball away for a maximum. Ishant Sharma still gets the appreciation from the wicketkeeper and the captain
10:19 IST: FOUR!!Mushfiqur Rahim reverse sweeps it for a boundary
10:12 IST:FOUR!! Top edge and four, Mahmudullah gets it to the vacant backward square area off Ravindra Jadeja
10:06 IST: Will India finish it off before TEA here?
09:59 IST: Oooh!!! That was close. Right in between the two men at short mid-wicket. Mahmudullah got two runs
09:53 IST: FOUR!!That's gone through between the slips. KL Rahul diving to his right at a widish slip got a hand on it but couldn't save a boundary
09:50 IST: India can extend their unbeaten streak to 19 matches in Tests. India have, so far, not suffered a single defeat in 18 consecutive Tests since losing to Sri Lanka at Galle in August 2015.
09:47 IST:India need six wickets to win now and seems it will not take the entire day now. Mushfiqur Rahim, the first innings centurion, is at the crease now.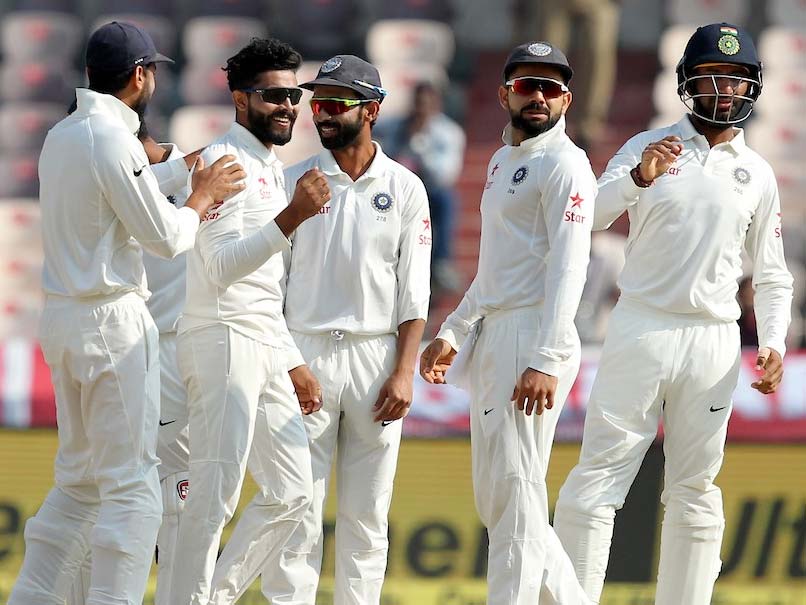 09:40 IST: OUT!!Straight into the rough by Ravindra Jadeja and Shakib Al Hasan couldn't do anything about it. Well caught by Pujara at the forward short leg. India get their first wicket and the left hander goes on 22
09:35 IST: Bangladesh are 106/3. Shakib Al Hasan 22, Mahmudullah 11*. They still need 353 more runs to win
09:30 IST:The players are onto the field now and the action starts. Shakib Al Hasan and Mahmudullah are there at the crease and Ravindra Jadeja to start the proceedings for India
09:28 IST:In fourth innings in India, only twice have visiting sides batted more than the minimum of 125 overs Bangladesh were asked to bat. This was also only 2.5 overs fewer than what Bangladesh played in the first innings, only the second time they have lasted 100 overs against India.
Bangladesh face massive task to save the test match.
To read more: https://t.co/AXCfhFZltW#BANvIND pic.twitter.com/CFsJB6JRJh

— Bangladesh Cricket (@BCBtigers) February 12, 2017
09:25 IST:Sanjay Manjrekar and Simon Doull with the pitch report: The infection has not spread. There's a rough patch but it's too full like it was on day 3. This pitch has been good for batting. Fortunately for India, Bangladesh's batting has not been that great. They will have to bat well throughout the day.
09:21 IST:So, India need 7 wickets to win the Test and Bangladesh will have to toil really hard top save this Test match. Both the Indian spinners stood out again and showed their class act yesterday. Credit should also be given to the medium pacers who made the work cut out for the spinners and of course the batters played according to the plan.
India are seven wickets away from a win and this is what the pitch looks like ahead of the final day's play. #INDvBAN pic.twitter.com/nKxxvomHa5

— BCCI (@BCCI) February 13, 2017
09:20 IST: Hello and welcome to the live blog
Promoted
It will be difficult for the visitors who will need to defend seven wickets on a fifth-day pitch which is bound to take turn. With Ashwin and Jadeja as potent weapons, Kohli will try to bowl out Bangladesh as soon as possible and get some confidence ahead of the Australia series.
If India win, it will be their seventh victory over Bangladesh in nine meetings. Two matches have ended as draws while Bangladesh have never managed a victory against India in Tests.
Topics mentioned in this article