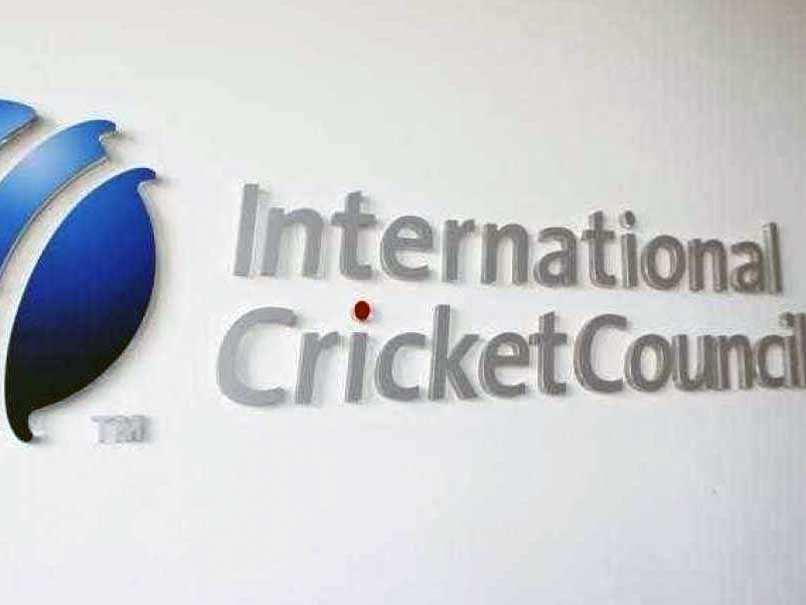 The ICC Board will likely make structural changes in its revenue model.
© AFP
New Delhi:
The majority of the ICC Board members on Saturday voted in favour of restructured revenue sharing model despite vehement opposition from the BCCI representative Vikram Limaye. According to highly placed sources, India only got support from Sri Lanka while Zimbabwe abstained when the matter was put to floor test. Pakistan, New Zealand, South Africa, West Indies, England and Australia all voted in favour of change in revenue distribution as well as change in governance structure.
The ICC Board on Saturday met to discuss the changes pertaining to revenue model where India, England and Australia were supposed to get the major share of revenue as the 'Big Three' -- a move that was opposed by other Test playing nations, and also by England and Australia themselves.
On Saturday, Limaye who had the first look at the official 'base document', expressed his apprehension terming it a model based on "faith and equity".
"I had clearly told BOARD that I cannot support the official base document which is based on faith and equity. The members and chairman were sympathetic that we have just taken charge and I would need time to study the document," Limaye told PTI from Dubai.
"The chairman Mr (Shashank) Manohar said that they have been waiting for months. The matter was put to vote and I have voted against these changes. It has been recorded in the minutes. It won't be appropriate for me to say who all voted in favour," Limaye said.
The ICC will pass the resolution during it's April Board meeting.
While the BCCI is expected to still gain more than Rs. 2000 crore, it can be surely said that commercial hub of cricket faced stiff opposition from the majority of the board members.
While seasoned investment banker Limaye in between now and April can spot the anomalies in official base document, it is unlikely that the ICC Board led by Manohar would accept those changes.
The ICC also issued a statement confirming the "in principle" agreement to the constitutional and financial changes to the world body.
The Chief Executives Committee agreed to a consistent use of DRS in all international cricket, including during the ICC Champions Trophy 2017, and to use the review system in World T20s going ahead (one review per side).
A full implementation plan on the use of DRS will be considered by the ICC Cricket Committee in May before approval in June 2017 for roll-out from October 2017.
"Agreement in principle to constitutional and financial change, further progress on future international cricket structures and agreement around the consistent use of DRS were just three of the outcomes of the meetings," the ICC said.
BREAKING: In Principle Agreement to Constitutional and Financial Changes to ICC https://t.co/yU9q7slyAF Full details from ICC Board Meeting pic.twitter.com/mcHX2ZCymb

— ICC (@ICC) February 4, 2017
ICC Chairman Shashank Manohar said: "Today was an important step forward for the future of the ICC and cricket around the world. The proposals from the working group to reverse the resolutions of 2014 and deliver a revised constitution and financial model were accepted by the ICC Board and now we will work collectively to refine the detail for final sign off in April. This also allows the new BCCI leadership appropriate time to appraise the detail and contribute.
"I want the ICC to be reasonable and fair in our approach to all 105 Members and the revised constitution and financial model does that. There are still details to work through and concerns to be addressed, but the principle of change is agreed and not for debate," he said.
Regarding 'governance and financial model', the ICC said that "the changes recommended by the ICC Working Group to the constitution and financial model have been passed in principle by the ICC Board with a commitment to consider any further representations from the members and completing the detail by the April ICC Board meeting".
The broader principles that have been agreed include: a revised financial distribution ensuring a more equitable distribution of revenues; a revised constitution to reflect good governance, expanding and clarifying of the roles and objectives of the ICC to provide leadership in international cricket.
Further constitutional changes proposed include: the potential to include additional Full Members (Ireland and Afghanistan subject to both meeting Membership criteria); removal of the affiliate level of membership and so to have only two categories of Full Member and Associate Member; introduction of membership criteria and a Membership Committee established to ensure ongoing compliance; introduction of an independent female director; equal weight of votes for all Board Members regardless of membership status; all Members to be entitled to attend the AGM.
ICC Board meeting starts in Dubai pic.twitter.com/SrBK2F6Jjf

— ICC Media (@ICCMediaComms) February 4, 2017
The ICC said that the new financial model was developed based on guiding principles that included equity, good conscience, common sense and simplicity, among others.
The ICC Board agreed to work collaboratively on the details of the constitution and model with a view to final sign off at the April Board meeting and submission to the full ICC Council in June.
The ICC said progress was made around future structures of bilateral international cricket with a preferred model identified by the Member Chief Executives for all three formats of the sport.
This framework will now be used to build a more detailed model that incorporates scheduling and accommodates existing agreements to present to the ICC Board for full consideration in April.
This includes nine-team Test league run over a two year cycle with the remaining three Test teams to be guaranteed a consistent and confirmed schedule of Test matches against all other teams; 13-team ODI league run over a three year period leading into qualification for the ICC Cricket World Cup 2023; regional T20 competition structure to be developed as a pathway to qualification for the ICC World T20.
Regarding this, a scheduling summit will now be held in March before a detailed proposal is put to the ICC Board in April.
In other decisions, the Chief Executives' Committee agreed to the principle of a consistent use of DRS technology across all international cricket. A full implementation plan will be considered by the ICC Cricket Committee in May before approval in June 2017 for roll-out from October 2017.
In the interim, the CEC agreed that DRS will be used in the ICC Champions Trophy 2017, all televised games at the ICC Women's World Cup and all future ICC World Twenty20 televised games with one review per side. Post 2017 any technology used must be checked and approved by MIT.
The CEC agreed to introduce a system of demerit points for poorly-rated pitches and grounds. If a venue accumulates five demerit points (each point will remain active for five years once received), the venue will receive a 12-month suspension. Ten points will force a 24-month suspension.
"Changes to the ICC Pitch and Outfield Monitoring Process were agreed. The CEC agreed that venues and Boards should be more accountable for the standard of pitches and outfields they present for international matches, and that there should be consequences for a venue if it presents conditions that make it unsafe for an international match to proceed, without mitigating circumstances or regularly presents substandard conditions for international cricket," the ICC said.
"It was agreed that a system of Demerit Points be introduced, similar to the new Code of Conduct System as per the table below. Demerit points will remain active for a rolling five year period. When a venue accumulates 5 Demerit Points its ICC accreditation will be suspended for a period of 12 months. Should a venue reach 10 points its accreditation will be suspended for 24 months."
Playing conditions for both the 2017 ICC Champions Trophy and Women's World Cup were approved. It was confirmed that both semi-finals and finals would go to a super over in case of a tie.
Afghanistan Cricket Board's Ahmad Shah Abdali Regional 4-day Tournament was awarded First Class Status, and by extension, the Shpageeza T20 League was awarded List A status.
It was also confirmed that the Women's World T20 2020 will run from February 21 to March 8 in Australia.
Regarding integrity, the CEC authorised ICC management to initiate the process of developing an amendment to the ICC's Anti-Corruption Code to permit the use of cell phone data extraction equipment.
This includes exploring the legal aspects of introducing the technology, exploration of the technology itself and liaising with all interested parties before reverting to the ICC Board with a full proposal for consideration later in 2017.
An update to the ICC Gender Recognition Policy to ensure that it's in line with current scientific thinking was also approved.
The establishment of an ICC Medical Advisory Committee was approved by the ICC. The Committee will consider and advise on sports medicine and sports science issues relating to international cricket and provide input into ICC policies and regulations that have a sports medicine or sports science aspect.
Both the CEC and the ICC Board received an update from Director Giles Clarke following his recent visit to Pakistan as Chair of the ICC Task Force. The progress that has been made by the Pakistan authorities was presented and a recommendation that Members take the opportunity to send their security experts to Pakistan to view the current situation was made.
Vikram Limaye, representing the BCCI, was welcomed as a new Director to the ICC.