Story Progress
Back to home
Vijender Singh Aims To Keep Unbeaten Record Intact Against Zulpilkar Maimaitiali
Vijender Singh will be hoping to win his ninth straight professional bout when he takes on China's Zulipikar Maimaitiali.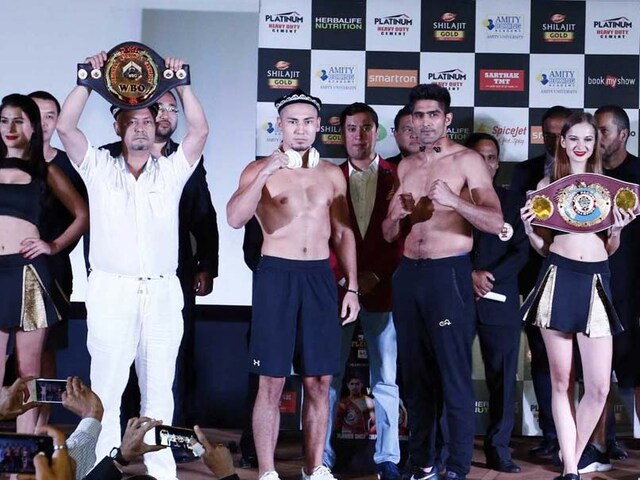 Vijender Singh and Zulipikar Maimaitiali during the weigh-in on Friday.
© IOS Boxing Promotions
Highlights
Vijender Singh will be fighting in his ninth pro bout

He's fighting China's Zulipikar Maimaitiali who is also undefeated so far

Vijender's WBO Asia Pacific super middleweight title is on the line
Vijender Singh is unbeaten in his professional career so far. The 31-year-old aims to keep the record intact when he takes on China's Zulipikaer Maimaitiali in Mumbai on Saturday in his ninth pro bout. Also on the line for the Beijing bronze medallist would be his WBO Asia Pacific super middleweight title. Maimaitiali is also undefeated so far and up for grabs would be his WBO Oriental super middleweight title. "This is India versus China, I don't need anything and I am excited, I know the whole of India is with me," Vijender said at the weigh-in on Friday.
"I am very confident and hope that the fight will be good and India will win. Last night I checked my weight it was 78 and I had to be 76.2, so I did not eat anything. My weight is 76.00 today, I will very much focus on diet," he told reporters.
Vijender has been training in Manchester for the bout with trainer Lee Beard.
"My strategy will depend on how he plays, I will set my game according to him. We have changed a lot in technique and we have worked on it," Vijender said when asked about his strategy against Maimaitiali.
"I am experienced. I don't consider him an experienced boxer, he is young, but he is a strong kid and we are ready for it. I have a game plan which I discussed with my coach, he (the coach) said stay calm, don't be in hurry," he added.
The official weigh-in and the face-off for the bout happened on Friday.
Promoted
Apart from Vijender's bout, the Olympian duo of Akhil Kumar and Jitender Kumar will also be making their professional debuts on Saturday.
(With PTI inputs)
Topics mentioned in this article