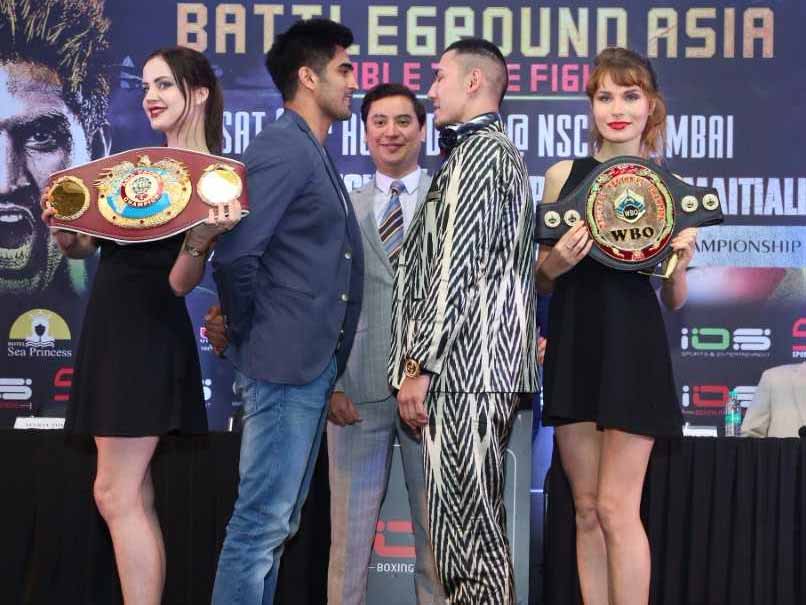 Vijender Singh will take on China's Zulpikar Maimaitiali on August 5 in Mumbai.
Indian boxer Vijender Singh has an undefeated 8-0 record to his name and will aim to extend his domination when he take on China's Zulpikar Maimaitiali in his professional bout on August 5 in Mumbai. India's star boxer has claimed that he will knock out his Chinese opponent in just 45 seconds and that Chinese goods don't lasts too long. "45 sec mein jald se jald niptaane ka try karoonga (I will try to wrap up the bout in 45 seconds). Chinese maal zyada tikta nahi (Chinese goods don't last too long)," Beijing Olympic bronze medallist Vijender Singh said ahead of his next bout with Zulpikar Maimaitiali.
Vijender, who is WBO Asia Pacific Middleweight Champion, will take on Zulpikar, the WBO Oriental Super Middleweight Champion, at the NSCI Stadium in Worli. The Beijing Olympics bronze medallist, has been training in Manchester, England, with his trainer Lee Beard for the bout.
In this fight, the two boxers will put their respective WBO titles at stake and whoever wins the bout will take home his title along with his opponent's too, it was announced.
Vijender clinched his first title, in July 2016, against Kerry Hope of Australia, becoming the WBO Asia Pacific Super Middleweight Champion.
Overall, Vijender has fought eight bouts with seven of them being won by knockout. He has 30 rounds under his belt, eight more than his opponent from China.
India's star boxer is on a dream run after joining the professional circuit and holds a record of seven since his debut. Vijender's next month opponent said that he is confident that he would inflict the first loss on the Olympic bronze medallist.