Story Progress
Back to home
Floyd Mayweather Stops Conor McGregor Via 10th-Round TKO
The 40-year-old undefeated fighter picked up his 50th career win, giving him one more than Rocky Marciano, the ring legend who retired 49-0.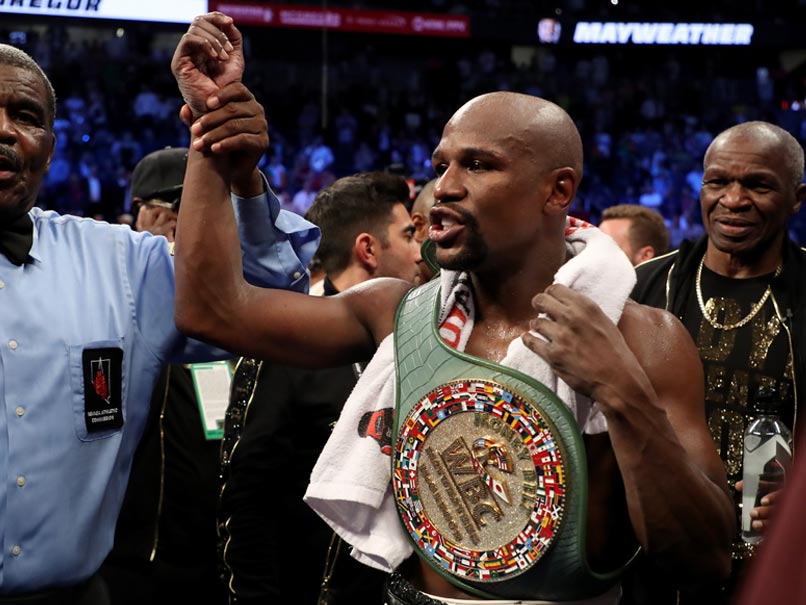 Mayweather has vowed that Saturday would be his final fight.
© AFP
Highlights
Mayweather said this was his last fight

Mayweather knocked out McGregor in the 10th Round

Mayweather improved his career record to 50-0
Las Vegas:
Floyd Mayweather Jr., in a span of just a few seconds, did what he does best. First, he put on a boxing clinic, scoring a 10th-round technical knockout over Conor McGregor in a highly anticipated bout between the boxing superstar and mixed martial arts champion. And then Mayweather jumped on the ropes, barking to the crowd and making sure everyone properly acknowledged what he had just done.
The 40-year-old undefeated fighter picked up his 50th career win, giving him one more than Rocky Marciano, the ring legend who retired 49-0.
The night's biggest surprise wasn't that Mayweather was the one lifting his hand in the end but that the fight wasn't the snoozefest many feared. McGregor was making his boxing debut but managed to take the fight to Mayweather early and absorb punches and stay on his feet late. It was a resounding loss for McGregor, the brash Irishman who predicted a second-round knockout, but not one that he likely will be very embarrassed by.
"He was a lot better than I thought he was," Mayweather said. "He used different angles. He was a tough competitor, but I was the better man tonight."
When the gloves finally came on and the opening bell rung for what was billed as the most lucrative fight in combat sports history, Mayweather and McGregor promised to put on a show. To the surprise of many, they delivered.
McGregor, 29, hoped his punching power could do what more seasoned boxers had tried and failed to do 49 previous times in Mayweather's career. Afterward, Mayweather reiterated that he'd never fight again.
"This is my last fight, ladies and gentlemen," he said to the crowd at T-Mobile Arena. "Tonight I chose the right dance partner to dance with. Conor McGregor, you're a hell of a champion."
As expected, McGregor was the aggressor from the opening bell, taking the fight to Mayweather. He threw his fists like pistons and a managed to land a couple. Mayweather, meanwhile, seemed content to feel out his foe in the early rounds and wait for opportunities. By the fourth round, it was clear that McGregor wasn't looking for just one big blow; he intended to box and was actually scoring, thanks in part to Mayweather's lack of offense.
For at least a few rounds, McGregor showed that he would be no pushover, regardless of his ring experience. That's part of the reason UFC President Dana White likes to call him "the unicorn."
"He's unlike any other fighter I've ever dealt with in my entire career," White says. "His belief in himself is insane."
While McGregor managed to stick to boxing rules, Mayweather complained some punches to the back of his head were illegal, and he gave McGregor a shove after the bell that ended the fifth round. In the middle rounds, Mayweather was still light on his feet and McGregor appeared to slow. He said later he was fatigued, not damaged.
Not coincidentally, that's when Mayweather started throwing - and landing - with a lot more ease. Suddenly, in the sixth round, the boxer was the one pushing McGregor around the ring and posting his biggest round of the night.
While the bout was close to even at the midway point, there was no turning back for Mayweather, and McGregor, who'd only fought beyond the second round in two career MMA fights, simply didn't have the legs. Mayweather started doing damage in the seventh and landing a couple of strong rights to McGregor's face.
And then in the ninth, McGregor seemed to be defending himself mostly with his chin, and Mayweather started putting on a clinic. One round later, Mayweather uncorked a straight right that sent McGregor backpedaling into the ropes. The boxer pounced, unleashing a flurry until referee Robert Byrd stopped the fight 1:05 into the round.
"I think we gave the fans what they wanted to see," Mayweather said after.
The fight itself served as a welcome exclamation point on a relentless promotional campaign. Spurned by some boxing enthusiasts and MMA devotees as shameful novelty, the fight quickly exploded into a popular culture event, pitting together a pair of brash, colorful characters who managed to transcend their respective sports. It was certainly something that invited curious gawkers.
The fight was more than a year in the making, as the two jawed back and forth over social media and many doubted the matchup would ever happen. But in June the two sides agreed to terms, insuring a life-changing payday for McGregor and one last boxing purse for Mayweather.
Whenever everything is finally counted, reports suggest McGregor could ultimately pocket as much as $100 million and Mayweather could possibly earn double that.
The fight is expected to break many of the economic records set by Mayweather's win over Manny Pacquiao in May 2015. Promoters were targeting as many as 5 million pay-per-view buys and said the bout would be available in more than 200 countries.
Both had financial incentive to promote the bout heavily and together they embarked on a four-city, three-country press tour, taunting each other in crass, vulgar terms in arenas packed with thousands of fans. The two peddled insults, misogyny and racial-tinged lewdness, towing the line of indecency and then obliterating it altogether.
They drew harsh criticism, but the buzz and anticipation for the fight only seemed to grow. Even though oddsmakers listed McGregor as a major underdog, many fans were struck by the oddity of the bout, curious how the biggest MMA star would fare against the best boxer of his generation.
"The best fighting the best," Mayweather said earlier in the week.
While the bout took place at 154 pounds, Mayweather weighed in at 149 1/2 one day earlier and McGregor took the ring looking much closer to 170. Though he physically towered over the boxer, the UFC star was no match for Mayweather's speed and elusiveness.
Just like the weigh-in one day earlier and the promotional events the two fighters staged last month, the crowd was partisan and overwhelmingly on McGregor's side. They waved Irish flags and showered the boxer with boos. Mayweather has reveled in playing the villain role over the years and certainly didn't seem fazed.
Promoted
"The fans can't fight for you," Mayweather said at the weigh-in. "It comes down to the two competitors."
Mayweather has vowed that Saturday would be his final fight, while McGregor's future might be a little less certain. He made more money in 10 rounds of work than he could ever hope to make in a UFC bout. While he's told White that he wants to return to the octagon later this year, the MMA world can only hold its breath and see if McGregor feels the need to rush back to the UFC.
(This story has not been edited by NDTV staff and is auto-generated from a syndicated feed.)
Topics mentioned in this article