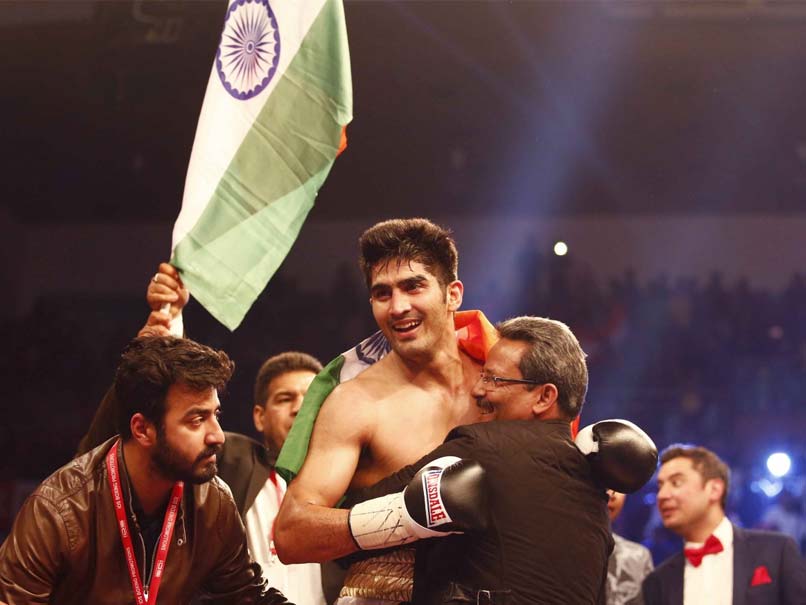 File photo of Vijender Singh after he beat Francis Cheka.
© NDTV
A magnanimous Vijender Singh offered to return the WBO Oriental super middleweight title that he won by beating China's Zulpikar Maimaitiali, saying "don't want this title because I don't want tension at the border (between India-China)". The Indian boxing star won his second title and ninth consecutive pro bout as he beat his Chinese opponent on points by unanimous decision in Mumbai on Saturday. Vijender already holds the WBO Asia Pacific super middleweight title, which he won beating Australian Kerry Hope in July last year.
In the end, the judges scored the fight 96-93, 95-94, 95-94 in favour of the Indian boxer.
" I wanted to give a message by giving away the belt so that the tension at the border between India and China reduces. The environment at the border is very bad at the moment. I wanted to give a message of peace and I hope their media (Chinese) and people will get the message," Vijender told NDTV.
Soldiers of India and China have been locked in a stand-off near the Sikkim sector for nearly three months now.
Meanwhile, it was the 32-year-old Beijing Olympic bronze medallist's ninth successive win in his professional career.
In front of a boisterous Mumbai crowd, Vijender gave an exhibition of his class during the slugfest, and his oodles of experience came in handy during 10 intense rounds.
Vijender Singh started off cautiously in the first couple of rounds but soon picked up momentum by landing a couple of heavy blows. To Zulpikar's credit, Vijender didn't have it easy as the Chinese boxer used his powerful left hand to good effect and soon came back strongly in the next couple of rounds.
Zulpikar was penalised by the referee for taking an unsporting shot (low blow) at Vijender and that turned out to be crucial in the context of the match as Vijender won the bout by a very small margin.